We badly needed a new kitchen table since ours has been completely destroyed over the years. Not a bad table, but too "smooth and perfect" for our lifestyle. I wanted something darker a lot more rustic that would not HIGHLIGHT nicks and scratches so badly.
I fell in love with a table at World Market, but it was the wrong size. It's called the Napa Gathering Collection.  It comes in either a counter-height 3' x 3' table or a standard height 3' x 5' table.  Shorter table is too long for the kitchen and the counter-height one was too small.  *sigh*  Here's a photo of the set.  LOVE this!!!!  So upset it's so small.  World Market photo below makes it appear a lot more red than it is.
Anyway, it's made out of Acacia wood, so it was massively heavy and strong. I loved it so much that I bought the four gathering chairs and spent over a month trying to get Acacia wood without spending a fortune. No luck. So I decided the most similar table here on Ana's site was the Tryde coffee table.
I researched different hardwoods, but was so nervous to spend that much  money that I decided my first kitchen table would be a rough draft with super cheap wood.  LOL  If I love it then I didn't spend a lot.  If I don't love it, I will learn from it and can build it again someday with more expensive hardwood like maple. 
I used the 2x8 hemlock for the tabletop, hemlock 4x4 legs and finished hemlock 1x4's everywhere else.  I used cheap 2x2 studs for the support structure underneath.  This table was almost exclusively built using Kreg joins, with only a few exceptions where necessary.  No visible screw holes to fill ANYWHERE!  Yay!  LOVE my Kreg Jig!
Lots of sanding, Benite wood conditioner, red-ish dye, dark chestnut stain and three coats of poly later... and I moved it into my kitchen this morning!  So excited!!!  I love how it turned out!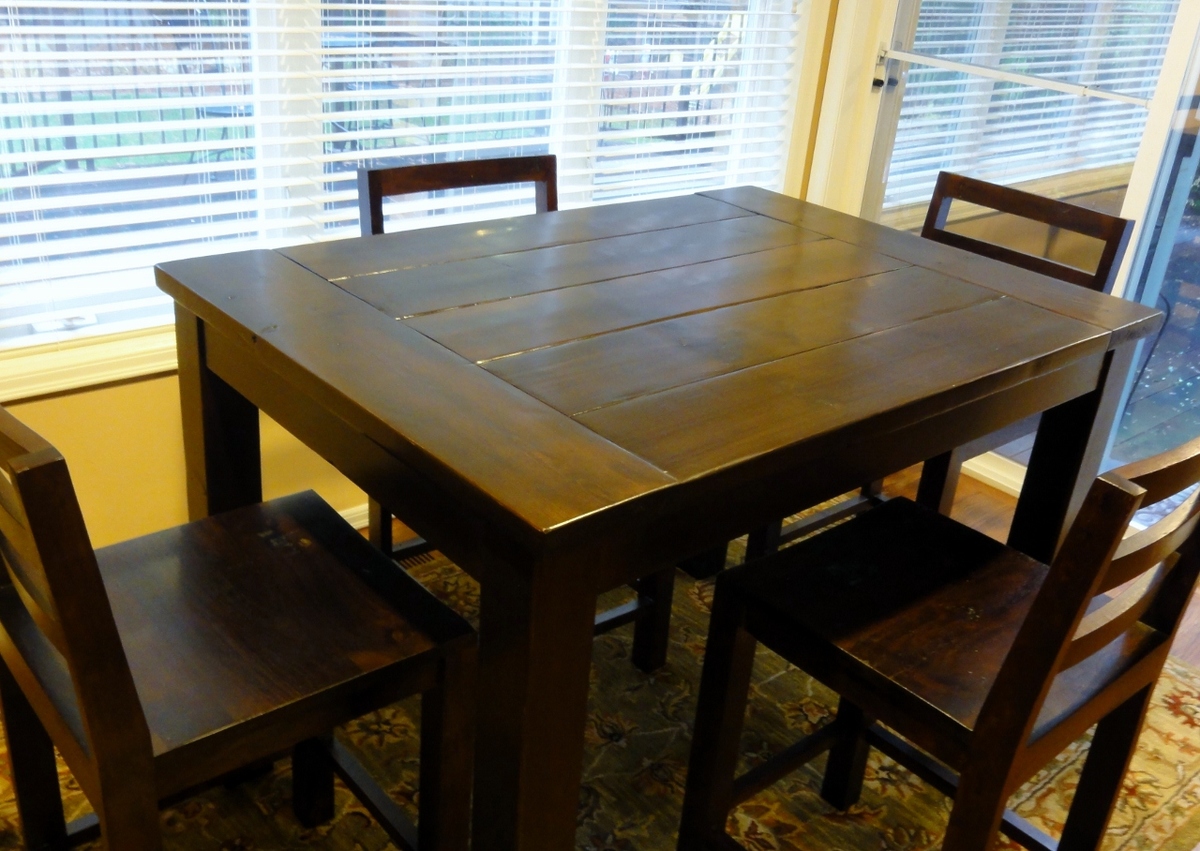 Estimated Time Investment
Weekend Project (10-20 Hours)
Finish Used
Benite wood conditioner, Daly's red-ish toned dye, Daly's chestnut-ish brown, Crystal-fin poly finish in satin.
Recommended Skill Level
Beginner