Found this on Pinterest and FELL IN LOVE! I have 2 kids that are inseperable, ages 3 & 4, a boy & a girl. I had been toying with ideas for them about bunk beds or maybe some PVC forts. But when I found this, it was like everything in one. Let me also start off by saying, although I am artistic I have never used a single tool or built ANYTHING in my life. EVER.
The beds were surprisingly easy to build and are incredibly sturdy & strong. I followed the plan exactly except for the platforms. I made my daughter's huge. (The plan calls for 22", I made hers 50") My son's I made smaller b/c that wall is shorter & there wasn't enough space. So his is only 16" but it's still plenty of room to climb up & get into bed. They use her platform as a stage to perform on or a small play area.
I'm going to glue down padding to cover both platforms and all the stairs b/c my kids are small but rough & tumble and I can already see the hospital bills. But the bed is EXCELLENT! Surprised to see no one else has posted a brag for it!
Make this immediately! The priming, painting & building for each only took one day. ONE DAY! I painted the room, the trim, and made both beds over the holiday weekend (Labor Day, Friday-Monday). My kids are now the envy of every child (and adult) that we know LOL!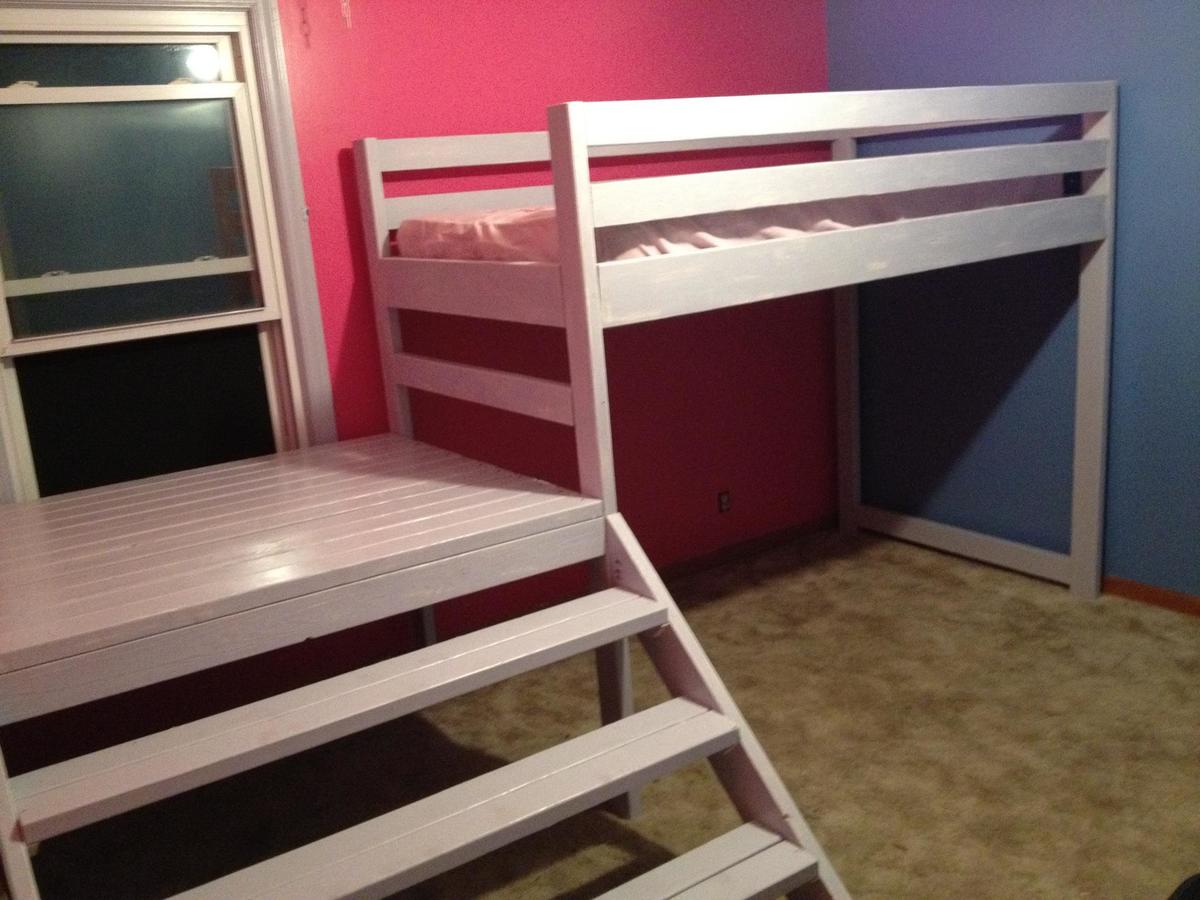 Estimated Cost
75.00 for the bed w/the smaller platform, about 150.00 for the bed with the giant platform (I already had the paint & tools)
Estimated Time Investment
Day Project (6-9 Hours)
Type of Wood
Honestly not sure what type of wood. Like I said, I'm a newbie. Went to Home Depot & he picked out what was in my budget.
Finish Used
First coat- Killz: White oil based primer.
Second coat- Glidden: Pewter, Semi-Gloss finish (same as the trim)
Distressed with medium grit sandpaper all over.
I opted not to go with a third gloss coat. The wood is soft from me sanding it all over and I figured the gloss coat would take away from the distressed look & make it look new which isn't what I was going for. It's beautiful as is.
Recommended Skill Level
Starter Project