This is the sequel to my first kitchen cabinet build, the awesome base unit to the right of the stove. It's another custom design to fit the space (and replace some horribly inefficient metal cabinets that, while cute, really looked like they belonged in a different kitchen). And my first time working with maple and edge banding! Thank you, thank you, no applause please. I'm calling this project "intermediate" skill only because I chose to router the doors and install cup hinges. Otherwise, they're just big boxes on the wall, for real.
The carcasses, shelves, and door panels are all Purebond plywood. The face and door frames are 1x2 and 1x3 maple. The french cleat used to hang the two pieces is also plywood (more on my blog about that). Unfortunately, I don't know enough about wiring to add/move that outlet so that the microwave cord could be hidden...but at least the microwave itself is off the counter! It doesn't have to be perfect to be beautiful.
The wineglass storage is a sort-of take-off on a few other plans on here and some pieces I saw down in Amish country. It's a little rough-looking outside of the cabinet into which it is installed because I didn't design that element very elegantly. Plus I kept changing things on myself mid-stream.
The concealed cup hinges...were totally intimidating. And at first I bought into all the hype about "you HAVE to use a drill press or you'll RUIN your doors", but in the end I just eyeballed it with a plain old forstner bit, and all 6 doors turned out fine! Plus, I got to use Blumotion hinges...you physically cannot slam these doors!!
I'm super proud of this project, and my mother-in-law (in whose kitchen they reside) is thrilled. Btw, the crown moulding is not yet installed, which is why the trim pieces up top look so funny.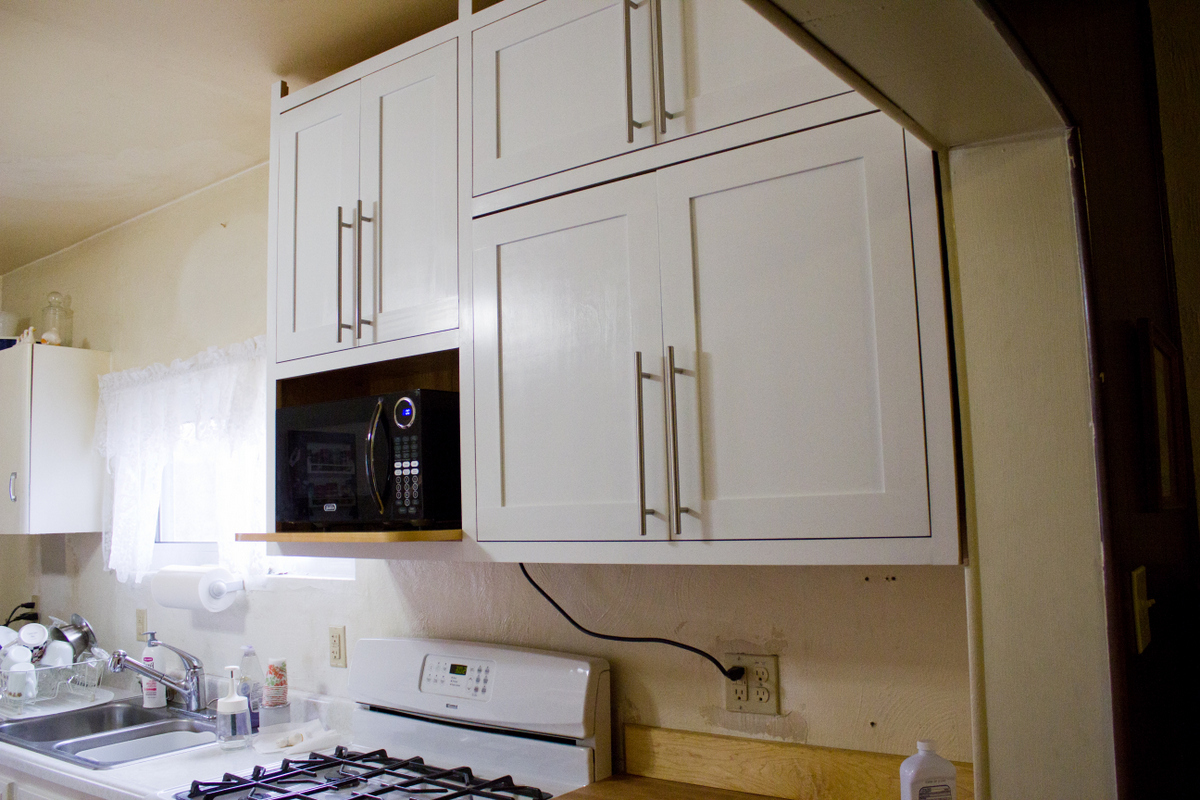 Estimated Time Investment
Week Long Project (20 Hours or More)
Type of Wood
Plywood and maple
Finish Used
Sherwin Williams ProClassic Interior Acrylic Latex Enamel, plain old white
Polyurethane on the shelves (which in retrospect should have used polycrylic...they turned out a little yellow, which is unfortunate)
Recommended Skill Level
Intermediate