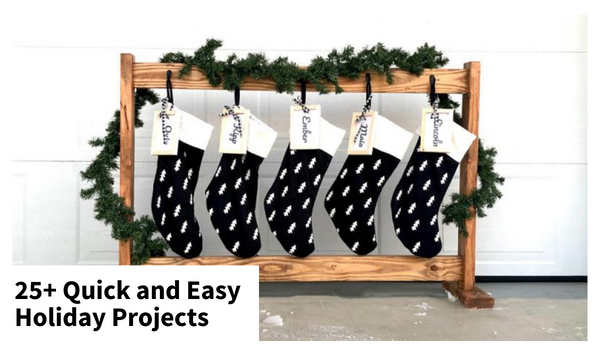 Craft your holiday home decor this year, using wood projects with free plans.
We've compiled 25 quick, easy and inexpensive holiday home decor projects to get your home ready for the upcoming holidays.  Many of these projects can be made from scrap wood, and you can customize to suit your home's style and space.
Build one, or maybe you want to build all 25, there's plenty of time - these easy projects can be built in just a couple of hours, and they are fun and festive to make.
We've included projects to help with dining, decor, outdoor displays, organization and host gifts - you can save money and get that custom look with a little bit of DIY.
Since it's all about quick and easy prep for the holidays, let's jump right into it and get ready for this holiday season TODAY!
1. COUNTERTOP PIE SAFE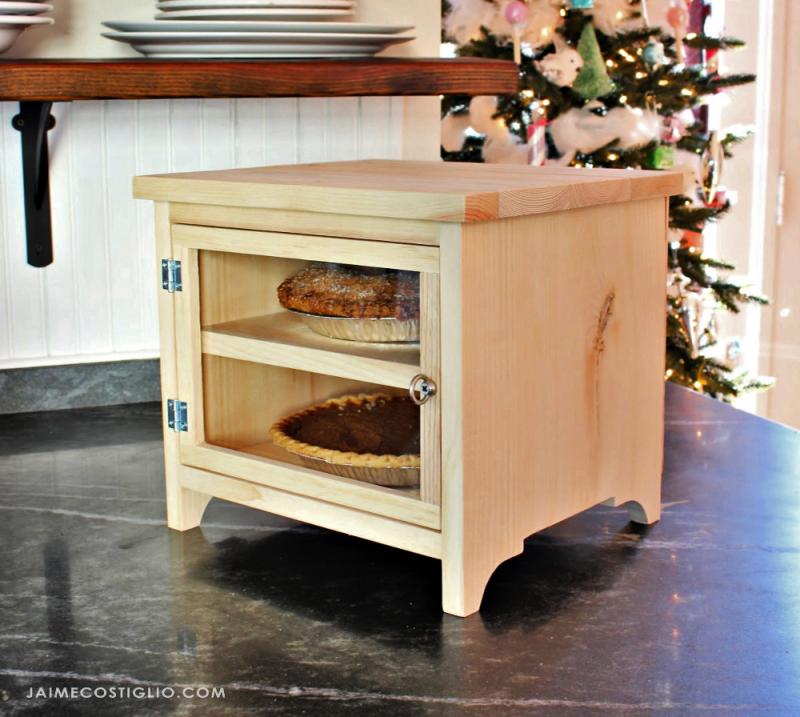 This is a quick an easy build, and can be built in about the same time it takes to bake 2 pies.
2. CRAFTSMAN STYLE PICTURE FRAME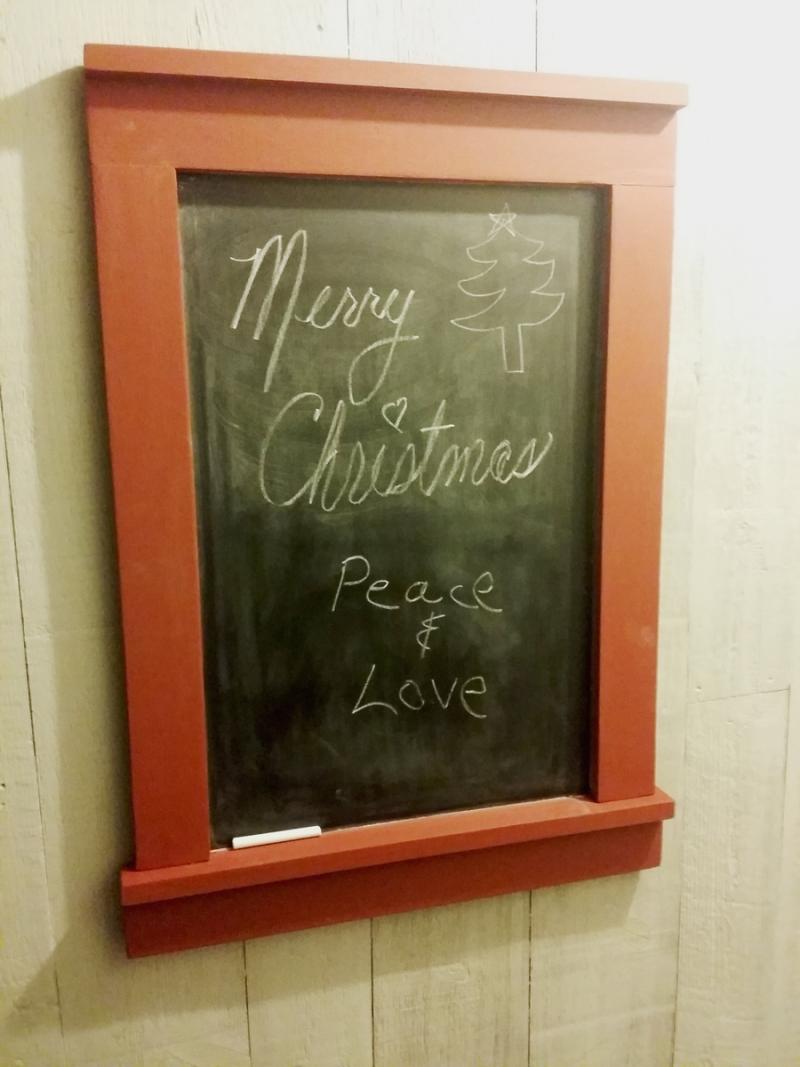 Grab some holiday printables, and build a frame to fit! This picture frame plan is easy to modify for any size print. Looking for a last-minute gift idea?  This would also make a wonderful gift for mom from the kids or send a family photo to the grandparents to be treasured year round! Another quick and easy handmade gift the recipeint will be sure to love!
3. HOLIDAY TABLE CENTERPIECE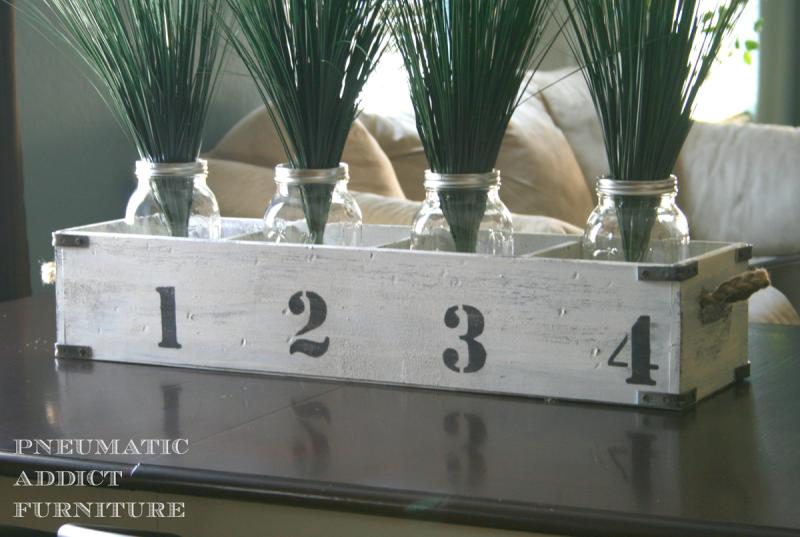 Hmm, maybe mini Christmas trees, ornaments, candles, pinecones, or florals. If giving as a gift think about hot cocoa mix,bath salts, candy or a sweet treat... The options are endless, have fun with this one!
Another project that can be switched up and used all year long!
4. WOOD MILK AND COOKIE PLAYSET
Christmas gifts for kids? YES! Build your own play milk and cookies set for Santa. This set can be used as decor throughout the holidays too.
5. PERSONALIZED NAME TAGS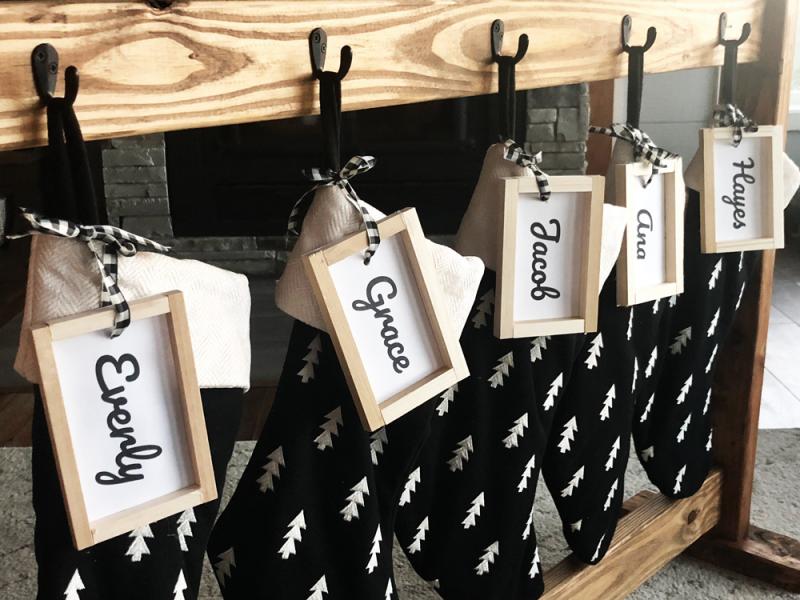 Grab your hot glue gun for these Personalized Name Tags! This is a great way to put a special touch on a stocking, gift or use as a label for seating assignments at a large gathering. Add a cute little ribbon and enjoy how inexpensive, quick and easy these little personalized name tags are! It's simply a printable label with a frame and your guests are sure to love them! 
6. FAUX MANTLE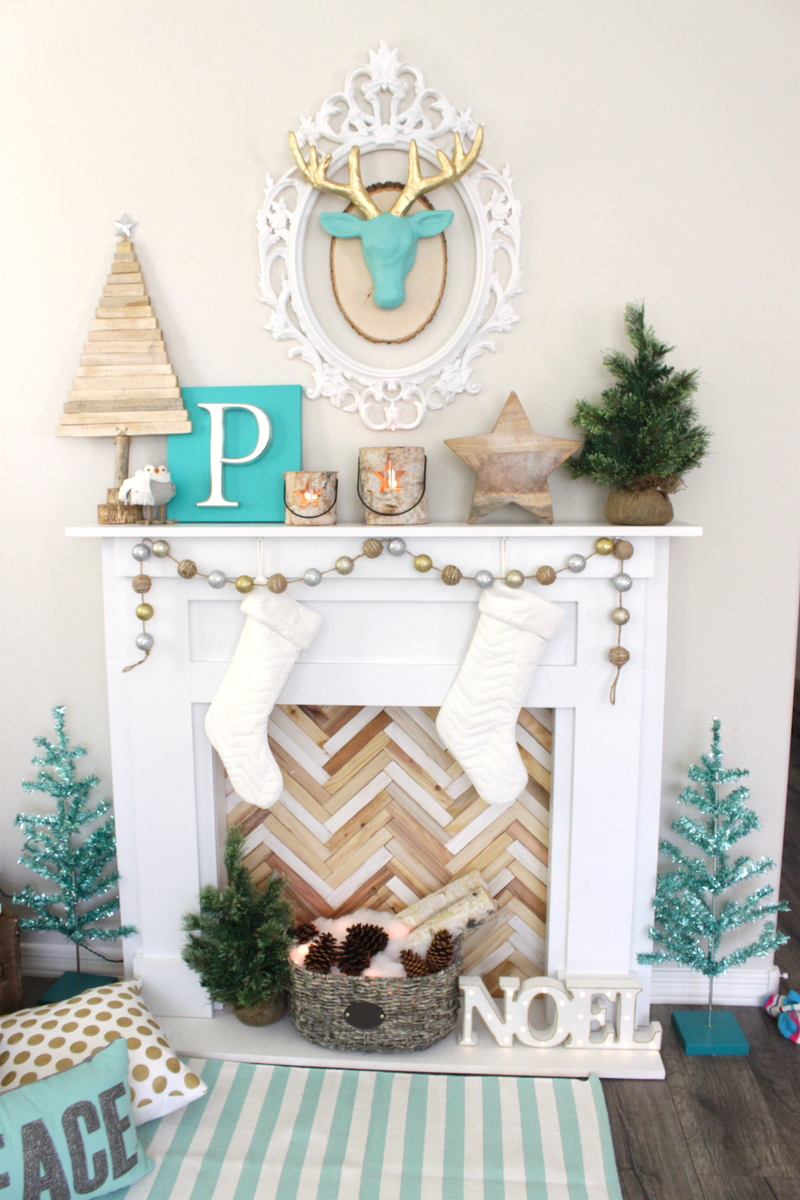 This is a quick and easy Faux Mantle Plan that is a perfect way to decorate and give your space a comfy, festive feel! Add candles or hang orgnaments for Christmas time, and change out the decor throughout the seasons. Also a faux mantle is a small enough project to store away for next year!
We also have a Faux Fireplace Cabinet with Hidden Storage plan that is a great year round solution to add storage and function to a space, check those free plans out here . Reader submitted photo.
7. TALL OUTDOOR WOOD PLANTERS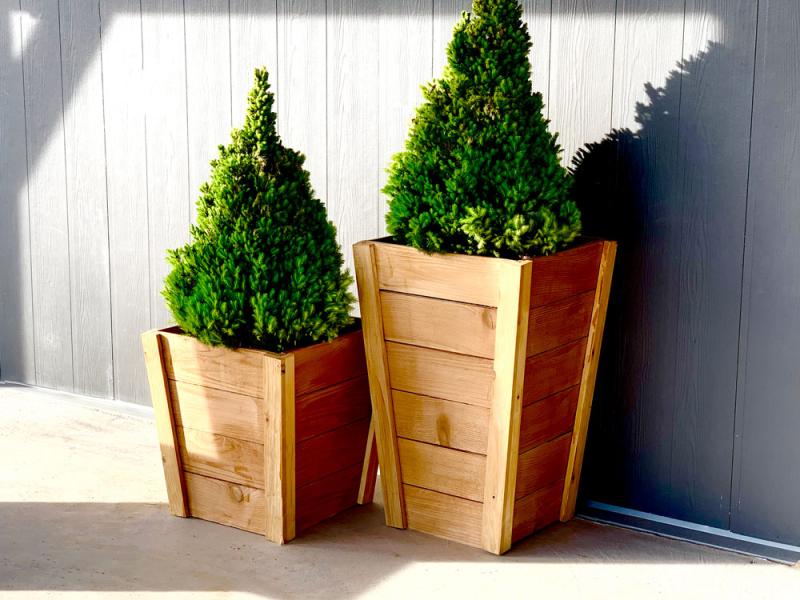 These tall cedar planters are another DIY project that will not only create some curb appeal for the holidays, but change them out with seasonal plants when the holidays are over and enjoy all year long!
8. WOOD STOCKING STAND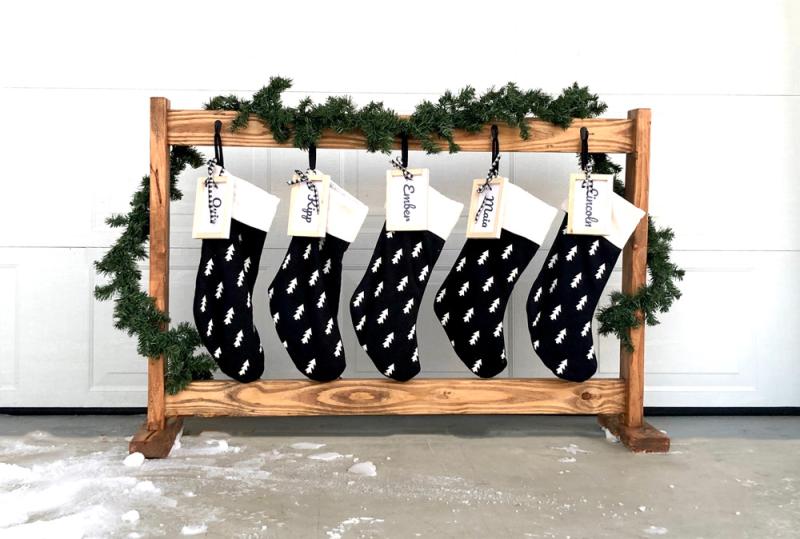 Nowhere to hang the stockings? Here is a last-minute solution! Besides a Faux Mantle, this DIY Stocking Stand is a wonderful way to display stockings and holiday decor. This quick and easy stand can be stored when not in use, or get creative with how to use it year round. Easy to build in just an hour or two, you will not be disappointed!
9. RUSTIC JOY SIGN WITH WREATH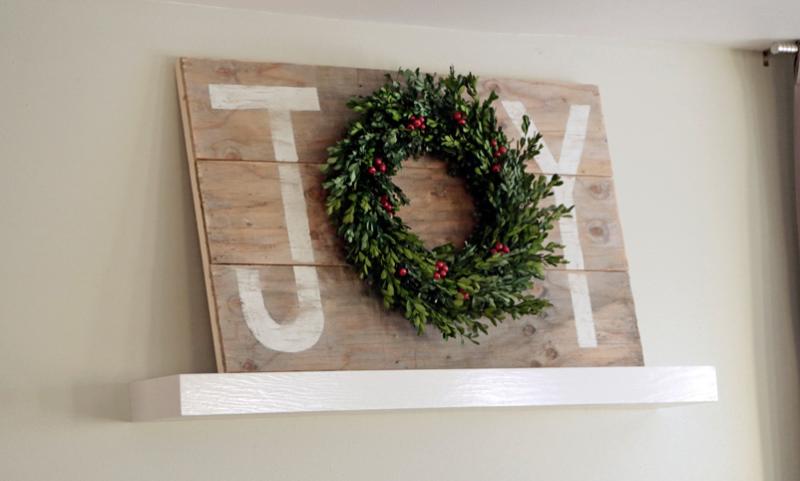 Add some JOY and use up some scraps while you're at it! This Scrap Wood JOY Sign with Wreath tutorial is such a cute and easy way to add some holiday charm to your home and space - and it makes hanging a wreath easy and hanger free.
We do have plans for a fun lighted chalk board sign too, for that plan click HERE.
10. WOOD TREE COLLAR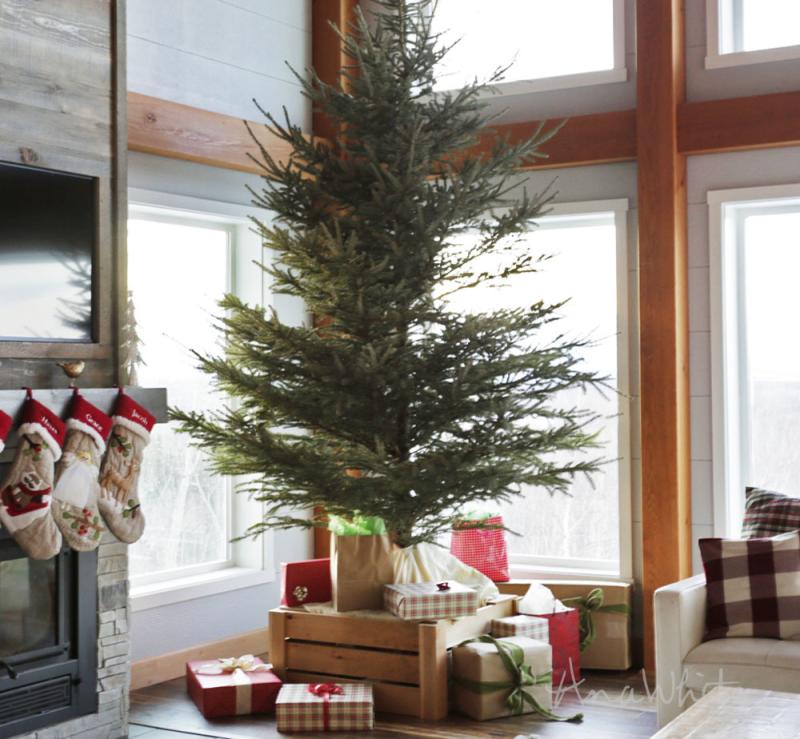 For some extra charm around the tree, consider this Simple Christmas Tree Collar that lays flat to store away when the holidays are over! The look and functionality take the Christmas skirt to the next level. Stack gifts and decorate around the base of the tree with the help of this DIY Wooden Christmas Tree Collar!
11. CHRISTMAS TREE SHELF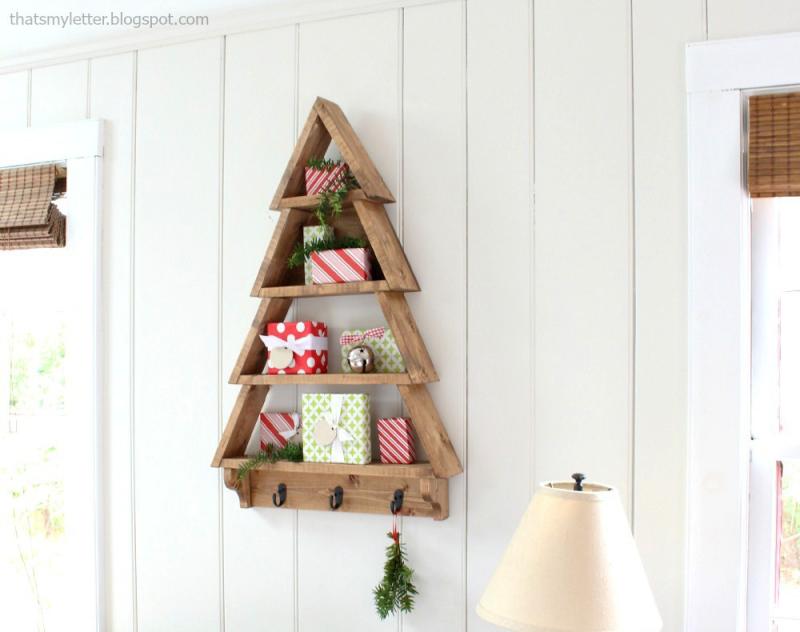 One of our most beloved holiday plans, this charming Christmas Tree Shelf! It may look a bit difficult to build, but I assure you, it is very easy! We have a step by step video to help you along the way! Not only is it easy to DIY, it is also inexpensive!
Another fabulous handmade gift idea. If you build one for your host/hostess, you may as well build one more for yourself, it will be hard to let this one go! BUILT BY JAIME COSGTIGLIO
12. DIY LAZY SUSAN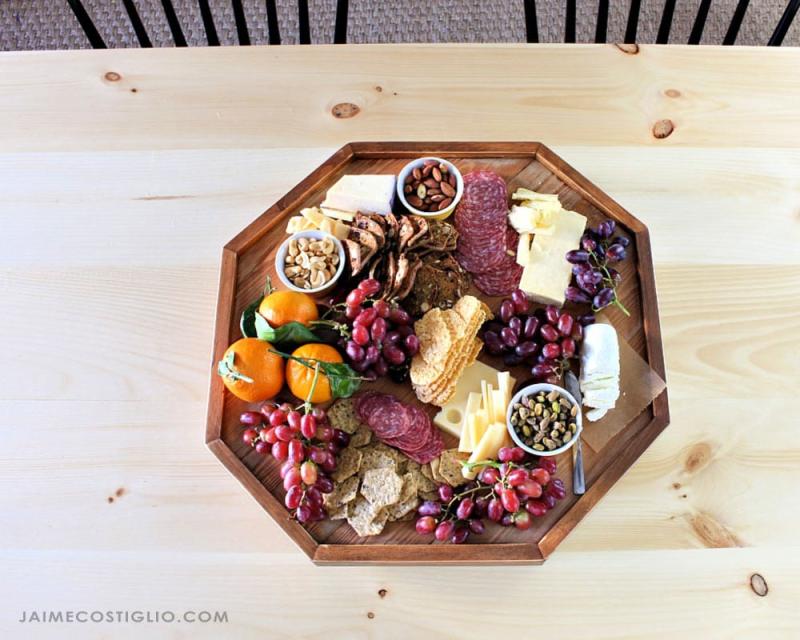 Make an easy place for the family and guests to enjoy some tasty treats.
AH we love lazy susans, not only for large holiday gatherings, but regular meal time or family game night! So if you've thought about buying or building a lazy susan, no need to put it off any longer, we have you covered with our free plans to build a Lazy Susan for the quickly approaching holiday season! BUILT BY JAIME COSTIGLIO
13. STACKABLE WINE CADDY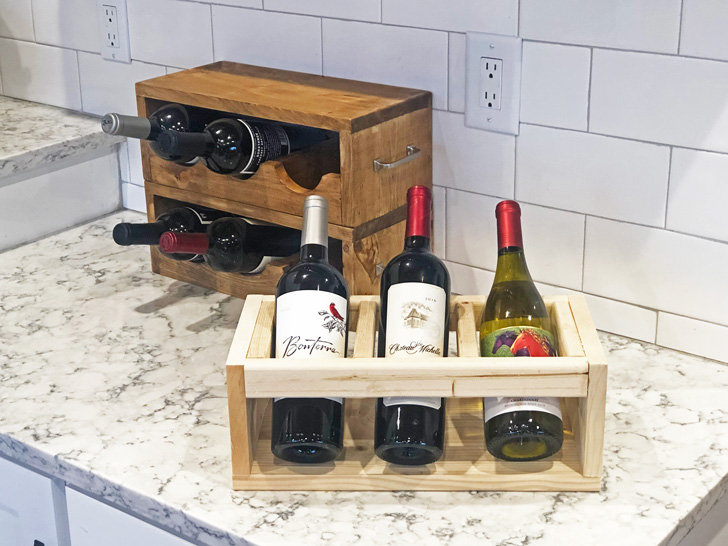 We also love that this wine caddy is a great way to store wine year round! Just set and stack right on a countertop or in a pantry!  Perfect additon for a wine and cheese gift basket! Have fun with the finish and hardware on this Simple DIY Wine Caddy project! 
14. CHARCUTERIE OR GRAZING BOARD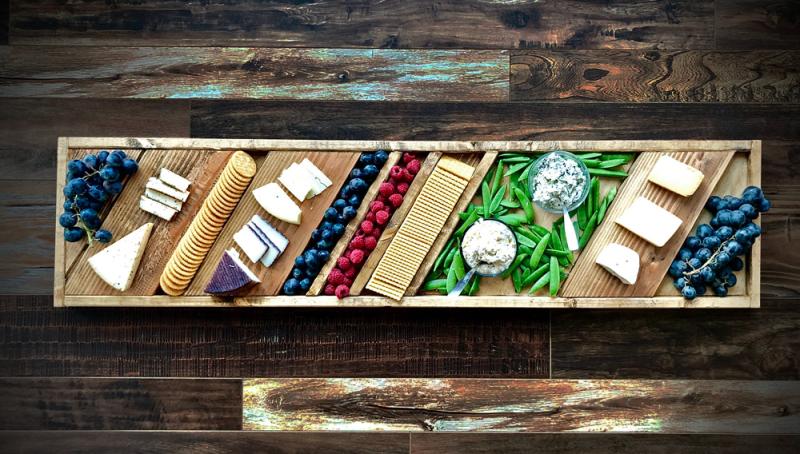 A charcuterie board is both functional and beautiful, be sure to take some pictures before the guests demolish your pretty display! Perfect for meats, cheese, fruit and berries, OR candies, sweets and chocolates! Use it over and over again and simply store away when not in use!
15. PORTABLE GIFT WRAPPING STATION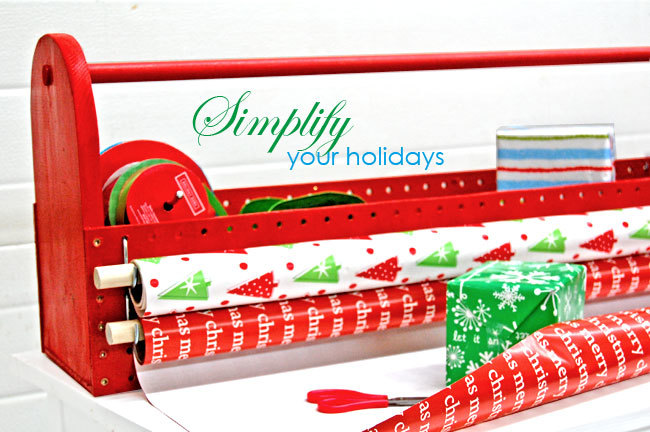 This fun and functional DIY Gift Wrapping Tool Box is so awesome and will make your gift wrapping experience so much more enjoyable! The best part about this little gift wrap toolbox, it's portable!
YES portable, take it to your family or friends house and have a gift wrapping party! After all that is what the holidays are all about, being together and making memories! Store away for next year once all the gifts are wrapped, or use it as a craft station. We also have plans for a Gift Wrap Cart on Casters HERE.
16. HOLIDAY CARD WALL DISPLAY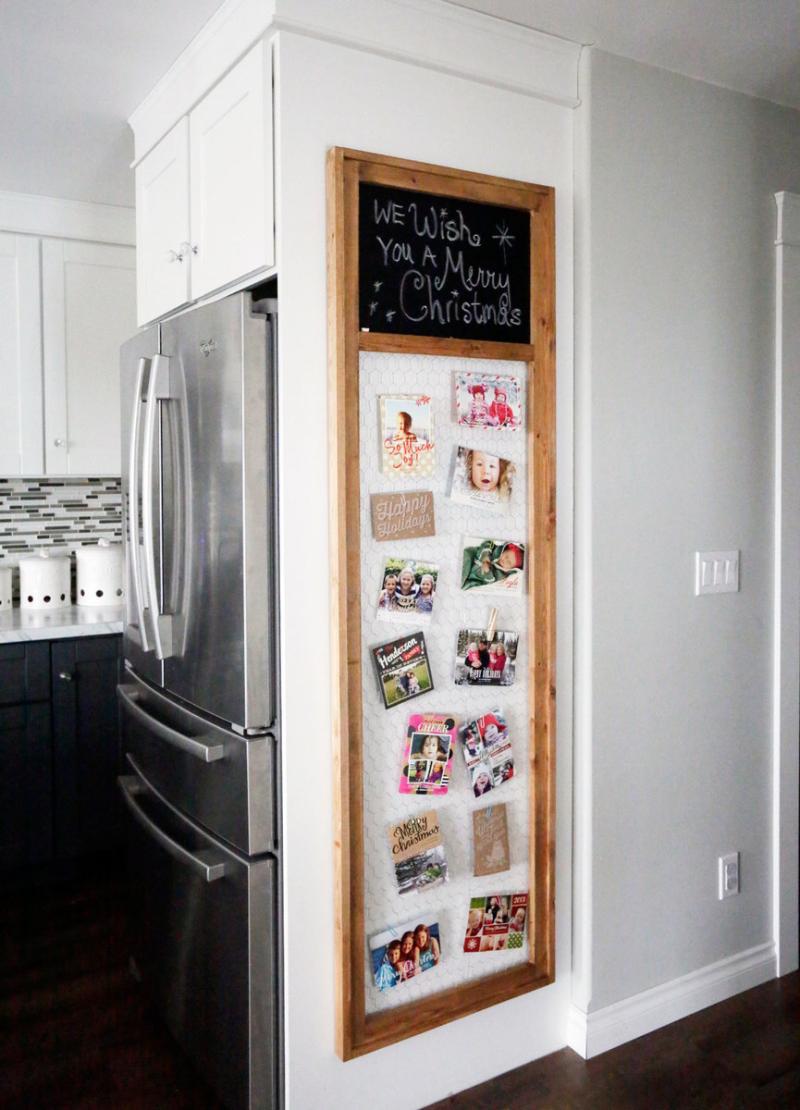 We love getting family cards and pictures in the mail, so we created this simple DIY project! A chalkboard and chicken wire frame, card and photo display. Using minimal tools and materials, create a nice framed display for all of those lovely holiday cards!
We have an even simpler Scrap Card Display plan HERE, if you want to check that out!
17. LETTERS TO SANTA MAILBOX
The kids will love writing letters to Santa! Whip this cut little Letters to Santa Bin out with scrap 1x4s and 1/4" plywood. Paint it festive colors, or all white for a farmhouse Christmas look. Choose an optional hinge lid or fixed lid. BUILT BY JAIME COSTIGLIO
18. WOOD TRUCK SHELF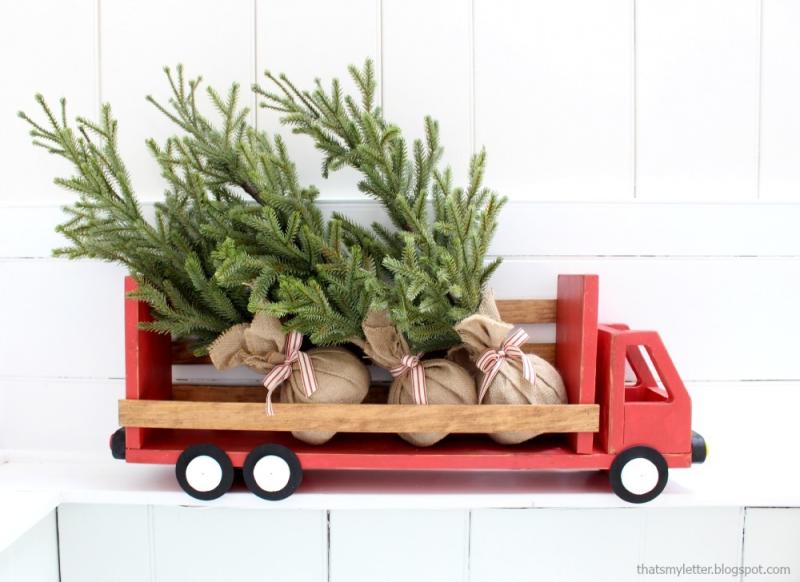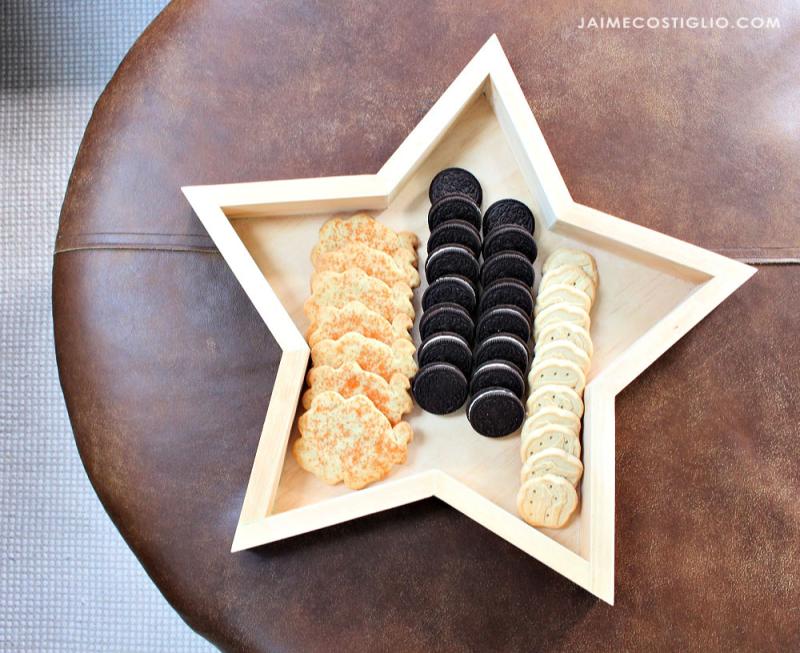 What would holidays be without the cookies, candy and sweet treats? Here's a great way to display and serve all of those treats. Grab some scrap wood 1x2s, and make a few DIY Star Trays! Make a big batch of goodies and fill them as handmade Chistmas gifts, right down to your homemade baking! BUILT BY JAIME COSTIGLIO
20. WOOD CUP TREE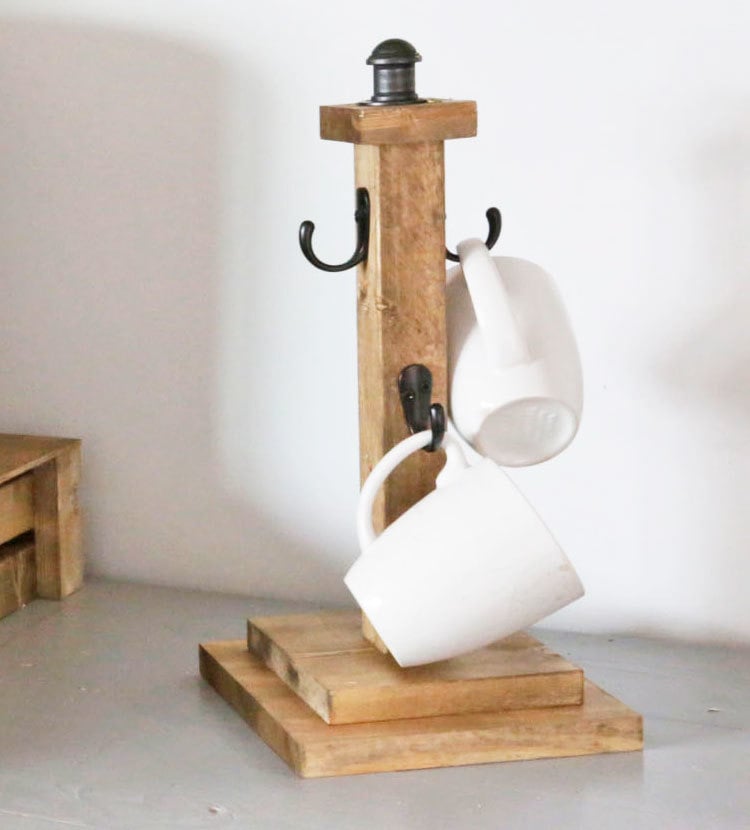 Bring out the holiday mugs and hot chocolate mix and get festive! This little DIY Cup Tree is so quick and easy to build for yourself or to give as a handmade gift! Make a festive gift basket with some fun holiday mugs, a big batch of hot cocoa mix, add some fun coasters and treats! 
21. WOOD CANDLE BLOCK STAND
Get festive with these Candle Block Holders, add ribbons or bows to dress them up for the occasion! A simple DIY project using scrap lumber, makes it easy to bring a little wood element into a space. Easy to customize the height to suit your needs. Perfect for a table or mantle! BUILT BY JAIME COSTIGLIO
22. ALL IS CALM, ALL IS BRIGHT, LIGHTED SIGN
Build a Light Up Holiday Sign! There's something special about the twinkle of soft white lights during the holiday season. This is a very easy DIY project, that you can build with just a chalkboard panel, some LED lights, a 1x2 frame and chalk!
We love that this little sign lights up for that Christmas sparkle!
23. WOODEN STOCKING 
Decorate with wood stockings! We love this version By Live, Laugh, Rowe, using an upcycled can to transform a piece of plywood into something festive! Using the right hardware, you could also use a mason jar or make it a small shelf to add candles. Lot's of options with this one!
24. DIY WOOD MANGER, NATIVITY SCENE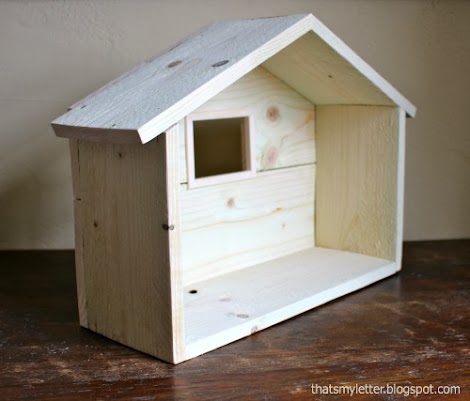 Build a Simple Wood Manager for a home nativity scene. This simple tutorial with step by step instructions, will guide you through the build process to create your own nativity decor. Easy to customize for different sizes.  It's up to you to leave it natural or add some paint or stain to suit your space. We love it stained to bring that rustic wood look to your home, or all white for a farmhouse Christmas feel. BUILT BY JAIME COSTIGLIO
25. SIMPLE DISPLAY LADDER
In the colder season, more blankets are always needed. Cozy up your space with a DIY Blanket Ladder displaying festive blankets in textures in prints for the Holiday season. This is the EASIEST and CHEAPEST blanket ladder tutorial we have.
We also love this piece in the entryway for added coat storage.
26. CHRISTMAS TREE CUPCAKE STAND

Holds 3 Dozen Cupcakes
Elevate cookies, desserts and cupcakes to a 3D display with this tiered Christmas tree cupcake stand.  This step by step plans shows you how to build it. 
We hope you love these great DIY HOLIDAY PLANS, whether it's a last minute gift or holiday decor item, we hope you share your projects with us! Have a safe and wonderful Holiday Season. #anawhite 
Pin For Later!