A full storage base for the Brookstone Collection. Features three cubbies at the base and full under bed storage, and a smaller cubby space at th back. For extra support, add a third center divider.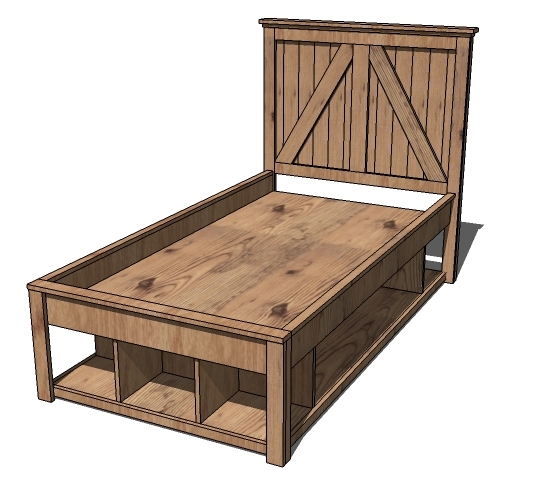 image by Ana White
I can't tell you how much I enjoyed your comments and likes for the Brookstone Twin Headboard.  I guess I'm still a toddler at heart, because positive reinforcement is just that - it reinforces the idea that I am on the right path, that I am doing what I love, and that I am helping other people live better lives too.  So thank you, and with great pleasure, I introduce to you the Brookstone Storage Bed to match the Brookstone Headboard.
One of the challenges with designing storage bed is obviously adequately supporting your mattress and creating the storage zones as actual structures that support the bed.  I was on the fence about slats vs plywood for the bed top - plywood isn't entirely necessary, especially if you have a box spring, but I ultimately choose 3/4" plywood you could use inexpensive builder grade plywood (it's all hidden for the top) and it would be easier to build this way.  BUT slats would be preferred, say, the mattress might be reciveiving "accidents" or you live in a humid climate.  Drilling a few holes in the plywood should help out considerable with these issues.
image by Ana White
Our Brookstone Bed is very much inspired by Pottery Barn's Brookfield Bed, and I hope you take a second to check theirs out - it beautiful.  Like theirs, our design is open on the bottom.  You could just as easily throw a divider in there, but I thought pass through storage could make sense (sleeping bags, out of season clothes, music instruments, or even hockey gear could be hidden in there) with some cute baskets or bins on the outsides.
image by Ana White
Yeah, I thought of that too.  I've got kids.  They will be crawling through there if you give them a chance.  So let's plan for it by supporting the bottom with a few 2x2s.  The 2x2s sit directly on the floor, fully supporting the cubbies.
Dimensions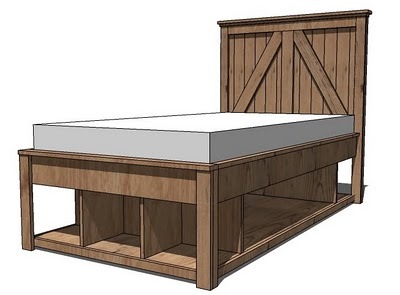 Fits a standard twin mattress.
Preparation
Shopping List
2 - sheets 3/4" Plywood
2 - 2x2 @ 8 Feet Long
1 - 1x12 @ 10 Feet Long
1 - 1x6 @ 16 Feet Long
1 - 1x3 @ 8 Feet Long
5 - 1x2 @ 8 Feet Long
Common Materials
2 inch screws
1 1/4 inch finish nails
2 inch finish nails
120 grit sandpaper
primer
wood conditioner
paint
paint brush