A little itty bitty bench for itty bitty guests. Features a tip resistant leg design, yet still narrow and space saving.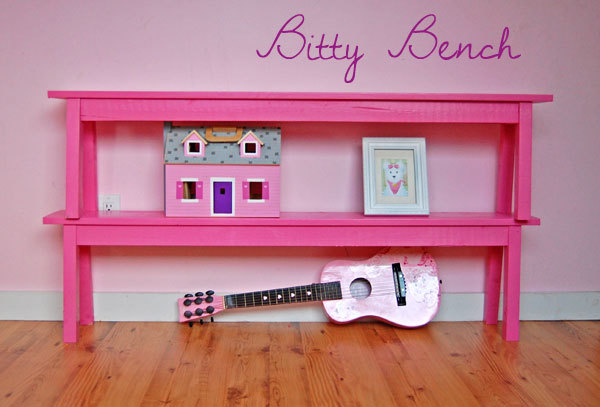 The day before our bitty guests were due to arrive at a very important birthday party, everything was ready.  The streamers hung, the extra clutter hid in mom and dad's room, the cakes baked, and the frozen pizzas thawed . . . except we did not have a table or seating for our eight little guests under eight.
Good thing we have a saw plugged in at all times.
Just hours before the guest arrived, I built these benches and the table.  The paint was barely dry as guests arrived.  And we couldn't be more pleased with the results.
I spent more time thinking about how to make the bench narrow, but still tip resistant, than I spent building it.  Problem #1 - how to keep preschoolers from tipping the entire bench backward, but without taking away the simplicity of the bench?  Nothing a couple of five degree angles can't fix.
And a few coats of bubble gum pink paint.  It's my old trick.  Simple Design + Bold Paint = Wow.
Also pictured are the ten dollar ledges.
And what to do with two extra benches, in between Birthdays?  How about storing all those new toys?  Make sure you secure the benches to each other to keep from tipping forward.  I would even secure it to the wall, especially if you have any climbers in the house.  We do.
Dimensions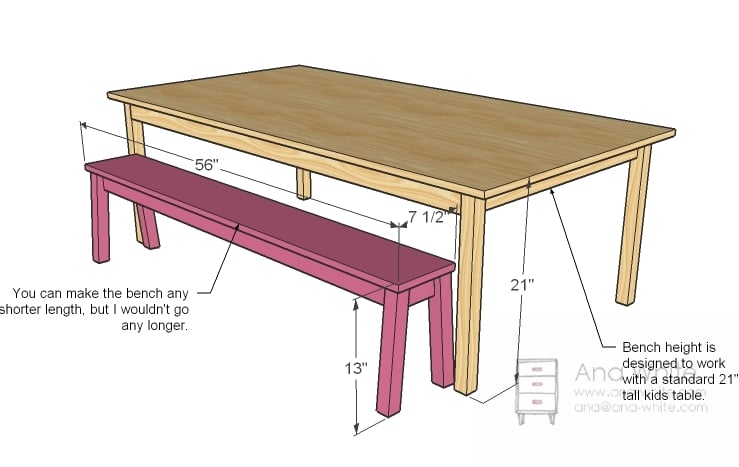 Dimensions are shown above.
Preparation
Shopping List
1 – 4 foot long 1×8 (my bench) but you can also use a 1×10 or 1×12 for a wider seat
1 – 2×2, 6 feet long
2 – 1×3, 8 feet long
2″ screws
wood glue, wood filler and finishing supplies
Common Materials
120 grit sandpaper
primer
wood conditioner
paint
paint brush
Cut List
1 – 1×8 @ 48″ (you can use the 1×10 or 1×12 here)
4 – 2×2 @ 13 3/4″ long, both ends cut at 5 degrees off square, parallel to each other
2 – 1×3 @ 4″ with both ends cut at 5 degrees off square, NOT parallel to each other (cut 2″ longer for a 1×10, 4″ longer for a 1×12)
2 – 1×3 @ 44″ (side aprons)
Instructions
Step 1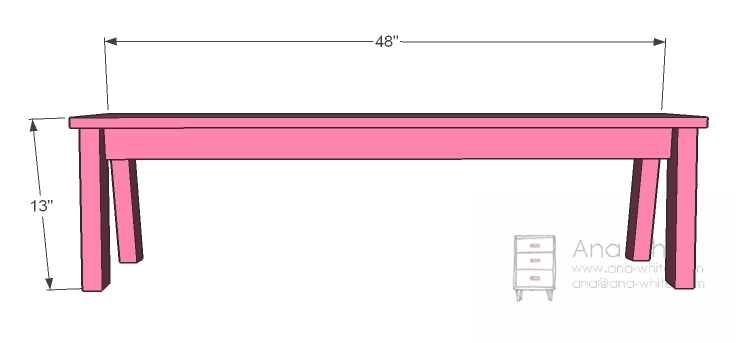 The bench shown in the photos is actually 56″ long, but I choose to make the plans only 48″ long to save everyone from buying a longer board. But you can easily modify the plans to a longer bench.
Step 2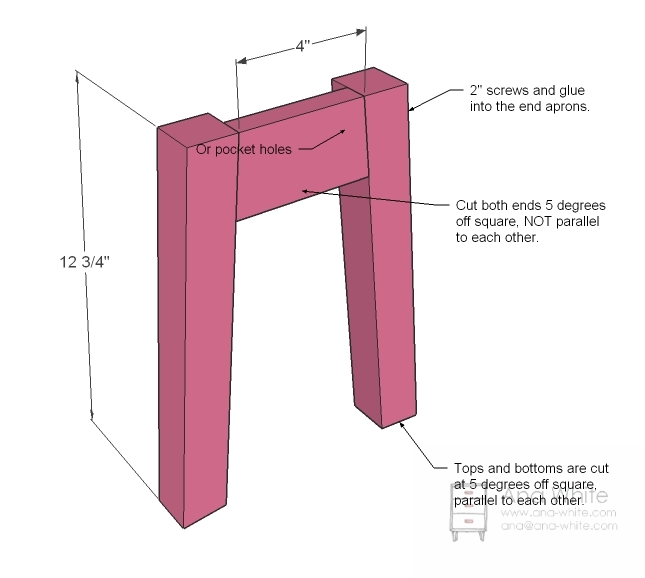 Ends
Build the ends as shown above. Use glue and screws. You can use pocket hole screws or 2″ screws predrilled with a countersink bit from the outsides of the legs. Use 2 screws per leg per end apron.
Step 3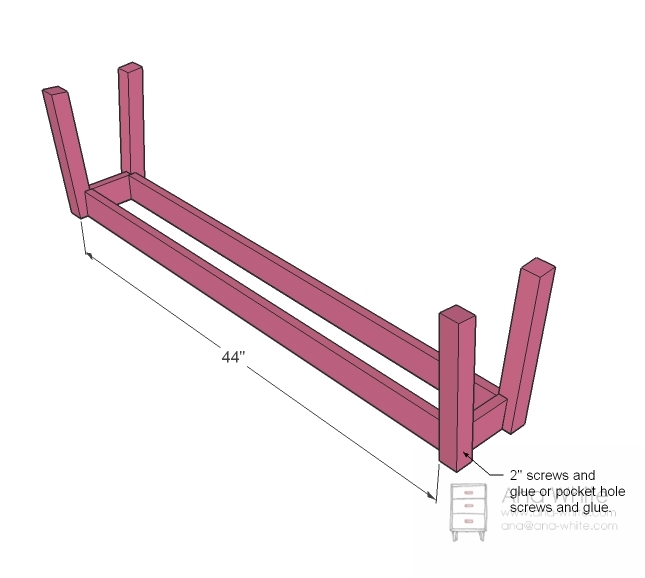 Front/Back Aprons
Now carefully add the front and back aprons to the ends with screws and glue. Keep the aprons square with the work surface, NOT inline with the legs. If you do, you won't be able to put the top on straight.
Step 4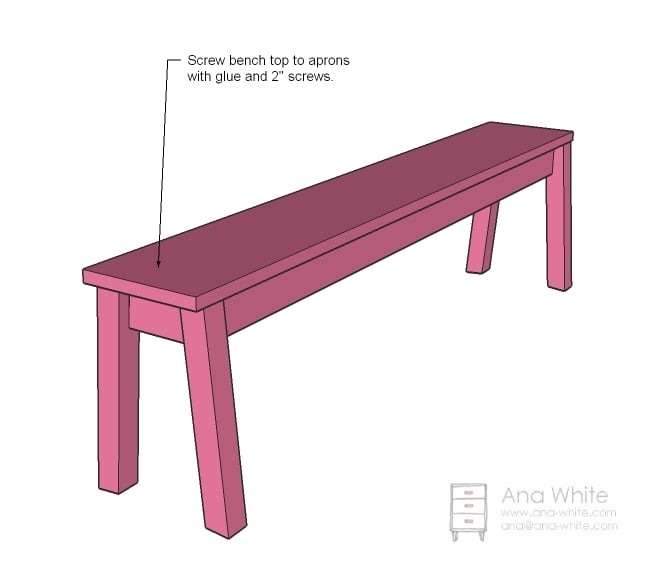 Top
Now simply lay the bench top, pretty side up, and line the aprons up on the underside. Trace the aprons onto the bench top. Measure and take note of the exact placement of the aprons. Then place the bench frame right side up and lay the bench top on top of the frame, pretty side up. Line up and then predrill holes through the traced lines and screw down. Somewhere in there, you need to apply glue to the tops of the aprons.