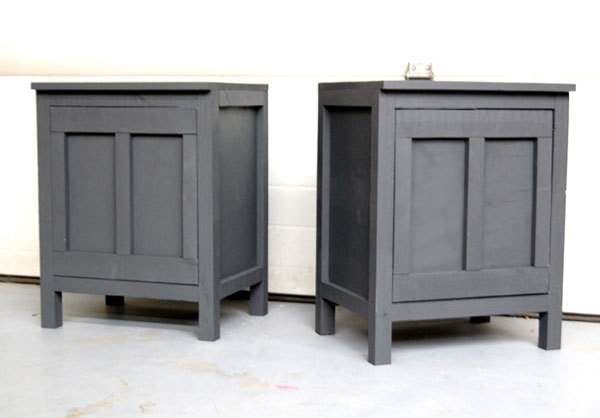 These little guys can be both a nightstand or side bases to form an entire media wall. Features large interior with optional shelf, open base for air circulation, ideal for storing just about anything.
If you are getting frustrated with the technical issues of the site, first of all, let me say, I am so sorry and I promise, I am doing everything I can, day and night - to accommodate the needs of our growing site.  And let me also say, I'm just as frustrated, and found myself in tears yesterday after the migration turned up no thumbnails.
Hours later, still no thumbnails.
Hours later on the phone with technical support, still no thumbnails.
Hours later, we've got thumbnails, but we're back to the shared site.  Sign.
So what's a gal to do when she's stressed out?
I tell  you there are few things more stress relieving than a good ole hammer and nails.  Or an old school sanding block.
And a big ole project . . .
a big BIG ole project.  Productive therapy.
There's something about working hard and seeing actual results - not cross your fingers and hope this works results - that makes you feel satisfied and encouraged inside.
I'm not really sure how I ended up with two pieces that look like they should be nightstands from Crate and Barrel, but I'll take it.  And if you need end tables, nightstands . . . or have a free weekend, and need super storage in your family room, I'm so happy to share this plan with you.
Dimensions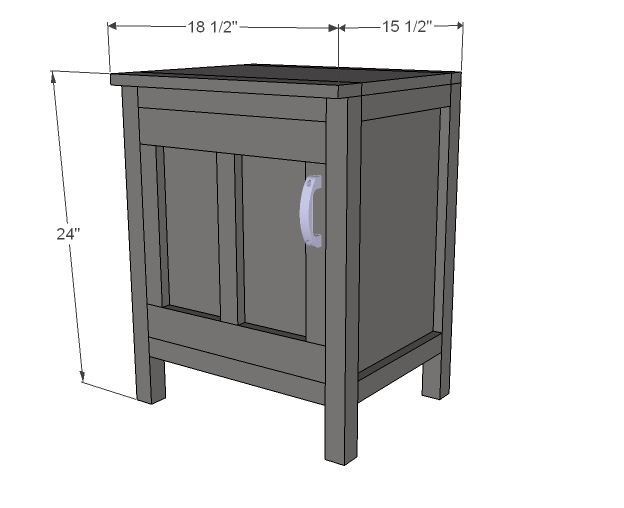 Dimensions are shown above.
Preparation
Shopping List
Shopping List (for ONE nightstand/side base cabinet)
1×12 @ 8 feet long
2 – 2×2 @ 8 feet long
1 – 1×2 @ 6 feet long
1 – 1×3 @ 8 feet long
1/4″ up to 3/4″ plywood scrap, (1×16 scrap would be great) 16 3/8″ long
1 set of euro style inset hinges OR basic hinges
handle or nob
2 1/2″ screws, 1 1/4″ finish nails or screws or pocket hole screws
finishing supplies including wood glue and wood filler, paint and primer, or stain
Common Materials
120 grit sandpaper
primer
wood conditioner
paint
paint brush
Cut List
2 – 1×12 @ 19 1/2″ (Sides)
4 – 1×2 @ 11 1/2″ (Side Trim – cut to the width of your 1x12s)
4 – 2×2 @ 23 1/4″ (legs)
2 – 1×12 @ 15 1/2″ (Shelf)
4 – 2×2 @ 15 1/2″ (Front/Back Trim)
1 – 1×2 @ 18 1/2″ (Top)
1 – 1×12 @ 18 1/2″ (Top)
1 – 1×3 @ 18 1/2″ (Top)
2 – 1×3 @ 15 3/8″ (Door)
3 – 1×2 @ 11 3/8″ (Door)
1/4 – to 1/2″ plywood @ 15 3/8″ x 16 3/8″ (door back)

Instructions