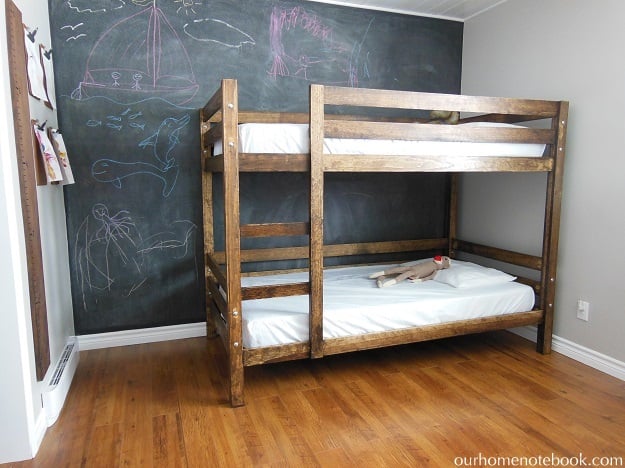 These bunk beds are unique because they are easy to build and can be assembled and disassembled easily. Ladder is integrated into the design.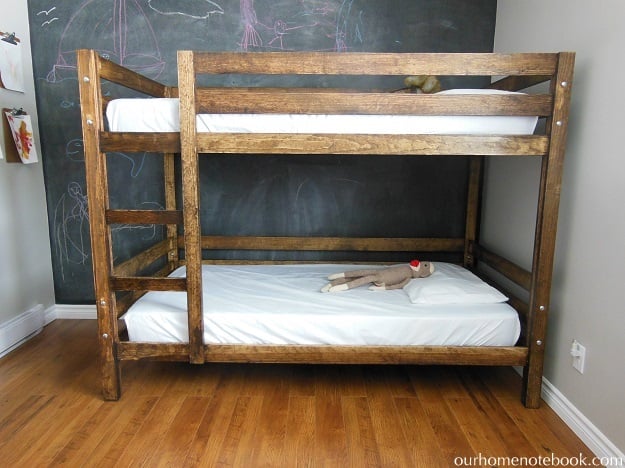 Pin For Later!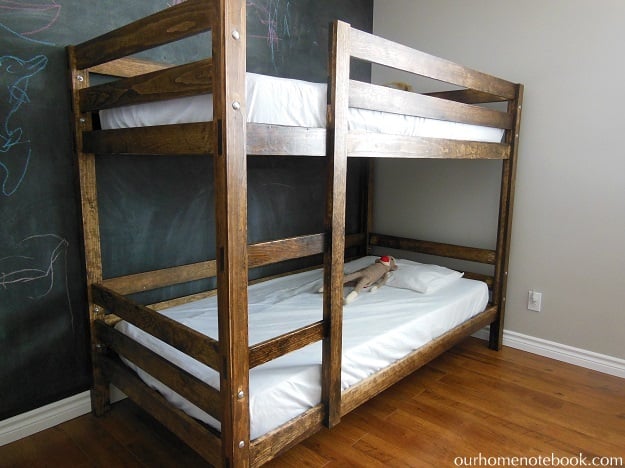 Photo and built by Our Home Notebook
Dimensions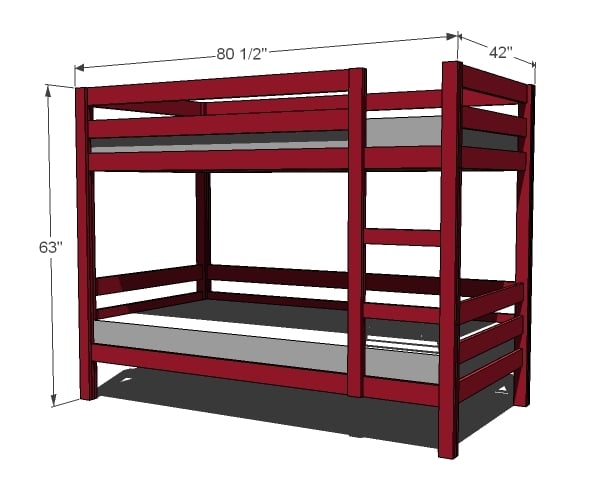 Dimensions are shown above. Fits standard 39″ x 75″ twin mattress, shown with 6″ mattresses.
Preparation
Shopping List
11 – 10′ 1×4 Boards
4 – 8′ 2×2 Boards
9 – 8′ 1×3 Boards (not including wood slats)
2″ Self Tapping Wood Screws
1 1/4″ Self Tapping Wood Screws
1 1/4″ Brad Nails
Wood Glue
Wood Filler
Finishing Supplies
16 – 3″ Bolts with washers and nuts
Cut List
12 – 1×4 @ 37 1/2″ (End Rails)
8 – 1×3 @ 63″ (Solid Leg Pieces)
8 – 1×4 @ 80 1/2″ (Back and Front Rails)
2 - 1x4 @ 64" (Front Rails)
12 – 1×3 @ 3″ (Trim Pieces between Rails)
2 – 1×3 @ 22″ (Trim Pieces between Rails)
4 – 1×3 @ 8″ (Bottom Trim Pieces)
4 – 2×2 @ 75″ (Use Metal braces for a stronger bed)
1 – 1×3 @ 55″ (Ladder Side)
2 – 1×3 @ 19″ (Ladder Rungs)
1 – 1×3 @ 13″ (Ladder Front Trim Piece)
6 – 1×3 @ 10″ (Ladder Trim)
1 – 1×3 @ 35″ (Front Leg Trim Piece)
1x3s @ 39″ (Bed Slats, as shown with 34 total slats)
Instructions