Simple chairs with an upholstered seat. Comfortable and oversized with base supports.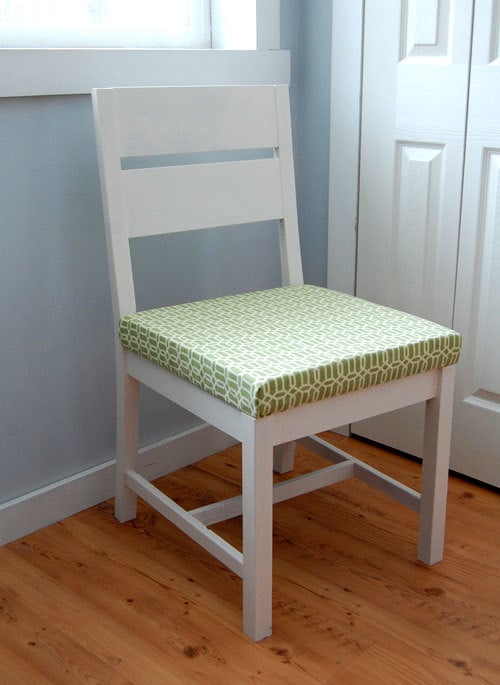 It's not that I didn't believe in you.  Because on a daily - sometimes hourly- basis, you blow me away with your capabilities. But I've resisted putting simple chair plans up because cutting back legs can be such a challenge.  And while many of you have the skills, tools and abilities to make complicated cuts, I take great measures to simplify any design, and every effort to consider the most beginner skill sets, tiniest budgets, and the limited tools of the rest of us.
I will cut anything with a compound miter saw.  I even cut that cushion foam with one (not advisable).  But ask me to cut without it?  I'll admit, it's not my favorite task.  Because when you cut with a handheld saw, the results are not as precise and smooth as with a miter saw.  Especially with 1 1/2" thick stock.  But I'm so proud to tell you that these chair legs were cut by me, on the very first time, with a handheld saw.
And I couldn't be more pleased with the end result.
While those back legs may appear to curve, it's actually a straight cut with a circular saw, so no funny beveling and rough edges, telltale signs of a jigsaw blade.  I did have to complete the cuts with a jigsaw and then sanded them back legs with coarse sandpaper, but it really wasn't a ton of work.  We are talking about an hour to build this chair.
And who can't use a classic chair?  The padded seat was actually an afterthought, but a super simple modification that I will walk you through in the plan below.
And this photo may help someone conceptualize the chair better, so I thought I would post it.  I used pocket hole screws (highly recommended so you don't end up splitting your legs and a stronger joint) and inset the aprons slightly on the legs to point the pocket hole screws directly into the meat of the legs.  Also, I highly recommend adding corner braces or chair braces (metal) to the corners for added stability.  I attached the cushion with pocket holes predrilled in the top edges of the inside of the aprons, with a 1" screw.
Pin For Later!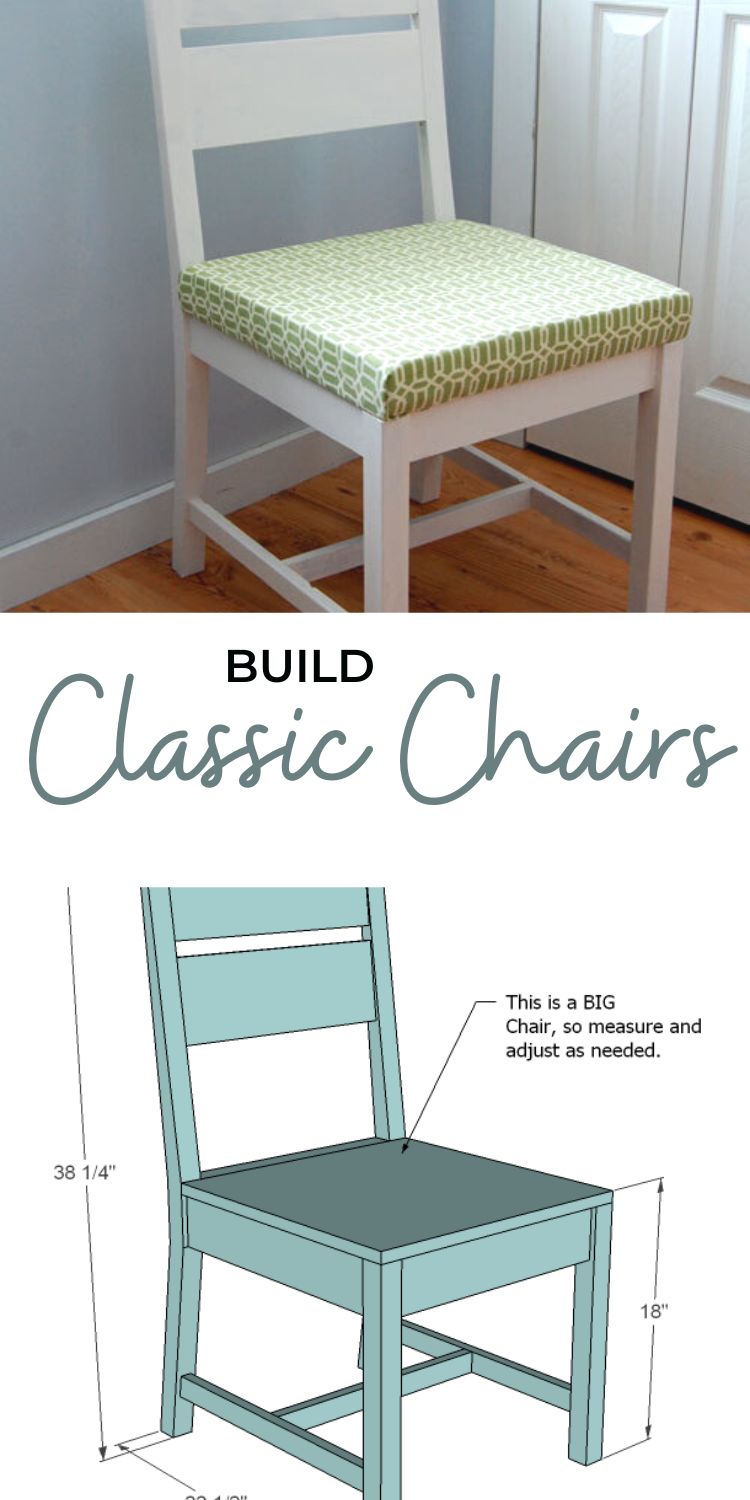 Dimensions
Dimensions are shown above. This is a BIG chair . . . just a little warning. You can easily modify the size by simply cutting the aprons to a smaller size.
Preparation
Shopping List
1×6 @ 3 feet long 1 – 2×2 @ 8 feet long 1 – 1×4 @6 feet long 1 – 1×2 @ 8 feet long 1 – 2×4 @ stud or 8 feet length 1 – 1/2″ scrap plywood for seat top, 19″ x 19″ 1 yard of fabric 1 piece of foam, 19″ x 19″ 1″ thick 3/8″ staples 1 1/4″ pocket hole screws
Cut List
2 – 2×4 @ 38 1/4″ (Chair back legs) 2 – 1×4 @ 17 1/2″ (Side Aprons) 2 – 2×2 @ 17 1/4″ (Front Legs) 2 – 1×4 @ 16″ (Front/Back Aprons) 4 – 2×2 @ 4″ (Supports – both ends cut at 45 degrees off square, NOT parallel to each other) 1 – 1×2 @ 16″ (Seat Back Top) 2 – 1×6 @ 16″ (Seat Back) 2 – 1×2 @ 19″ (Longest point, one end cut at 8 degrees off square) 1 – 1×2 @ 16 3/4″ (Center Support) 1/2″ plywood @ 19″ x 19″ (Seat top)

Instructions