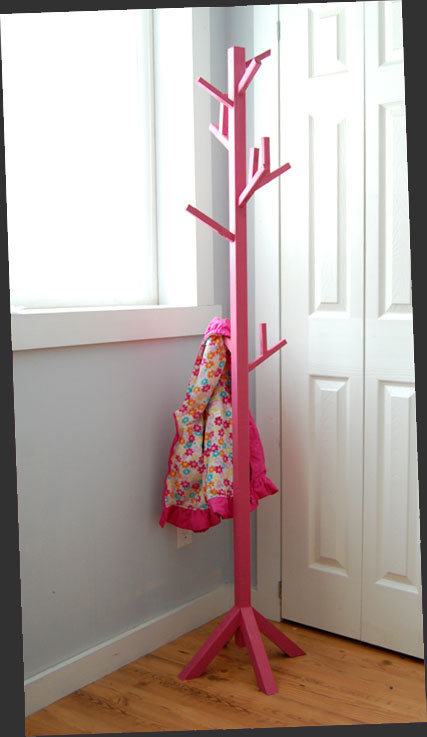 A modern style wood coat tree that most anyone can build. Features varying height branches, suitable for hats, coats, and then backpacks and umbrellas.
For about the cost of lunch, you can freshen up your entryway just in time for spring.  This simple coat tree is solid wood, and can be easily customized to fit different needs.  Featuring nine total hooks, the hooks are smartly placed allowing each side of the coat tree to have a hat hook, coat hook, and one side has a third hook for umbrellas, dog leashes, or even reuseable shopping bags.
Don't get hung up (pun intended) on the entryway.  Think damp towels, laundry drying rack or even dress up clothes, Christmas ornaments or even pretty jewelery.  This coat tree can work throughout your home.
If you have a Kreg Jig and a miter saw, this project can be completed in an hour.  If you have a can of spray paint, that puts your build time into the minutes.  And for those of you who do not, don't despair.  This project can still be made, it's just going to take more patience and probably a split board or two.
Dimensions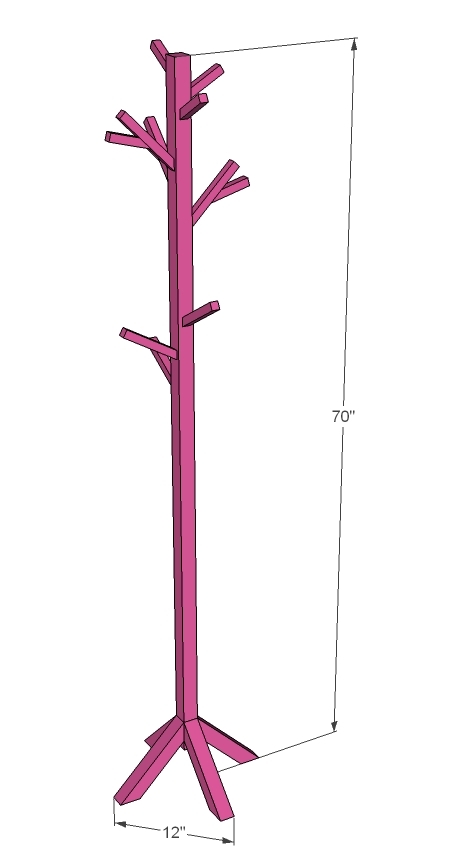 Dimensions are shown above. You could easily make this tree smaller (say 48″ for a children's tree or a jewelery tree that sits on a desktop. Do not make the branches any longer, as the leverage on the joint becomes greater with the length of the branches.
Preparation
Shopping List
2 – 2×2 @ 8 feet long
1 – 1×1 @ 8 feet long (check the moulding aisle for trim 3/4″ x 3/4″ or rip 1x2s in half with a table saw – that's what I did)
2 1/2″ pocket hole screws or finish nails
1 1/4″ pocket hole screws or finish nails
wood glue, 120 grit sandpaper and finishing supplies
Common Materials
120 grit sandpaper
primer
wood conditioner
paint
paint brush
Cut List
1 – 2×2 @ 65″ (Tree Trunk)
4 – 2×2 @ 10″, ends cut at 45 degrees NOT parallel, long point to long point (Roots)
6 – 1×1 @ 4 1/2″, one end cut at 30 degrees off square (Short Limbs)
6 – 1×1 @ 6 1/2″, one end cut at 30 degrees off square (Long Limbs)
Instructions