Creating a dress up center for your little princess (or prince) is easy with these straight forward plans. Features a large open base area perfect for accessories and a hanging bar for outfits.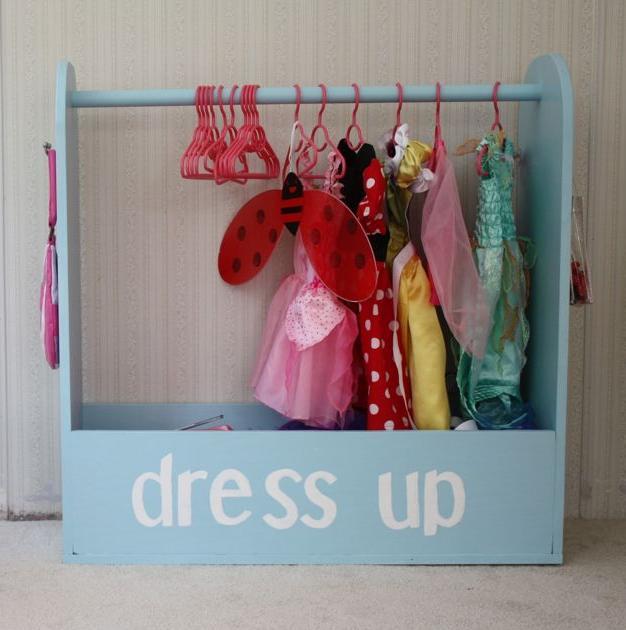 When I first saw this dress up storage center from Craftiness is Not Optional, I really did not think I could provide a more simple, functional design for you.  There are just so many brilliant crafty people out there, and I'm always impressed with what a crafty person can come up with.  You must go visit Jess here for not just the details on the paint and cost of this dress up center, but for lots more amazing tutorials.
Isn't it adorable?  I love the idea of simple for a dress up center because the dresses are so ornate in contrast.  You could add a shelf above, or a mirror on the end (love Jess's hooks) or caster wheels.
Here is how I would build Jess's dress up center from pine or MDF boards.  If you have 3/4" Plywood Scraps, Jess gives details on how she built hers for $9 here.
Dimensions
36" x 36" x 12"
Preparation
Shopping List
1 – 10 foot 1×12 board
1 – 6 foot 1×10 board
36″ long 1″ diameter dowel
2″ screws
Common Materials
120 grit sandpaper
primer
wood conditioner
paint
paint brush
Cut List
2 – 1×12 @ 36″ (Sides, round top corners 3″ down with a jigsaw)
1 – 1×12 @ 34 1/2″ (Bottom)
2 – 1×10 @ 34 1/2″ (Sides of Storage Box)
1 – 1″ diameter dowel @ 34 1/2″ (Closet rod)
Instructions
Step 1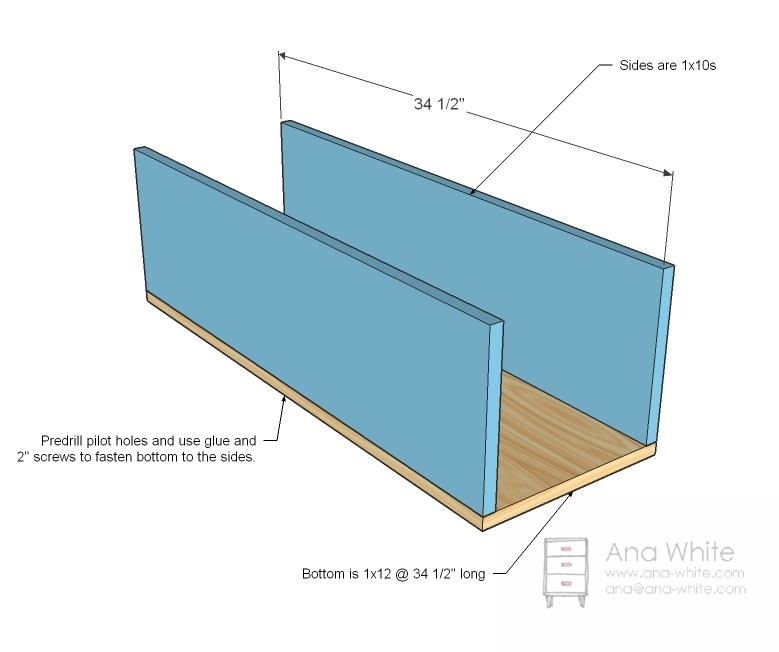 Storage Box
Predrill holes along the long edges of the bottom with a countersink bit. Then apply glue to the bottom edge of the storage box sides and screw the bottom to the storage box sides with 2″ screws and glue.
Step 2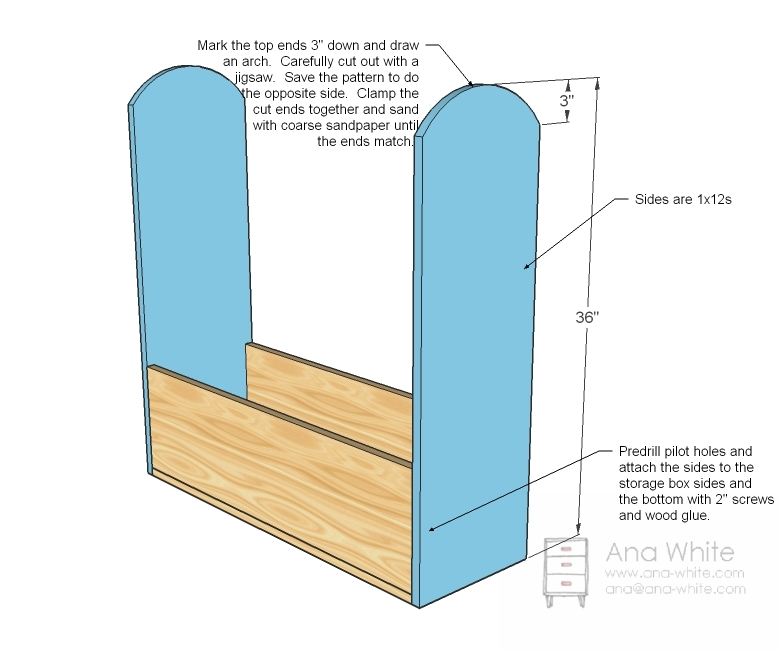 Sides
Cut the arch shape from the sides as shown above. I've done this quite a bit, and it's easier said than done to get two arches that match exactly with a jigsaw. What I do is create a pattern by folding a sheet of 12″ x 12″ scrapbooking paper in half and cutting out an arch shape. Then I trace this pattern on to the wood and carefully cut to the outside of the traced line with a jigsaw. Then I clamp the two boards together, and sand, sand sand with coarse sandpaper until the ends match. Another trick if you just can't get the ends to match is to round the cut edges, so it's not such a sharp line – then it's more difficult for the human eye to see that the ends are not a perfect match.
Once you've cut the ends, predrill pilot holes along the bottom and side edges 10″ up (I center mine 3/8″ in) and screw the sides to the storage box. Oh, apply glue to the ends of the storage box first, and keep your outside edges flush.
Step 3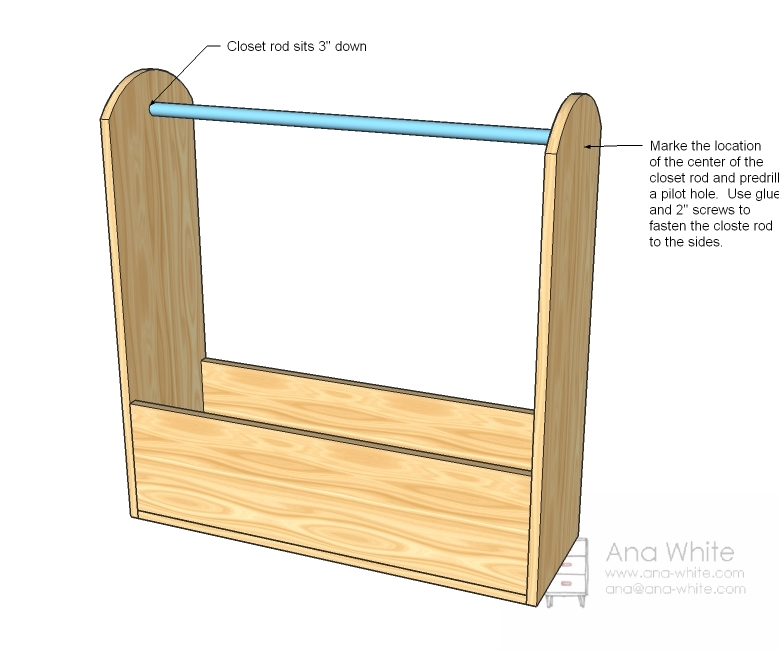 Closet Rod
Now there are several different ways you could attach the closet rod, but I liked the idea of actually gluing and screwing it in place because the top would then have some support to keep the sides in place. So measure down 3″ and to the center of your tops and predrill pilot holes. My trick . . . thread your screws through so the end is just barely showing through. Then line the screw tip showing through to the center of the dowel. Apply glue and screw it together. Do the same on the other side.
Step 4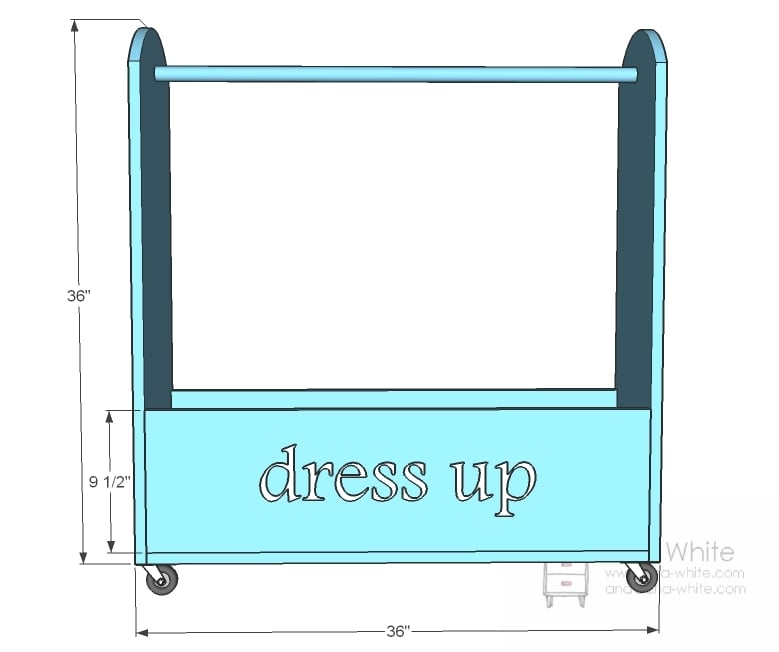 And here is what we've got with 2″ caster wheels and 6″ letters. Is this just for princesses? Because I LOVE this, even for a big girl closet! Hmmmm . . . now you got me thinking.
Step 5