A little pie hutch for a children's room, featuring cut out sides.
Putting together this plan makes me wish I had a big girl pie hutch.  And this would also make a fabulous "dressing station" (because hair ties are always getting lost and mirrors for washing your own face when you are three are way too high) or a potting stations, right next to mom's (and yes, I've been working on a simple design for a potting station for you, mom).  The possiblilities are as big as your imagination.  If you want to see what Pottery Barn Kids did with a similar design, you can click here.
We also have the stove that matches this pie hutch, plans are here.
And if I get enough requests, I would love to hack that cute little fridge, or you could build this fridge (see image below)
This one if for you, Kristi in CA, who has been so patient with me!
DIMENSIONS AND COMPOSITION
Overall Dimensions are shown above.  The bottom shelves are 9 1/2" deep, the countertop height is 20 3/4" and is 11 1/2" deep.  Boards are shown above.  You can use just about anything for the back, IKEA uses cardboard, but I would recommend a scrap piece of 1/4" plywood, perhaps modge podged with fabric or contact paper.
ALTERNATE OPTION
When I designed this pie hutch, I kept the dimensions very close to the Pottery Barn Kids Classic Pie Hutch.  But it occurred to me that you could also build the pie hutch exactly 3 1/2" wider and using the same shopping list.  So if you have more space and want a wider pie hutch, follow the plan, but add 3 1/2" to the boards shown above at 23 1/2".  You will also need to cut your back 25" x 30". 
Pin for Later!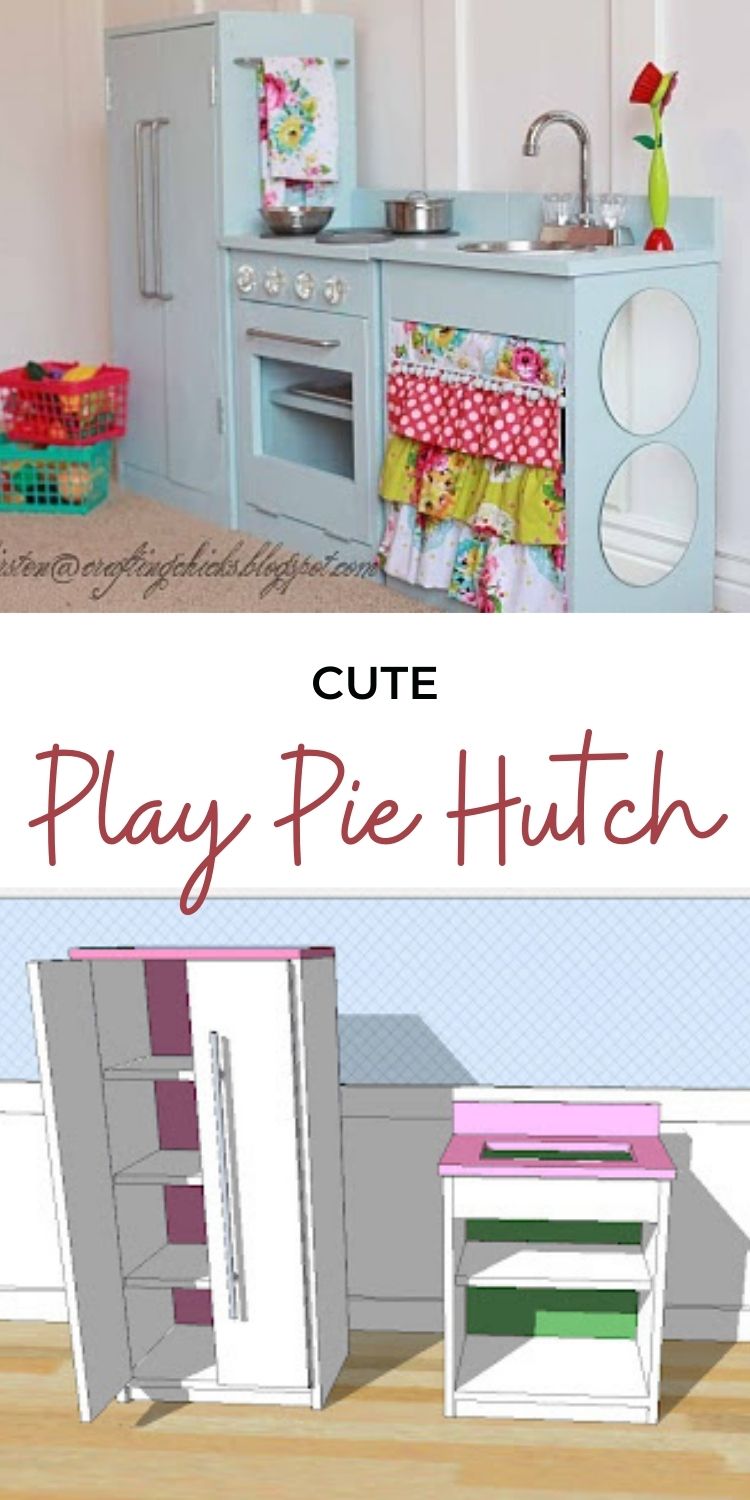 Overall Dimensions are shown above. The bottom shelves are 9 1/2″ deep, the countertop height is 20 3/4″ and is 11 1/2″ deep.
Preparation
Shopping List
1 – 1×12, 8′ Long 1 – 1×10, 4′ Long 1 – 1×6, 4′ Long Scrap Plywood 22 1/2″ x 30″ 2″ Nails 1 1/4″ Nails (for the back) Glue
Common Materials
120 grit sandpaper
primer
wood conditioner
paint
paint brush
Cut List
2 – 1×12 @ 34 3/4″ (Sides) 1 – 1×12 @ 20″ (Countertop) 2 – 1×10 @ 20″ (Bottom Shelves) 2 – 1×6 @ 20″ (Top Shelf and Top Shelf Back) 1/4″ Plywood @ 21 1/2″ x 30″ (Back)
General Instructions
Work on a clean level surface and use proper safety precautions and equipment. Check for square after each step. Make sure you are using straight good boards, free of cracks and warping. Keep edges flush to the back. And have fun and let your kids help with the painting.
Instructions
Preparation Instructions
FINISHING
Fill all of the nail holes with wood filler. Let dry. Sand starting with a coarse sandpaper and work your way to a fine grit sandpaper. Sand all curved edges. I would recommend sanding any rough edges or hard corners because it will be used by children. Prime and paint as desired. Add accessories.