A cute little storage console perfect for a couple of cubbies and some books!
I've been admiring the Pottery Barn Kids Catalina Console for quite some time.  It's so cute AND functional!  I just had to draw up some plans of what I would build if Grace needed a cute console table.  Come to think of it, I do have a baby shower to attend next weekend . . .
And this is one of those gifts that you could put together in an afternoon.  Would love to see bright paint and colorful pop-up storage totes.  I love the ones we got from Pottery Barn in Grace's Room
Come to think of it, I have a few extra.  If I had known how many times this photo would be viewed, I would have straightened the baskets up and swept the floor!
Dimensions
Dimensions are as shown above.
Preparation
Shopping List
1 – 1×2 Furring Strip or Moulding 1 1/2″ wide
1 – 6′ 1×6 Board
1 – 10′ 1×12 Board
1/4″ Plywood for the Back
4 – Bun Feet
2″ Screws
1 1/4″ Nails
1″ brad nails
wood glue
wood filler
Finishing Supplies
Common Materials
120 grit sandpaper
primer
wood conditioner
paint
paint brush
Cut List
2 – 1×12 @ 29 3/4″ (Sides)
2 – 1×12 @ 25 3/4″ (Large Shelves)
1 – 1×12 @ 11″ (Cubby Divider)
2 – 1×6 @ 25 3/4″ (Top Shelf and Back)
1 – 1/4″ plywood @ 27 1/4″ x 29 3/4″ (Back)
2 – 1×2 @ 11 1/2″ (Side Footer)
1 – 1×2 @ 28 3/4″ (Front Footer)
General Instructions
Work on a clean level surface and be safe. Predrill all screw holes and be safe. Have fun!
Instructions
Step 1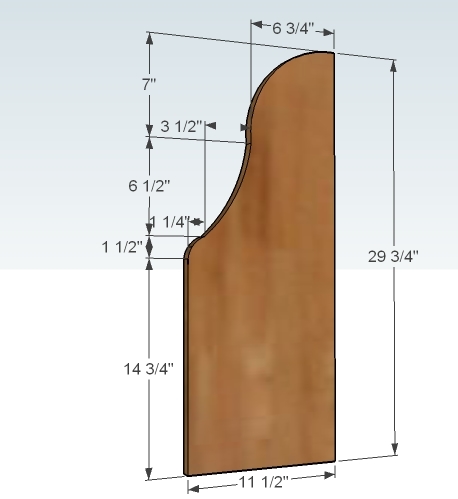 SIDES
Cut the sides of the console as shown here. First draw out one side using the measurements shown here. Then cut out ONE side. Use that side as a pattern to cut out the other side. Place the two sides together and sand both cut edges at the same time until the edges match up.
Set the sides aside.
Step 2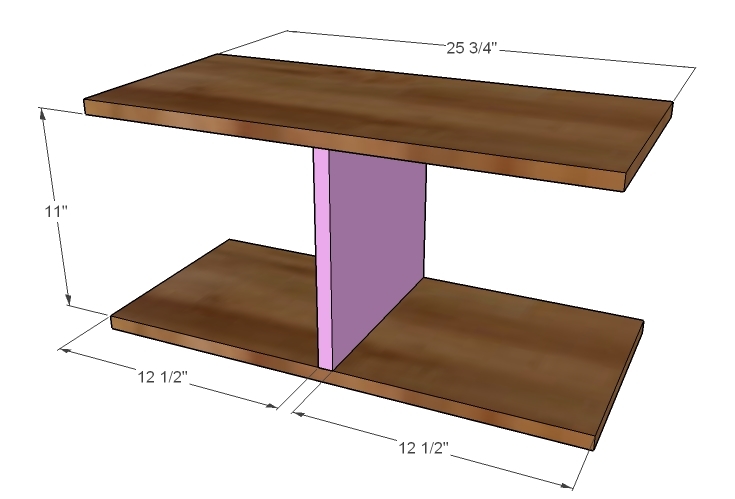 LARGE SHELVES
Attach the cubby divider to the large shelves as shown in the diagram, using the measurement to place your joint. You can use 2″ nails and glue or screws.
Then attach the shelves to the sides, leaving a 3/4″ gap under the bottom shelf and the bottom of the sides. This is not shown in the diagram. Refer to the diagram in step 6.
Step 3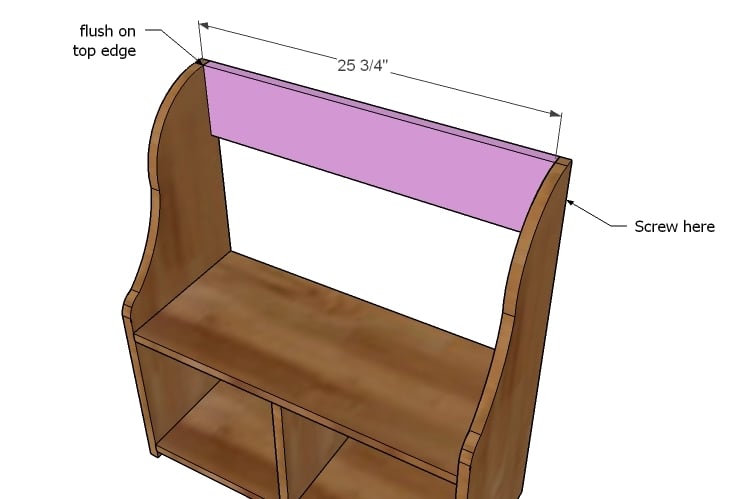 TOP
Attach the top to the sides, using either 2″ nails and glue or screws. Keep top edges flush.
Step 4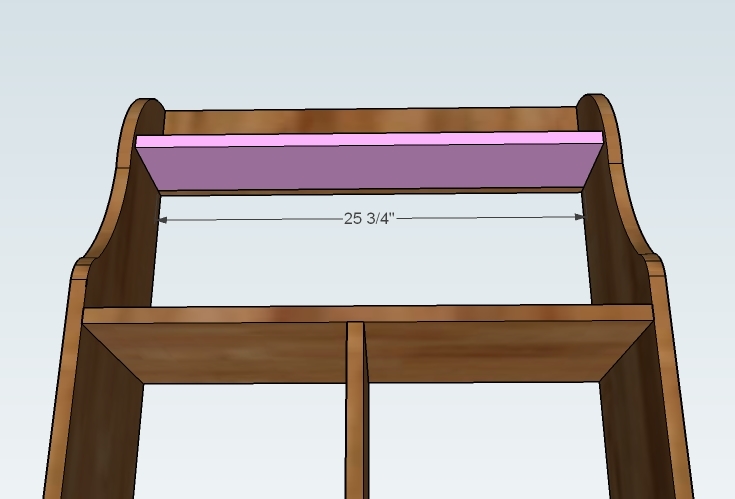 TOP SHELF
Attach the top shelf to both the sides and the top as shown in the diagram. Use 2″ nails and glue or screws. It's a good idea to use a square to draw a square line at the bottom of the shelf so you know where to fasten the top shelf.
Step 5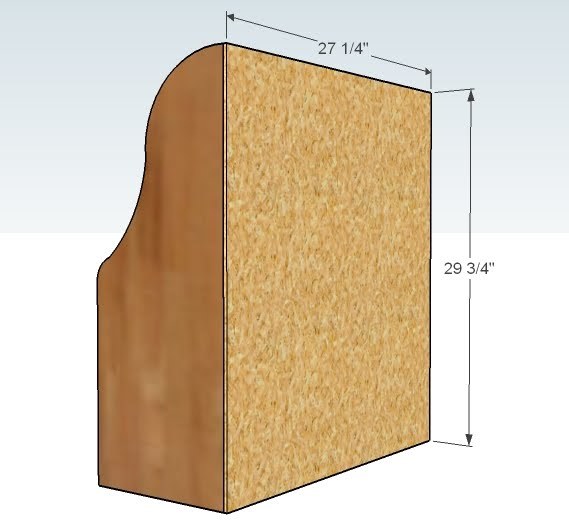 Step 6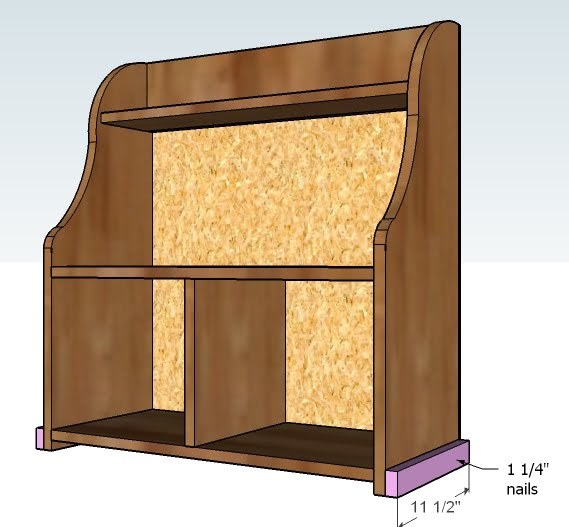 SIDE FOOTER
Use 1 1/4″ nails and glue to attach the side footer to the sides, keeping bottom and outside edges flush.
Step 7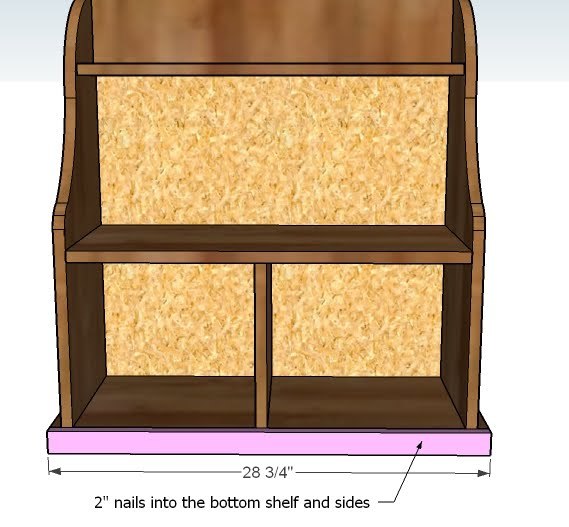 FRONT FOOTER
Attach the front footer to bottom shelf and the side footer as shown above. Use 2″ nails and glue.
Step 8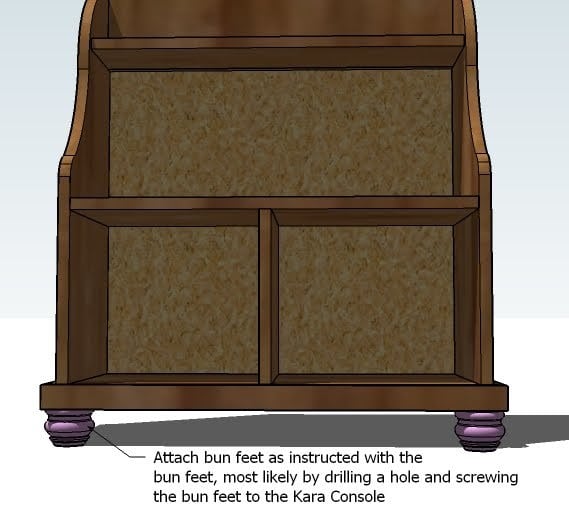 BUN FEET
Attach the bun feet as instructed by the manufacturer.
Preparation Instructions
Fill all holes with wood filler and let dry. Sand with coarse sandpaper in the direction of the wood grain. Fill holes again with wood filler and let dry. Sand with medium sandpaper, working in the direction of the wood grain. Finish with fine sandpaper. Paint with primer and let dry. Apply two coats of paint. Apply topcoat if necessary.