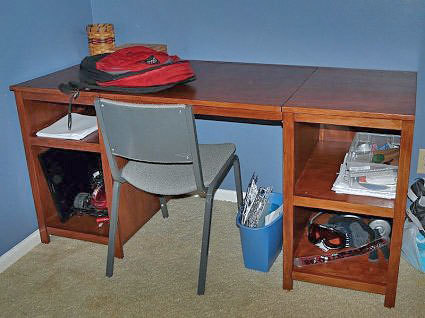 About Project
This simple to build desktop ties in bases from the Classic Collection to turn two bookshelves into a useable desk. Special thanks to Amy for sharing her desk that she built with a hammer and nails!
Dimensions
28" wide x 24" deep x 2 1/4" tall
Preparation
Shopping List
Since this desktop requires additional plans, please check the cut list for materials you need. You most likely have the scraps already!
Common Materials
1 1/4 inch screws
2 inch screws
1 1/4 inch finish nails
120 grit sandpaper
primer
wood conditioner
paint
paint brush
Cut List
A) 1 – 1×24 @ 28″ (Desktop)
B) 2 – 1×2 @ 23 1/2″ (Sides)
C) 2 – 1×2 @ 26 1/2″ (Front and Back Supports)
D) 2 – 1×2 @ 28″ (Front Apron and Front Edge)
Cutting Instructions
Cut List
A) 1 – 1×24 @ 28″ (Desktop)
B) 2 – 1×2 @ 23 1/2″ (Sides)
C) 2 – 1×2 @ 26 1/2″ (Front and Back Supports)
D) 2 – 1×2 @ 28″ (Front Apron and Front Edge)
General Instructions
You know the drill, be safe, work on a clean level surface, use glue, check for square, predrill and countersink your screws, be careful about fastening to close to edges when working with MDF. If you are building this, you have built the file cabinets, so no need to re-educate you here.
Instructions
Step 1
Sides. Fasten the sides to the desktop. To hide your nail holes, fasten from the undersides of the 1x2s into the undersides of the desktop piece. Keep outside edges flush. You will need glue and 2″ nails or screws. You will use these side pieces to fasten to the file cabinet sides.
Step 2
Front and Back. In the same manner that you fastened the sides, fasten the front and back pieces to the desktop. Make sure you also fasten through the sides into the ends of the front and back.
Step 3
Front Apron. Attach the front apron as directed above using 1 1/4″ nails and glue. You can nail from the inside to hide your nail holes. Attach well, this will support the top edge piece in the next step.
Step 4
Front Edge. As directed above, fasten the top edge ot the desktop and the front apron. Use glue and 2″ nails through the top and through the face of the front edge piece.
Preparation Instructions
Finish in the same manner as the other components in the desk system. Predrill and use 1 1/4″ screws to fasten the sides of the desktop into the sides of the file cabinet pieces.