A doll bed modeled after our Farmhouse Beds, suitable for 18" dolls. This bed is slightly wider than traditional doll beds, to look more like our Farmhouse Beds.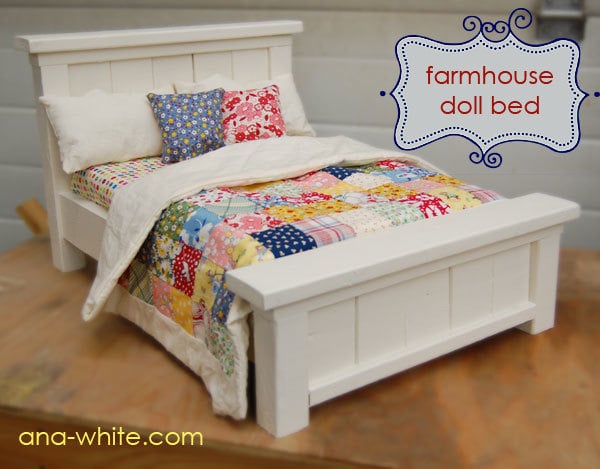 The Ram called from work yesterday and the conversation went something like this:
"I can barely hear you." (Ram)
"Oh, I'm out in the garage." (Me)
"Are you building something?" (Ram)
"uh, yeah . . . me and Grace just built a Farmhouse Bed." (Me)
slight pause . . . "who is the bed for?" (Ram)
How we got to the point where building a bed is no longer a big deal, I'm not quite sure.  But the Ram was quite relieved when he came home and found out who the bed was for.
Grace's doll . . . that she might get for Christmas.
And then the Ram looked over my shoulder and chuckled . . . Hey!  That looks just like our bed!
But best of all, Grace (it's not a surprise when she helps build it) absolutely loves the bed.  Grace has never had much interest in toys, so we were quite surprised to see her making the bed, putting her dolls to bed, even trying to sleep in the bed herself.  She also helped me make all the bedding from the adorable vintage fabric that I found at a local fabric store. We just bought a little bundle of precut squares and sewed it all together - not perfect, but it was something that Grace and I could do together and appreciate.
I'm really enjoying my daughter being old enough to help and have an interest in crafts.  I hope you make this bed for your daughters for the Holidays.  But most of all, I hope you make the bed together - the memories and knowing what and how something is made is more valueable than the end result.  She'll outgrow the bed, but she will not forget the experience.
The main motivation for building this bed was from the frequent request from moms everywhere.  We all want the best for our children.  But also, the pile of scrap boards sitting on my saw stand just kept nagging at me . . . make me into a doll bed!
Dimensions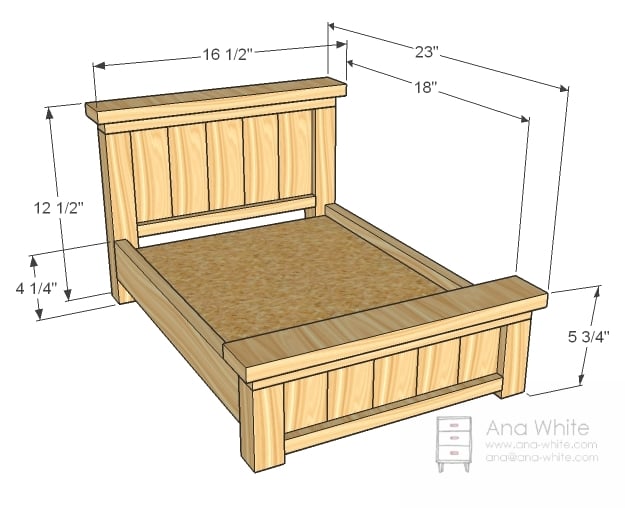 Dimensions are shown above.
Preparation
Shopping List
2×2 (3 feet total)
2 – 1x3s (10 feet total)
1 – 1×2 (8 feet total)
scrap 1/4″ plywood (you could even use sturdy cardboard here)
1 1/4″ Screws
2″ Screws
Wood Glue
Cut List
5 – 1×3 @ 6″ (Headboard Panel)
5 – 1×3 @ 3″ (Footboard Panel)
2 – 2×2 @ 4 1/4″ (Footboard Legs)
2 – 2×2 @ 11″ (Headboard Legs)
2 – 1×2 @ 12 1/2″ (Bottom of Panels)
2 – 1×2 @ 15 1/2″ (Top of Panels)
2 – 1×3 @ 16 1/2″ (Top of Headboard and Footboard)
2 – 1×3 @ 19″ (Siderails)
2 – 1×2 @ 14″ (Bed Frame)
Instructions
Finish Used
I filled all my holes with wood filler and let dry. Then I sanded with 120 grit sandpaper. Then I brushed on primer and two coats of Antique White by Valspar in Satin.