These huge drawers fit inside the Cubby Storage Open Bases and can hold everything from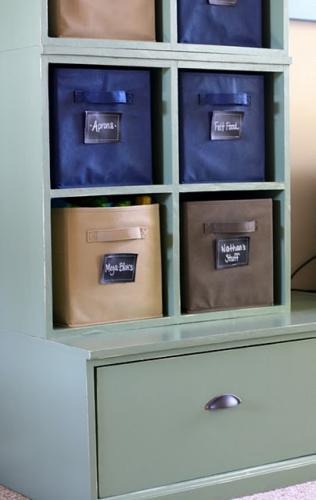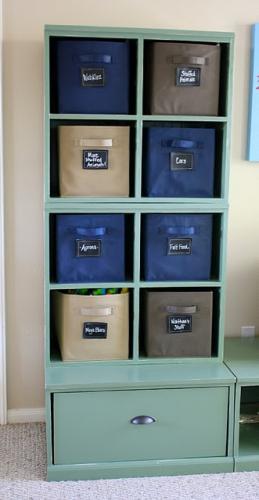 Fits the Cubby Open Base Plan
Preparation
Shopping List
In addition to the wood (I will not list this because if you are building the drawer, there is a good chance you are using the scraps from the matching cubby), you will need:
1 – 18″ pair of undermount drawer slides
Edge banding if you are using plywood instead of boards
Drawer pull or knobs
2″ Nails
1 1/4″ Nails
Wood Glue
Wood Putty
Sand Paper
Desired finishing supplies (paint, varnish, stain, etc)
Common Materials
2 inch screws
1 1/4 inch finish nails
120 grit sandpaper
primer
wood conditioner
paint
paint brush
Cut List
Cut List for 1 Drawer for Cubby System Open Cubby Base Unit
A) 1 – 3/4″ Plywood or MDF 25 3/4″ x 18 1/2″ (Bottom)
B) 2 – 1×10 @ 25 3/4″ (Drawer Front and Back) (information here on using plywood or MDF for sides)
C) 2 – 1×10 @ 20″ (Drawer Front and Back) (information here on using plywood or MDF for sides)
D) 1 – 1×12 @ 27 1/4″ (Drawer Face) (information here on using plywood or MDF for face)
Cutting Instructions
If you are building the open base (most likely, as this is the drawer for it) you can fit the drawer on the same piece of plywood. See step 1.
General Instructions
Cut out all your boards as directed above. You must be certain that all your boards are perfectly square. Use a metal square or see the HOW-TO section for a video on how to check for square. Use 2″ nails or screws (unless otherwise directed), and always use glue.
Instructions
Step 1
Use straight cuts whenever possible and always remember that yours saw blade takes up a certain amount of space so you can't just draw out all your cuts and go. You may need to use a jigsaw to finish your cuts made with a circular saw.
Step 2
Build the box. Begin by nailing the front and back of the drawer (B, shown in green above) to the bottom (A, shown in plywood above). Keep outside edges flush.
Step 3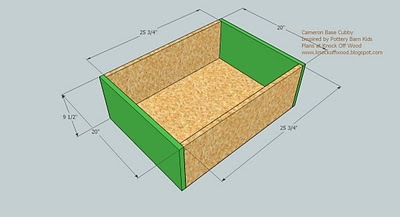 Complete the box. Fasten the sides (C, shown in green above) to the bottom (A) and front and back pieces (B) as shown above.
Step 4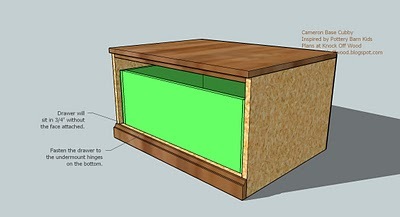 Attach the drawer with the slides. Use the undermount 18″ slides to attach the drawer box to the cubby. Make sure the drawer slides are installed in a manner where the drawer sits in 3/4″ to leave room for the face. It is always a good idea to mark out where the slide are placed to ensure the slides are installed parallel to the sides of the drawer. Use a square to do this. If the drawer is not installed correctly or built square, it will not slide correctly.
Just a note, I like to install my slides 1″ in from the outside of the bottom of the drawer.
Step 5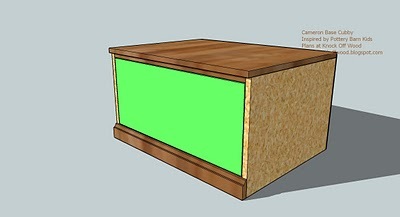 Step 6
Test out your drawer and adjust as necessary.
Preparation Instructions
Fill all nail holes with putty and sand. If you are using 3/4″ plywood, you will need to iron on edge banding for any exposed plywood edges. If you are using MDF, paint with primer, and then paint as desired. Finish with varnish or seal as desired. Add the knobs or handles.
We apologize if there was an error in this plan. Please help us out and report any errors here.