About Project
Drawers for the Queen Sized Storage Bed. Add tons of very useable storage to your room with this plan. Bed plans available here.
Dimensions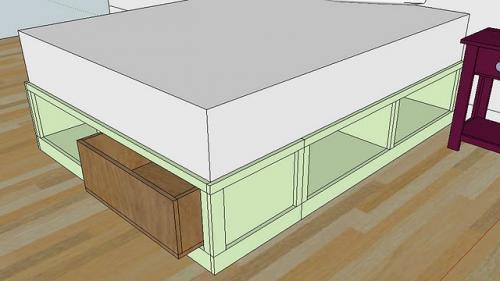 Fits the Queen Sized Storage Bed Plans
Preparation
Shopping List
6 - 18" Undermount Drawer Slides
6 - Beautiful Drawer Pulls or Knobs
6 - 1x10 8' Length
2 - 1x12 8' Length
3/4" Plywood Leftover from the Bed
Common Materials
120 grit sandpaper
primer
paint
Cut List
6 - 17 1/2" x 25 1/4" pieces of 3/4" plywood (Bottom of Drawers)
12 - 1x10 @ 17 1/2" (Sides of Drawers)
12 - 1x10 @ 26 3/4" (Front and Back of Drawers)
6 - 1x12 @ 27 1/2"
* 1x10 boards measure 9 1/2" wide
Cutting Instructions
Measure and adjust your drawers for your bed. You may need to alter the cut list for your bed. Always work from actual dimensions on drawers rather than the "perfect" dimensions given.
General Instructions
Cutting and Building Instructions. Begin by cutting all your boards. The plywood must be cut square. Check for square using a metal square. Always use glue and use 2" nails or screws, unless otherwise directed.Attaching sides to bottom.
Instructions
Step 1
As shown above, fasten the sides, B (green) to the bottom, A (blue). Build six of these. Keep outside edges flush.
Step 2
Attaching the front and back. Keeping all outside edges flush, fasten the front and back (Boards C) to the drawers (shown in blue above). Make sure you fasten C (blue) to the sides and the bottom (white). Do this for all six drawers. This is shown above.
Step 3
Attach the Drawer to the Bed. Using the 18" Undermount drawer slides, attach the drawer to the bed, as shown above. Center the drawer on the open cubby. The drawer without the face attached will sit inset 3/4" from the outside of the bed.
Step 4
Push the drawer in. Push the drawer all the way in the bed, so there is a 3/4" gap between the front of the drawer and the outside of the bed. This is shown above.
Step 5