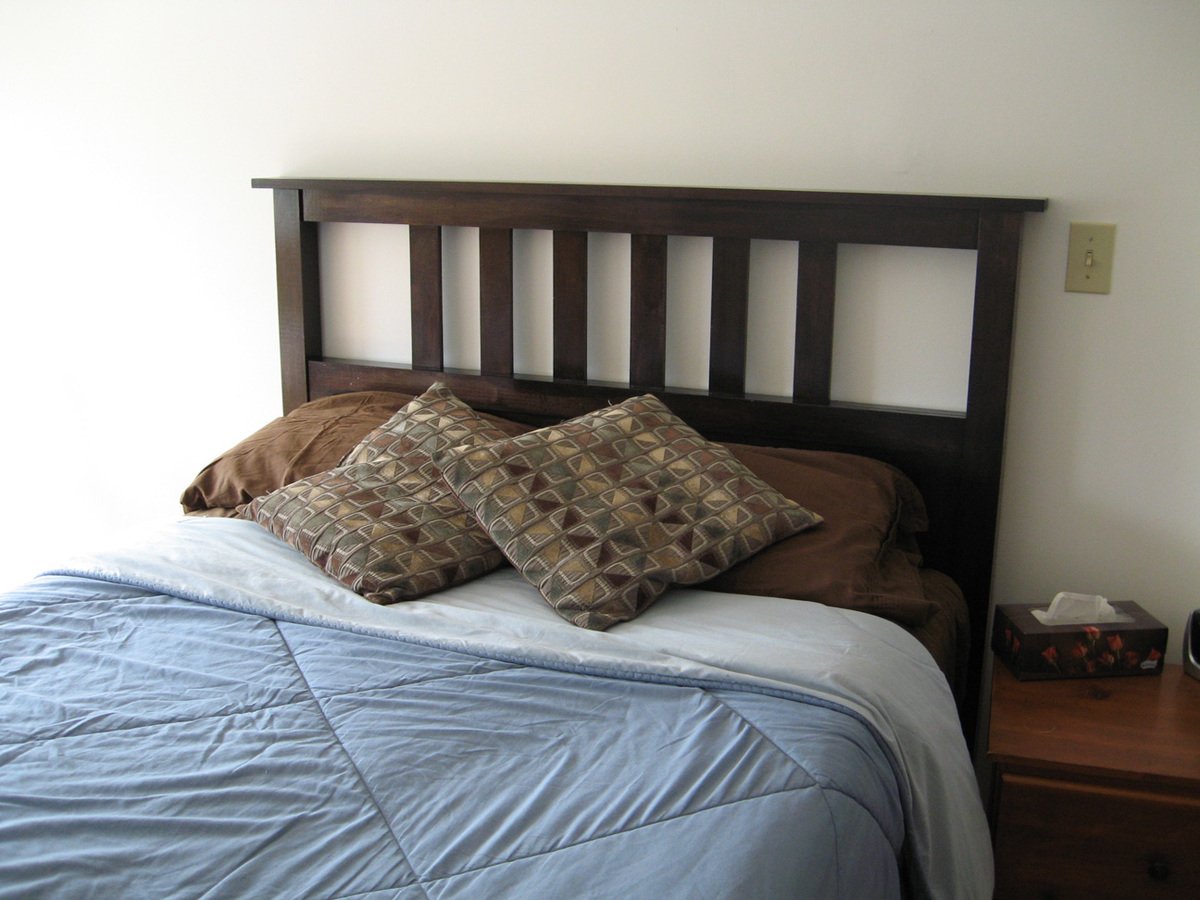 I wanted a headboard that was simple, easy to build from stock, and made from hardwood. Problem is, I had a really hard time figuring out what style I even liked, let alone a particular design.
So I poured though a bunch of pictures of home makeover bedrooms online to try to figure out what I did like. I knew what style I like for kids rooms, so I browsed those to see what I could adapt into my room. I got some ideas, from desgins sites, furntiture catalogs and kid's Ikea. I found that mainly that I wanted a handful of slats in the center, but not slat overkill, and started sketching up my plan. Then I headed out of Ikea's kid's site just to glance at the grownup headboards for inspiration, and Voila! I found one just like what I was thinking. Awesome.
This plan is a little shorter than many headboards, but I think short fits the design better (plus and it's more cost effective). Those adapting to a queen or king headboard, may want to make it taller, so it still looks proportional.
I used maple, which put the cost of the project around $140. Pine would be a lot cheaper and comes in the same stock sizes, but I really wanted something that won't dent easily and would last. This was a my first project using hardwood and I absolutely loved working with it. So smooth! I'm planning on making a bed frame (storage maybe?) later on, but just wanted to be able to hook this up to the metal frame I have right now.
Thanks for looking!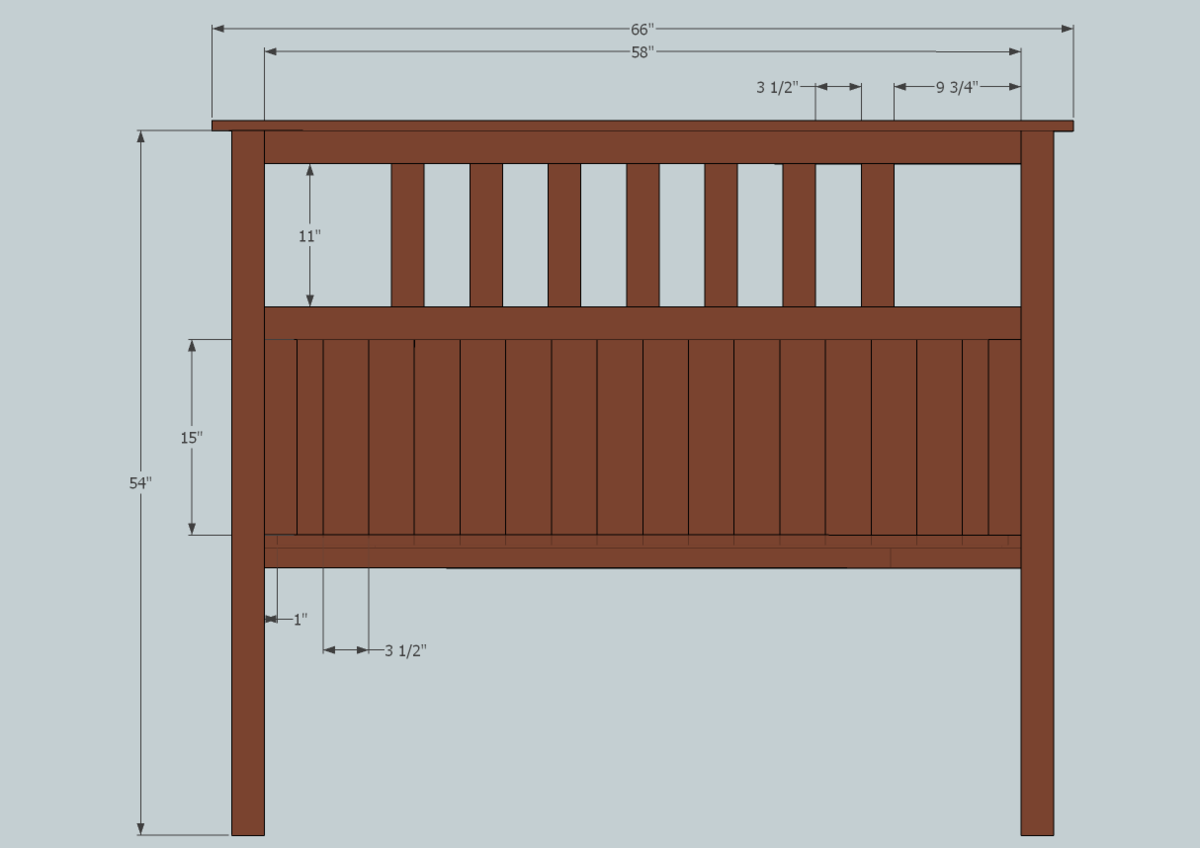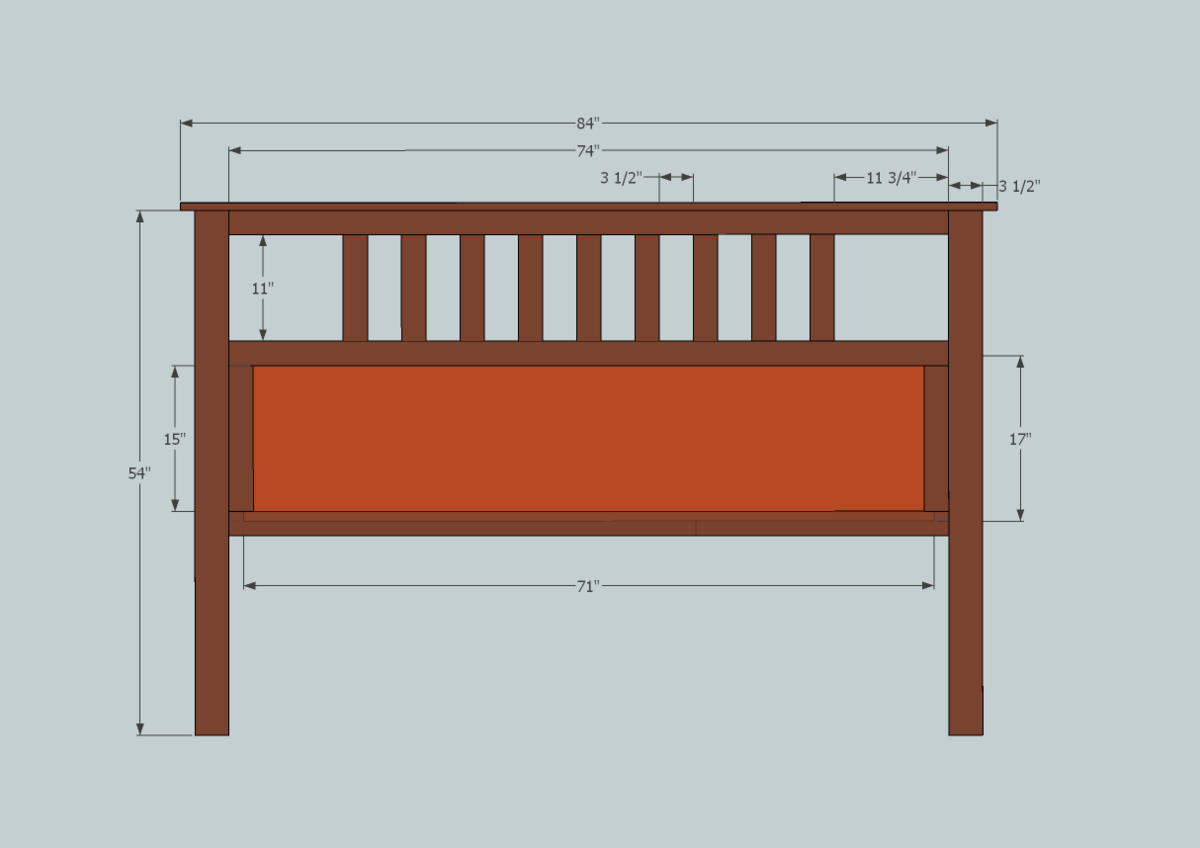 Dimensions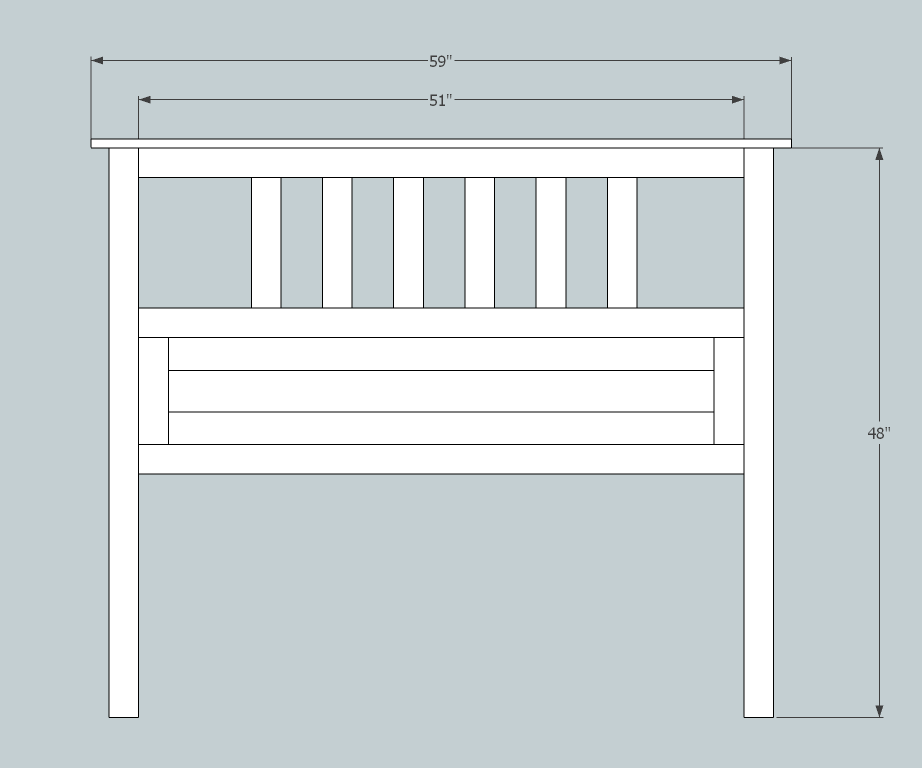 !!!PLEASE PLEASE PLEASE check your dimensions before proceding. My mattress is supposed to be full, but may be smaller than standard, so check yours before proceeding!!!
Preparation
Shopping List
I used a miter box and hand saw. You'll likely want to use something else (I never want to) but you can figure that out yourself :)
2 1/2 Inch Screws
(various small screws and or nails depending on your method/ wood choice)
Pocket Hole Guide & 1 1/4" screws or 4 metal L-Brackets
Wood Glue
Sandpaper
I recommend maple, but pine would work too.
(6) 3" x 3/4" x 4' - Posts
(6) 3" x 3/4" x 6' - Crossbars (or just (5) if you're being cheap)
(3) 3" x 1/2" x 2' (or (2) 3" x 1/2" x 4') - Slats
(3) 4" x 1/4" x 4' and (2) 1 1/2" x 1/4" x 4' - Paneling
( or use (3) 4" x 1/2" x 4' )
(3) 1" x 1/2" x 4' - Filler & Support
(1) 4" x 3/4" x 8' - Top
Cut List
6 - 3" x 3/4" @ 51" (Crossbars)
4 - 3" x 3/4" @ 9" (Panel Frame)
6 - 3" x 1/2" @ 12" (Slats)
1 - 4" x 3/4" @ 59" (Top)
5 - 1" x 1/2" @ 3 1/2" (Spacers)
2 - 1" x 1/2" @ 9 1/4" (Spacers)
Cutting Instructions
I would recommend cutting the spacers to size, just a little short of the gap size (to leave room for wood expansion).
Also, cut the post boards to the same length after they are are assembled.
General Instructions
Please read through the entire plan and all comments before beginning this project. It is also advisable to review the Getting Started Section. Take all necessary precautions to build safely and smartly. Work on a clean level surface, free of imperfections or debris. Always use straight boards. Check for square after each step. Always predrill holes before attaching with screws. Use glue with finish nails for a stronger hold. Wipe excess glue off bare wood for stained projects, as dried glue will not take stain. Be safe, have fun, and ask for help if you need it. Good luck!
Instructions
Preparation Instructions
Fill all holes with wood filler and let dry. Apply additional coats of wood filler as needed. When wood filler is completely dry, sand the project in the direction of the wood grain with 120 grit sandpaper. Vacuum sanded project to remove sanding residue. Remove all sanding residue on work surfaces as well. Wipe project clean with damp cloth.

It is always recommended to apply a test coat on a hidden area or scrap piece to ensure color evenness and adhesion. Use primer or wood conditioner as needed.