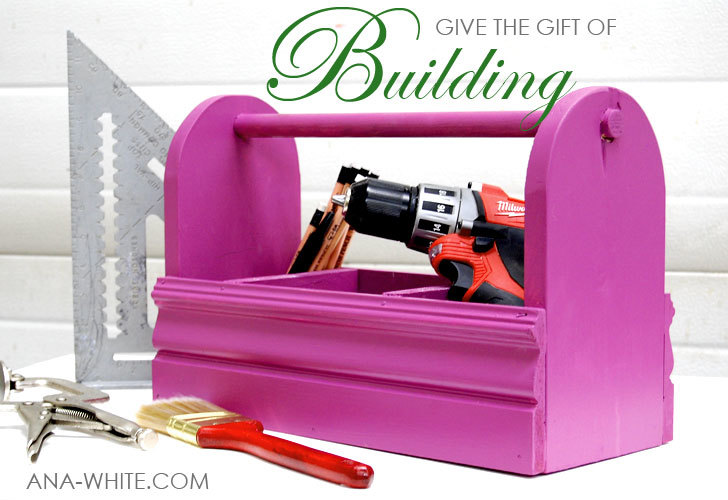 A simple toolbox with a little bit of fancy touch. Use up your scraps and make a toolbox.
Well, you're here, so you've  seen the new blog design.  I hope you like it.  I loved the old design.  Every one of them.  But as we get more and more content, the graphics are just having to become less and less.  Some good news . . . that also brings more content, we just signed with an advertising agency that only works with home improvement brands!  So the free furniture plans that you can find right here are going to remain free!  I hope that you welcome the advertising, that you support and shop those brands that support us.  And know that a budget will enable me to do more, like hire a real webmaster, a good babysitter, and maybe someday, even be able to pay some of you as contributors.  So please, support those that support us.
And I have to tell you, I've spent a few not so fun days behind the computer working on the design and the layout of the blog.  And tonight, I just had to step away.  So me and Gracie went out to build this toolbox, and as soon as I walked in the garage, my mood changed.  I felt energized and excited, eager to pick up my hammer.  And it occurred to me that this season, more than any project, we should be giving the joy of build away.
Grace and I built this together.  I cut the boards and predrilled all the holes.  Then she screwed all the boards together (with help of course) and applied all the glue.  She also put the handle in place and nailed the side moulding boards down.  It was one of those experiences that I will never forget.  And this is one tool box I will probably never ever dispose of.  Grace of course filled it with coloring supplies, but I would love to use it for building, as carpenters for who knows how long have used similar wooden toolboxes.
There are plenty of reasons why a wood tool box is built and used by carpenters for centuries.  They are easy to build.  You can build them from scraps.  They are easy to carry because of their long design.  They are handy to keep tools and hardware handy.  And they can be used throughout the home or shop, storing anything from sewing supplies to spice jars, magazines to a diaper changing kit; a color kit to office desktop organization.  Where couldn't you use one of these?
Dimensions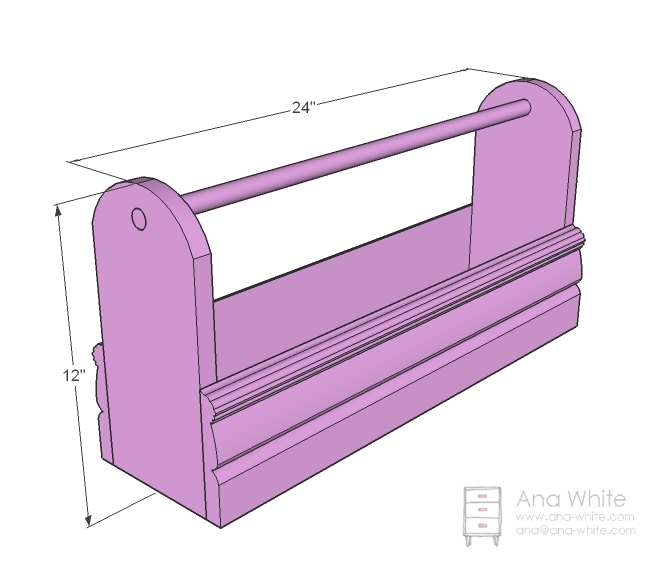 This one is really small, useful for holding envelopes on your desktop, spices, or that diaper changing kit. But you can always easily modify the design by simply using a wider width board.
Preparation
Shopping List
1 – 1×6, 4 feet long
1 – 3/4″ dowel, 24″ long
1 – 5 1/4″ base moulding 4 feet long (you can use just about anything here)
4 – 2″ screws
finish nails (2″)
wood glue
finishing supplies
Cut List
1 – 1×6 @ 22 1/2″ (Bottom)
2 – 1×6 @ 12″ (Ends)
1 – 3/4″ dowel @ 24″ (Handle)
2 – 5 1/4″ Base Moulding @ 24″ (Sides)

Instructions