With quite a bit a work and a little thriftiness, you can create my bedroom for around $200. And that's getting all new furniture too! Featuring the Farmhouse Bed.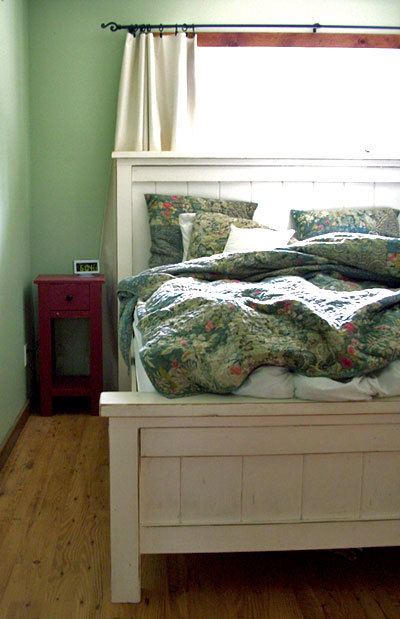 I've come to a design conclusion.  The most important part of good home design has nothing to do with colors, prints, textures or even lighting.  It's a design challenge I would never have understood five years ago, but it's the greatest challenge I face, every single day.  Far greater than living hundreds of miles from a home goods store, thousands of miles from a Pottery Barn.  Far greater than the wrong shade of paint or a tricky room layout.

MY GREATEST DESIGN CHALLENGE
My design conclusion is that the greatest challenge in making my home look attractive is keeping it clean.  Because let's face it, any room, no matter how amazing the design was, if it's not clean, if toys are scattered everywhere, if you are busy blogging and your kids are eating blueberries on your bed (true story), that room will just look messy.

Five years ago, before my daughter was born, I would never have understood what I am writing now.  Because really, how hard can it be to keep 1200 square feet tidy?  Haha, right?  You know what I'm talking about.

So I've been feeling like my bedroom needs an update.  I took a few hours this weekend and thought, first, I will tidy up the bedroom, clean under the bed (that was scary), wash all of the bedding, and go through any clutter.  And then I will start doing a redesign.  And I moved the bed under the window to clean under it (those weren't dust bunnies, it was a whole rabbit family).

And when I finished, I fell in love all over again with my bedroom.

FAVORITE BED
Yes, there was blueberry stains on the bed, and the bedding was looking muted from neglect (sheets get washed frequently, but the quilts and pillow shams not so often).  And I fell in love with my Farmhouse Bed all over again too.   I was at the drawing board last night creating a smaller scale Farmhouse Bed, but after cleaning my room, the old saying, "if it's not broke, don't fix it" had special meaning.
ANTIQUE WHITE FINISH

I often get letters or requests on the finish I choose for my bed.  So while we've got a close up photos, I thought I would share my finish (which looks beautiful still, even with the headboard being used as a bottle shelf at night, and the blueberry stains scrubbed right off).  What I did was before I assembled my plank boards, I used a chisel and scraped the edges of the panel boards to create a rounded edge.  I did this to make the joints between the panel boards stand out more.  Then I primed and painted with two coats of Antique White High Gloss Paint with a brush, in the direction of the wood.  Let that dry completely.  Then I used my hand sander and sanded all outside edges.  And I took the chisel and scraped down the grooves between the boards to expose the joints in the panels even more.  Finally, with a small brush, I glazed the bed with a chocolate glaze and wiped it clean.

I love the distressed finishes because first and foremost, it makes your furniture liveable.  I will never be a person that stresses about my furniture being used.  People come before furniture in my home.  And I also love the depth and character of a multi-step finish.  And lastly, unlike a perfect finish, the more you use a distressed piece, the more beautiful it becomes!  "Love, Friends, Wine & Distressed Furniture - Just Get Better With Time" is my favorite saying to write on a card when I give a distressed wine cabinet to friends for their wedding.

ROOM BREAKDOWN
And the best part of my bedroom?  My entire room, including furniture that YOU can go home and build with bedding, drapes, everything . . . right at $200.  And YOU can have it too.  And it's all purchased from a retail store!

YOU CAN HAVE THIS ROOM TOO!
Sometimes when I see a beautiful room on a small budget and I think, wow, amazing.  And then I read the fine print . . . flea market find, craigslist find, brought up from the basement . . . things YOU at home cannot go and duplicate.  I'm all about upcycling, recycling, scraps, and it's very inspiring to see what someone else can do on a shoestring budget, but I personally need more than inspiration.  I need instructions.  And I'm so happy that YOU can have my exact room.  It may cost you a little more because I did have lumber laying around, it may cost you a little less because you could have lumber and paint available.  But the bottom line is you can have my exact room on a tiny budget.
SOURCE LIST

Bed: Farmhouse Bed Plans
Nightstand: Simple Nightstand Plans
Bedding: Pottery Barn Neena (cannot believe this bedding was on clearance for $49 for the king quilt and $9.99 per sham a couple of years ago!)
Curtains: Paint Drop Cloth Drapes Instructions Follow
PAINT DROP CLOTH DRAPES

I'm not the inventor of using paint drop cloths for drapes.  Nope, this ideas been done many many times.  But I will tell you how to hang some drop cloth drapes with NO SEWING required.  It's pretty simple.

For each panel that you need, buy one of these drop cloths, measuring 15' x 4'.    Lowes also has a paint drop cloth in this size, and there are two weights.  I used the 8 oz weight because the drop cloths will be double thickness.  All edges are already hemmed.

Fold the drop cloths in half the long way so that your drop cloth measures 7 1/2 feet x 4' total.  Keep the hemmed edges to the insides.

Purchase a pack of ring clips like these.  If you purchased the package of 7, space your ring clips 8" apart on the folded edge of the drop cloths.  These ones are from Joanns, make sure you clip a 50% coupon or wait for a sale and you can get these for $5.

Now all you need is a curtain rod.  This one is on sale for $11.99 at Joanns.  Hang the rod so that the curtains just skim the floor.  Instant canvas drapes!
NIGHTSTAND

And while I am loving my bedroom, I feel like it needs to be more.  And I am ready for some small updates.  So I'm tossing some ideas around, make sure you keep checking back for updates.  But the main idea I would like YOUR help on is what nightstand do you think should go with the Farmhouse Beds?  What nightstand design do you think would be substantial enough to sit beside our Farmhouse Beds?  I love the Simple Nightstand, but it feels overwhelmed next to such a large beautiful bed.  What is YOUR suggestion?  I can't wait to hear your advice.
Dimensions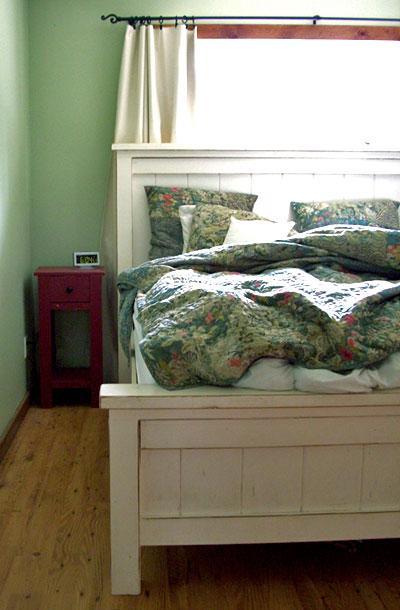 Shown with King Size Farmhouse Bed
Preparation
Shopping List
Farmhouse Bed
Paint Drop Cloths
Simple Nightstands