About Project
This standard picnic table is made unique in the easy to build instructions. Featuring ample seating and a sturdy top, paint yours a bold bright color to brighten up any outdoor (or indoor) space. Special thanks to our readers for sharing their photos.
Dimensions
Overall Dimensions are shown above
Preparation
Shopping List
9 – 2×6 Stud Length OR 4 – 2×6 12′ Long and 1 – 2×6 Stud Length (8′ Length works if it is cheaper)
5 – 2×4 Boards, 8′ or Stud Length
2 1/2″ Screws or 3 1/2″ Bolts with washers and nuts
Common Materials
2 1/2 inch screws
3 inch screws
120 grit sandpaper
primer
wood conditioner
paint
paint brush
Cut List
9 – 2×6 @ 60″ (Tabletop boards and Seat Boards)
3 – 2×4 @ 29 1/2″ (Tabletop Supports)
4 – 2×4 @ 33″ (Ends mitered at 30 degrees parallel)
2 – 2×4 @ 52 1/2″ (Seat Supports)
2 – 2×4 @ 28 1/2″ (Cross Supports, ends mitered at 25 degrees parallel)
General Instructions
Work on a clean level surface. Check for square after each step. Get some help on this project, it will be difficult to work alone. Recommended to paint and stain your boards before building to ensure all edges are sealed, then touch up paint after finishing. Use necessary safety precautions and equipment. Predrill and countersink you screws or drill holes for bolts and tighten with a washer and nut. Remember, you can click photos for a larger view.
Instructions
Step 1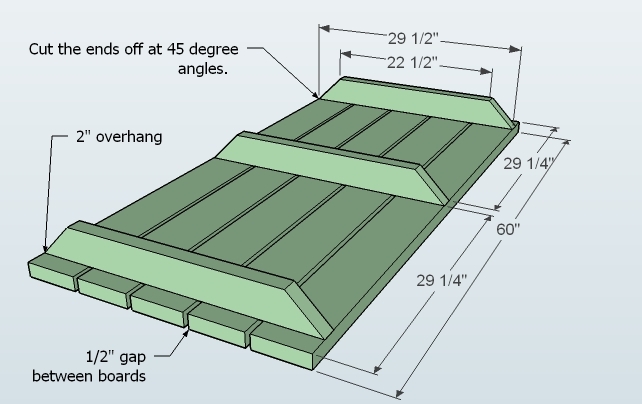 1. Tabletop. Measure 2″ and 29 1/4″ from the outsides of all the tabletop boards and make a mark. Cut your supports board ends at a 45 degree angle on the ends as shown above. Then attach the tabletop boards to the supports through the tops using 2 1/2″ screws and glue. Start on the outsides and work inward, keeping an even 1/2″ gap between the boards. Use the marks you made to guide you in placing the support boards in line with the tabletop boards.
Step 2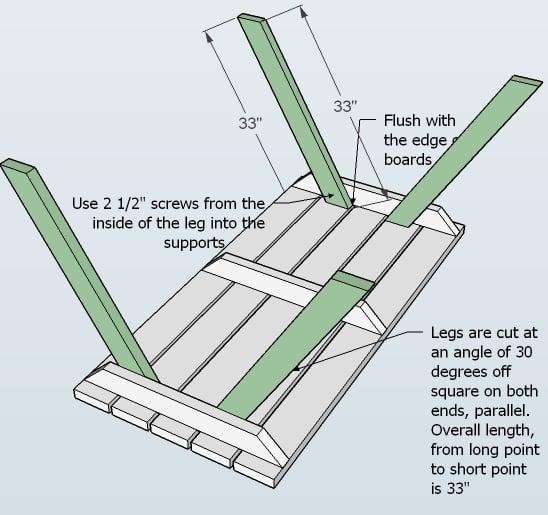 2. Legs. Okay, now it gets just a little tricky. Start by cutting your legs at 30 degree angles on both ends, so the ends are parallel. Then line up the legs with the inner edge of the boards between the middle and outside boards. Use 2 1/2″ screws and glue to fasten to the inside of the table support as shown above.
Step 3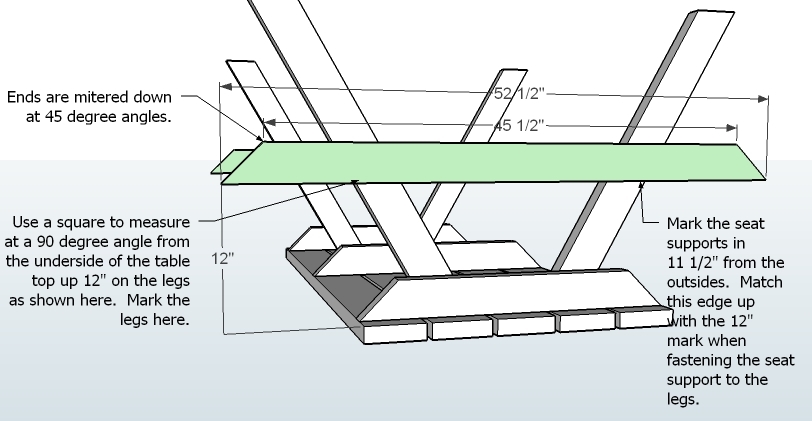 3. Seat Supports. Take your square and measure at a 90 degree angle from the underside of the table up 12″ and make a mark on the legs. Cut your seat supports at 45 degree angles on the ends. Then from the long point, measure 11 1/2″ in from the outer point and make a mark. Line this mark up with the edge of the legs, keeping the top of the seat support (shown as the bottom because the table is upside down) level with the marks made on the legs. Fasten with 2 1/2″ screws and glue.
Step 4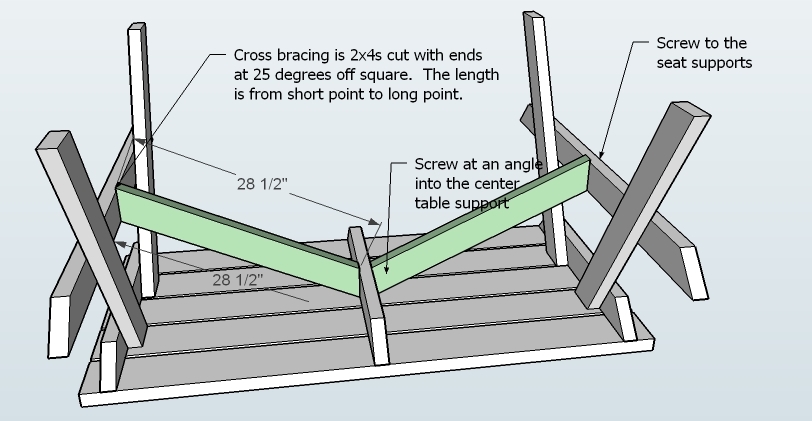 4. Cross Supports. Last tricky step. First, take a square of the table by measuring from the outer points of the legs to the diagonal opposite leg. Do this for both diagonals. Push the opposite legs together on the longer diagonal until your diagonals match up in distance. Then cut your cross supports at 25 degrees off square on both ends, ends are parallel. Fasten in place using 2 1/2″ screws and glue, centered on the supports as shown above. For one of the cross supports, you will need to screw at an angle from the side of the cross support in the tabletop support.
Step 5