This simple little play table with storage has got to be one of my favs. It's perfect for homeschooling, crafts, or for bigger kids to do their homework or play games on. Special thanks to one of our readers for the photo! Inspired by Land of Nod's Elementary Table.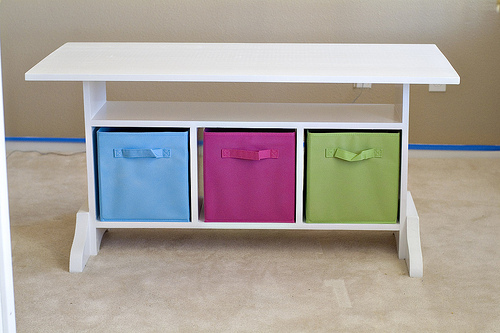 Dimensions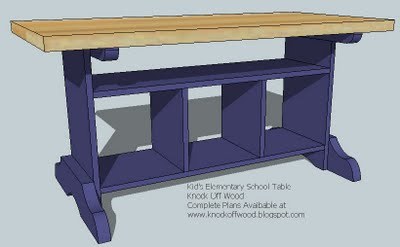 24" high x 24" wide x 48" long - note standard table height is 30"
Preparation
Shopping List
2 - 8' 1x12
1 - 8' 2x6
1 - 8' 2x2
48" x 24" Project Panel/Tabletop (Available at Lowes or Home Depot) or 1/4 sheet of plywood or MDF
Common Materials
120 grit sandpaper
primer
paint
paint brush
Cut List
A) 2 - 1x12 @ 36" (Top and Bottom of Cubbies)
B) 2 - 1x12 @ 11 1/2" (Cubby Dividers)
C) 2 - 1x12 @ 22 1/4" (Sides)
D) 2 - 2x6 @ 23 1/2" (Foot/Trestle Supports)
E) 2 - 2x2 @ 23 1/2" (Tabletop Supports)
Cutting Instructions
When you are cutting with a jigsaw in multiples, save the scraps to use as a pattern.
Instructions
Step 1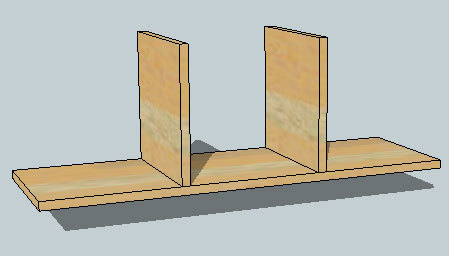 Start by marking pieces A 11 1/2" from the outsides. This is where the vertical dividers will go. There will be a 11 1/2" space, a vertical divider, another 11 1/2" space, another vertical divider, then a final 11 1/2" space. Once you have both of As marked out, begin to assemble using screws (predrill and countersink to avoid splitting) through the sides of A into the end edges of B.
Step 2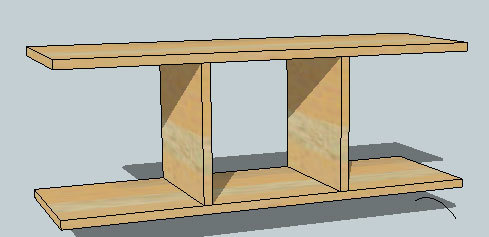 Your table should look like the above table. Now is a good time to check for square.
Step 3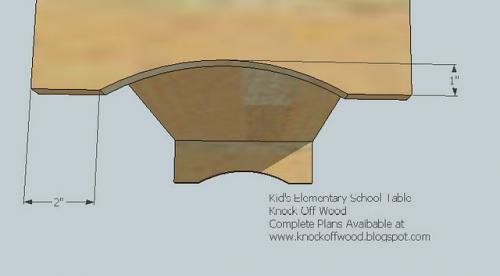 Now take the two pieces C, and cut out an arc, as shown above. Keep you pattern - you will have to cut out one more set for the foot of the table!
Step 4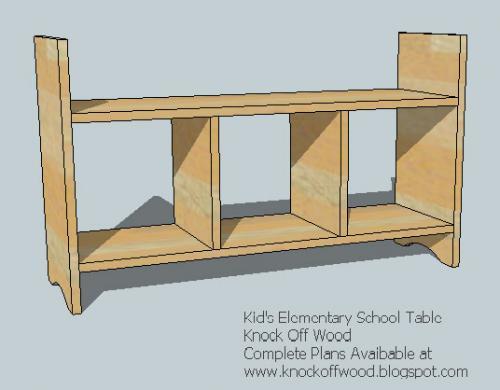 Attach the sides to the table, C, as shown above, using screws to screw through the sides into both piece of A. The bottom shelf will be 3 1/2" from the bottom of the table.
Step 5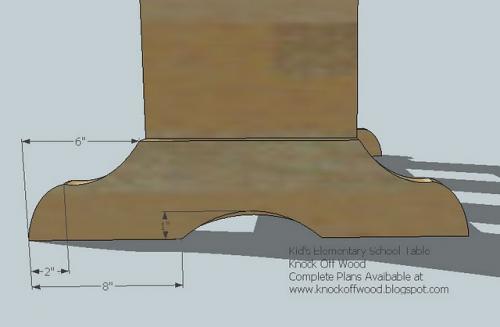 Step 6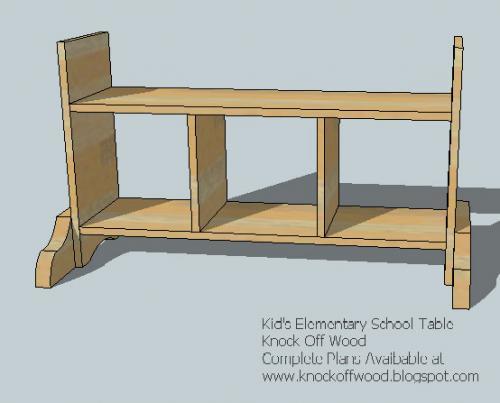 Predrill from the bottom inside of A into the foot, D, and screw the feet on the table. By screwing from the inside, you will hide the screw heads. Make sure you keep the bottom edge of the foot and the table flush. Also, center the foot on the table (there will be a 6" overhang on either side).
Step 7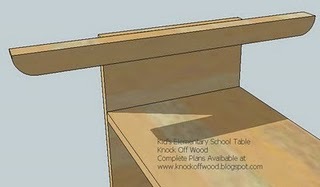 Take the 2x2 pieces, E, and round the edges off, as shown above. Use a jigsaw and then sand down evenly. Predrill and screw through the inside into the side, A, as shown above.
Step 8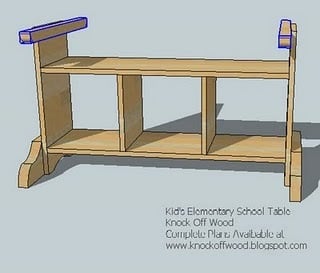 Your table should be looking like the above table.
Step 9
Predrill and screw through the 2x2 tabletop supports, E, into the bottom of the tabletop. This will hide all screws.
Preparation Instructions
Sand any hard edges (children will be using this table). Fill any screw holes with wood putty and let dry. Sand well and finish as desired.
We apologize if there was an error in this plan. Please help us out and report any errors here.