My Media Console. Features two cupboards with shelves and two large drawers. Raised design fits over air ducts and create the illusion of more space.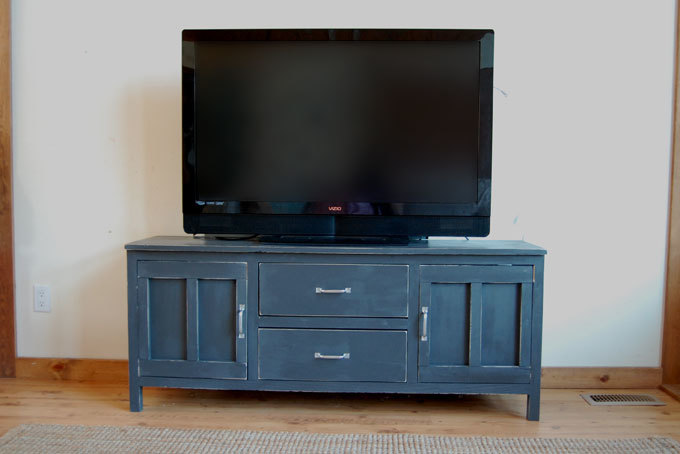 We all know what to do when life gives you lemons.
But what happens when life gives you a rustic home in Alaska, with a husband who is fond of moose antlers and detests white paint?  How do you take cabin/country style and make Younghouselove-ade out of it?  Every effort that I make comes up a little on the sour side.
So I made a deal with the rightly nicknamed Real Alaska Man to paint ALL of the wood in the house white, and to remove the slate backed woodstove.  He in turn gets to go to a flat island somewhere even more remote in Alaska and attempt to not get blown away on vacation.  What would you pick for a vacation?  Painting miles of boards white with scaffolding or going to a remote barren flat windy cold island in Western Alaska?
No thanks on the Island.  If I'm going somewhere, it's going to be warm, or beautiful, or it's up a ladder.
So I got the paint, googled painting slate a zillion times, and prepared to turn our home upside down.
But then it occurred to me that life is giving me Alaska, not a Southern cottage or a Farmhouse or a Victorian.
And even miles of blue tape and gallons of white paint isn't going to turn Alaska into The Lettered Cottage.
And even if it did, our home would feel more out of place than just right.
So I put the white paint away and pulled out the Dark Gray.
I live in remote Alaska, I cook moose or wild Alaska salmon every night of the week, and I have a rustic country home.
And I'm learning to love it.  Bring on the earth tones.  Bring on the distressed furniture.
Dimensions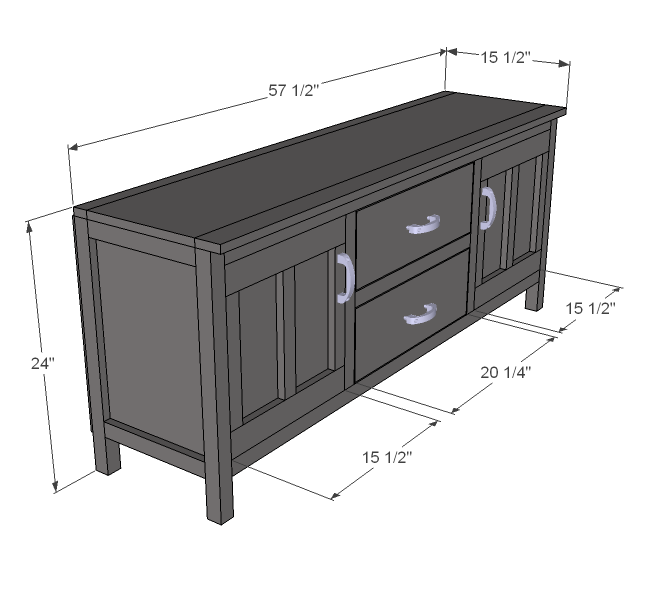 Dimensions are shown above. This media unit is designed to match the side bases here. Also note that the drawers require a 1×8 that measures 7 1/4″ wide. If yours don't you will need to adjust accordingly or rip your 1x8s to width. Also, this plans uses 1x12s that are 11 1/2″ wide, but there will be no issue with a wider/narrower 1×12 – it will only affect a few cuts, and I'll make note of those cuts. I choose to use a 11 1/2″ width for 1x12s because many of us make our own 1x12s by ripping (or having the Home Depot or Lowes rip for us) plywood into 11 1/2″ widths (conserves the most plywood).
Preparation
Shopping List
3 – 1×12 @ 8 feet long
5 – 2×2 @ 8 feet long
2 – 1×3 @ 8 feet long
2 – 1×2 @ 8 feet long
1 – 1×8 @ 12 feet long
1/4″ plywood (for door backs and optionally the back of the media center)
2 1/2″ screws or pocket hole screws
finish nails (if you don't use pocket hole screws)
Wood Glue
Finishing Supplies including paint and primer or stain
4 – knobs or handles
Common Materials
1 1/4 inch screws
2 1/2 inch screws
1 1/4 inch finish nails
2 1/2 inch finish nails
120 grit sandpaper
primer
wood conditioner
paint
paint brush
Cut List
2 – 1×12 @ 19 1/2″ (Sides)
4 – 1×2 @ 11 1/2″ (cut to the width of your 1×12 – side trim)
1 – 1×12 @ 57 1/2″ (Top)
2 – 1×12 @ 18 3/4″ (Center Partitions)
1 – 1×12 @ 54 1/2″ (Bottom of Box)
4 – 2×2 @ 23 1/4″ (Legs)
4 – 2×2 @ 54 1/2″ (Front/Back Trim)
1 – 1×2 @ 57 1/2″ (Top Trim, Back)
1 – 1×3 @ 57 1/2″ (Top Trim, Front)
4 – 2×2 @ 16 1/2″ (Drawer/Door Trim)
4 – 1×8 @ 20 1/4″ (Drawer Front/Back)
4 – 1×8 @ 11 1/2″ (Drawer Sides – cut to the width of your 1x12s)
2 – 1×12 @ 18 3/4″ (Drawer Bottom)
4 – 1×3 @ 15 3/8″ (Door Top/Bottom)
1 – 2×2 @ 20 1/2″ (Drawer Trim)
2 – 2×2 @ 13″ (Drawer Guides – 1×12 width + 1 1/2″)
2 – 1×2 @ 11 1/2″ (Cut to width of your 1×12 – bottom drawer guides)
6 – 1×2 @ 11 3/8″ (Door Sides/Trim)
1/4″ plywood @ 15 3/8″ x 16 1/4″ (Door Backs)
Instructions
Step 1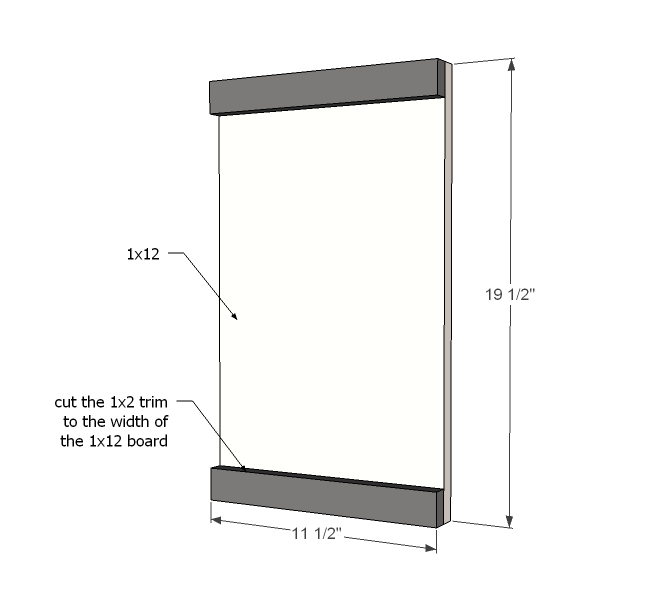 Side Trim

Attach the sides to the side trim as shown in the diagram. You will need to do two of these. I fastened mine from the inside to hide screw holes.
Step 2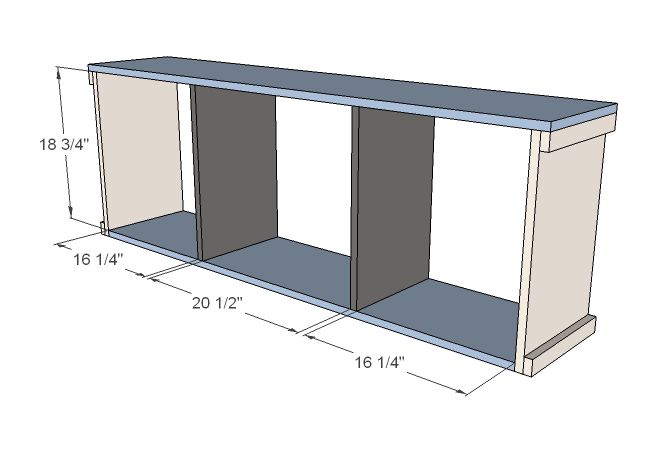 Box

Build the box as shown above. I used pocket hole screws (1 1/4″ long), but you could use glue and coutnersunk screws or even nails (lots of glue) – just make sure your fasteners are 2″ long.
Step 3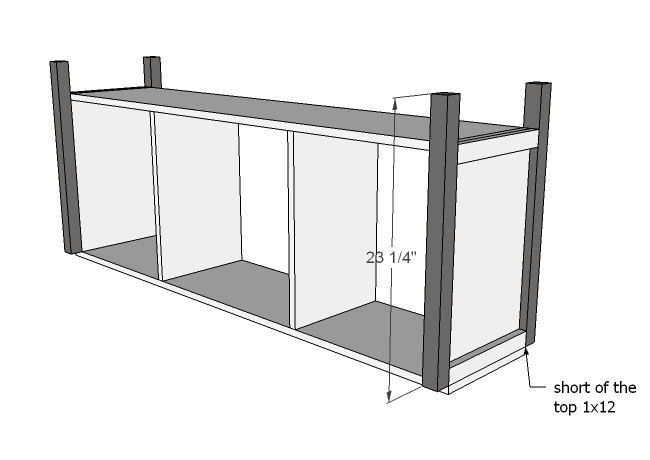 Legs

Attach the legs to the box, flush to the inside of the box and the outside of the side trim. Use 2 1/2″ finish nails or screws and glue or pocket hole screws from the inside.
Step 4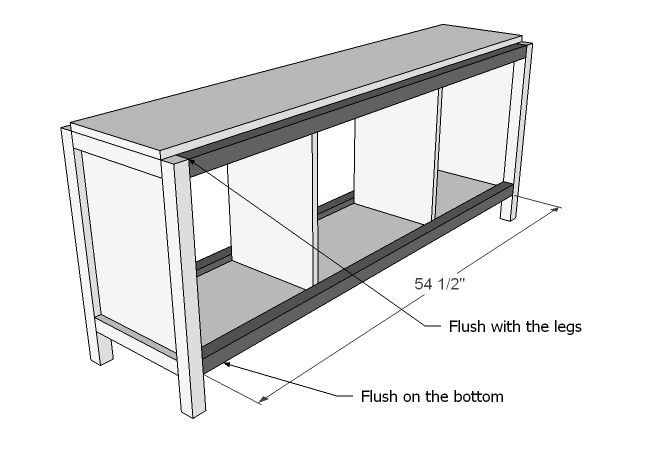 Front/Back Trim

This should be an easy step, but will strengthen up your piece considerably. Fasten same as legs. Also fasten legs to trim.
Step 5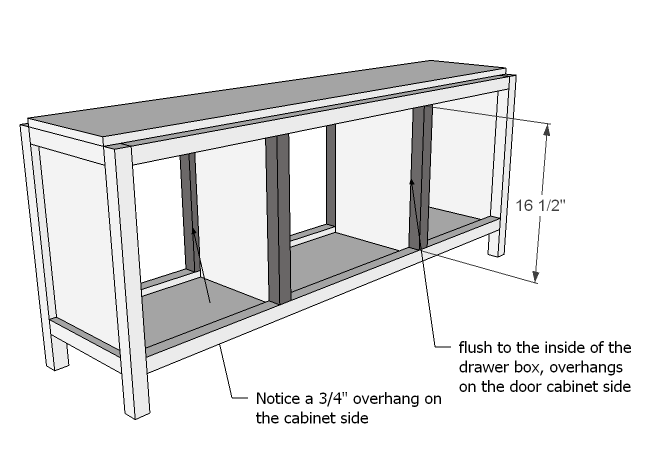 Step 6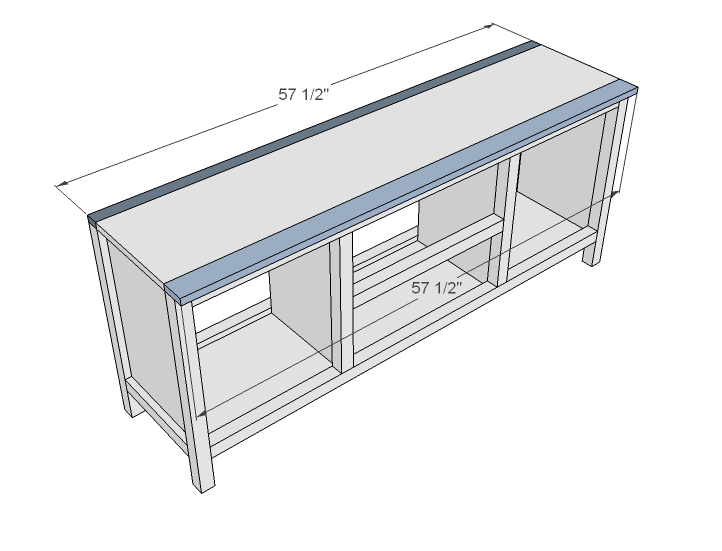 Top Front and Back

Finish off the top front and back as shown above. If you have a pocket hole system, you will want to have holes predrilled in the top 1×12 to attach the trim. otherwise, wood glue and screws will work (it's fully supported by the 2x2s).
Step 7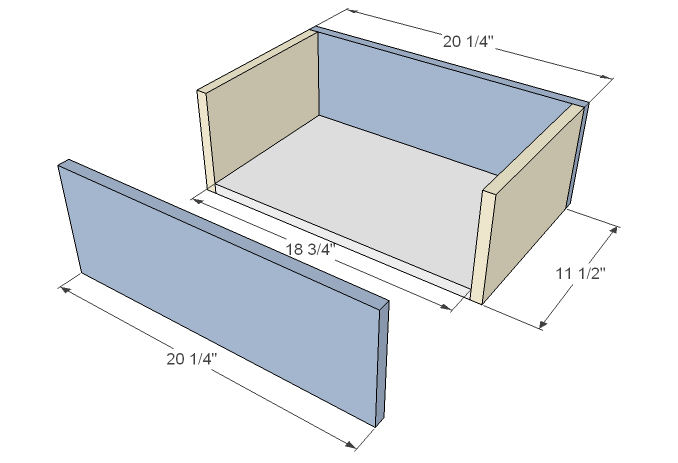 Drawers

Build your drawer as shown above. Use either pocket hole screws or 2″ screws and glue. You need two drawers.
Step 8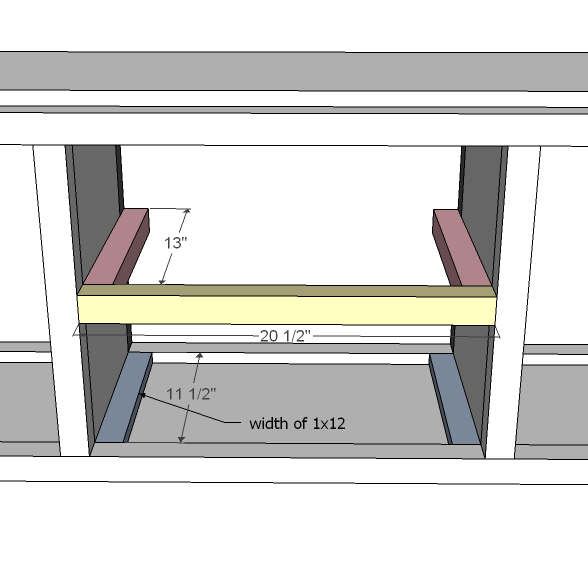 Drawer Guides

I like to adjust my drawer guides to a perfect fitting drawer. Begin by placing the bottom drawer guides in place. You may need to shim this one up 1/8″ so that the drawer face has an 1/8″ gap under it. Glue and use 1 1/4″ fasteners to keep in place (hold off on the glue until you are happy with the placement of both drawers). Then add the top drawer guides (not the trim yet) until you have approximately a 1/8″ gap to the top of the top drawer and the drawer is sliding smoothly. When you are happy with the top drawer, fit the center trim in place and adjust your drawers as necessary. The ultimate goal is an even gap around both drawers and smooth sliding drawers. TIP: Rub bottom edges of drawers and drawer guides with a cheapo candle to have super smooth sliding drawers. See below.
Step 9
Step 10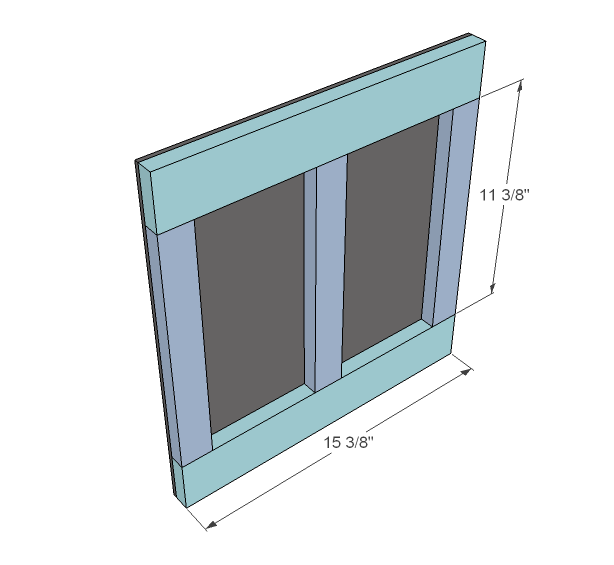 Drawers

I stole this drawer part from the bases/nightstands because it's identical (intentional). Here goes: When you cut your boards, make sure you measure the exact opening of your door, and leave 1/8 gap for a tight fit, 1/4″ (total gap, so that's 1/8″ all the way around) for a roomier door. If you have a pocket hole system, build the door frame as shown above. You can use a countersink bit or wood dowels to build the door frame too. Otherwise, glue and nail to the back plywood. Keep in mind the allowance need for your hinges. Depending on the type of hinge that you are using, you may need to cut the plywood out around the hinge.

This is an advanced project because there are alot of pieces, and if everything doesn't come out square, your drawers/doors won't work properly. Please don't attempt as a first project. Happy Building!
We apologize if there was an error in this plan. Please help us out and report any errors here.