A complicated storage desk system is broken down into simple, modular pieces, that you can tackle, one project at a time. This open base unit has a matching drawer plan and features easy storage, and most importantly, perfect structure for putting a desktop on.
You can view the entire collection of plans in the Modular Office System here.
Special thanks to Anne at Get Your Martha On for sharing her amazing photos of this plan.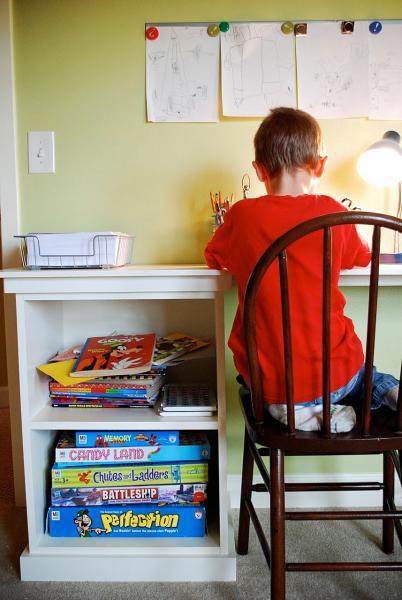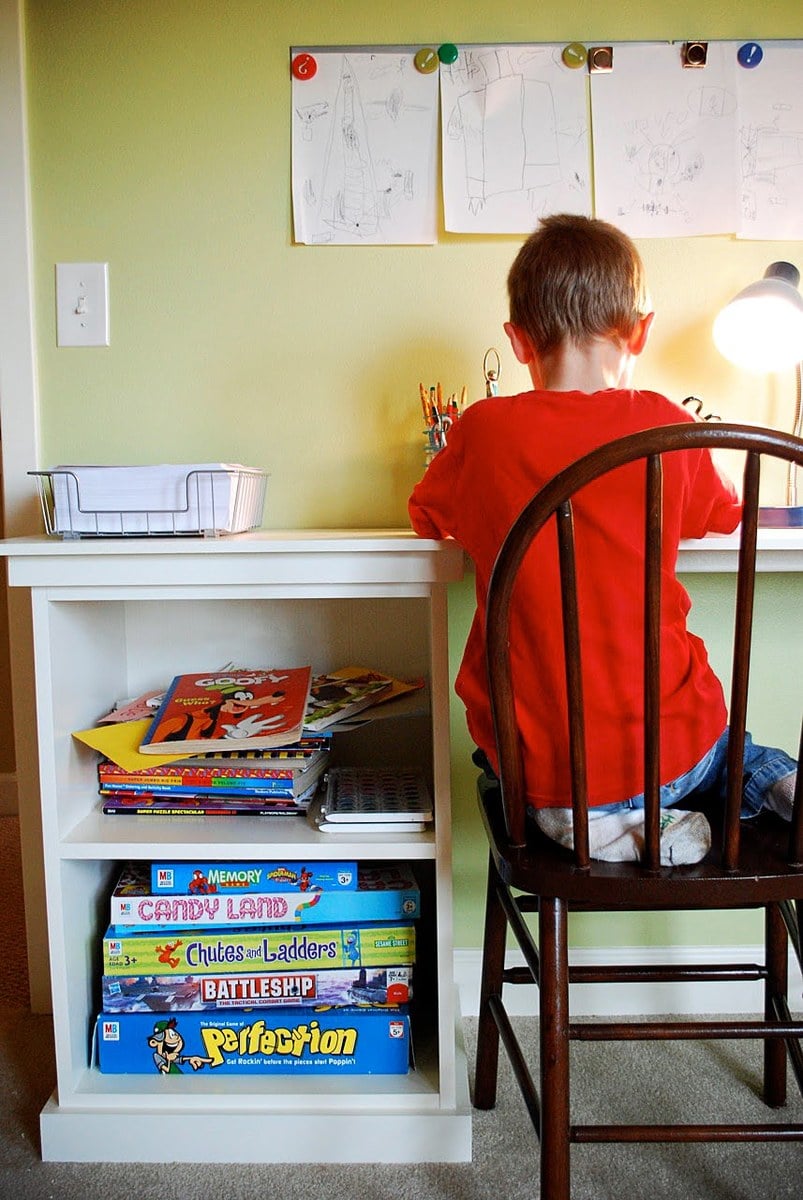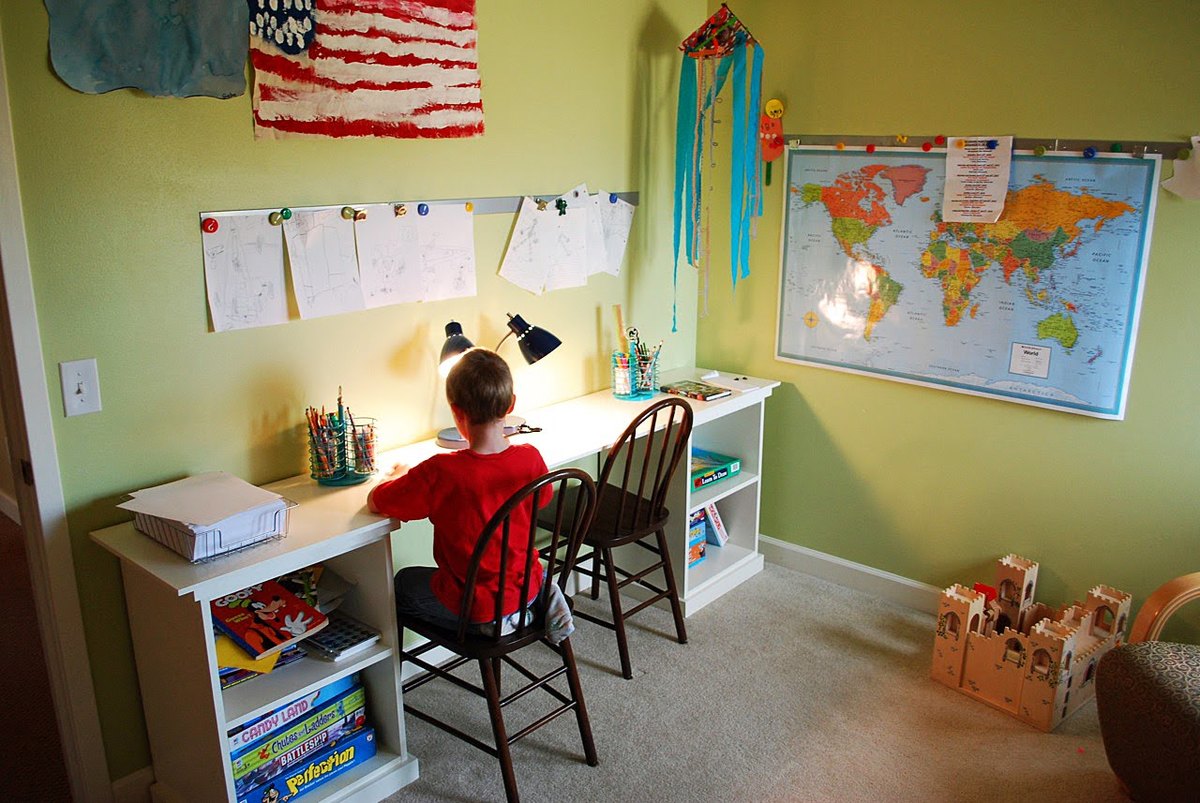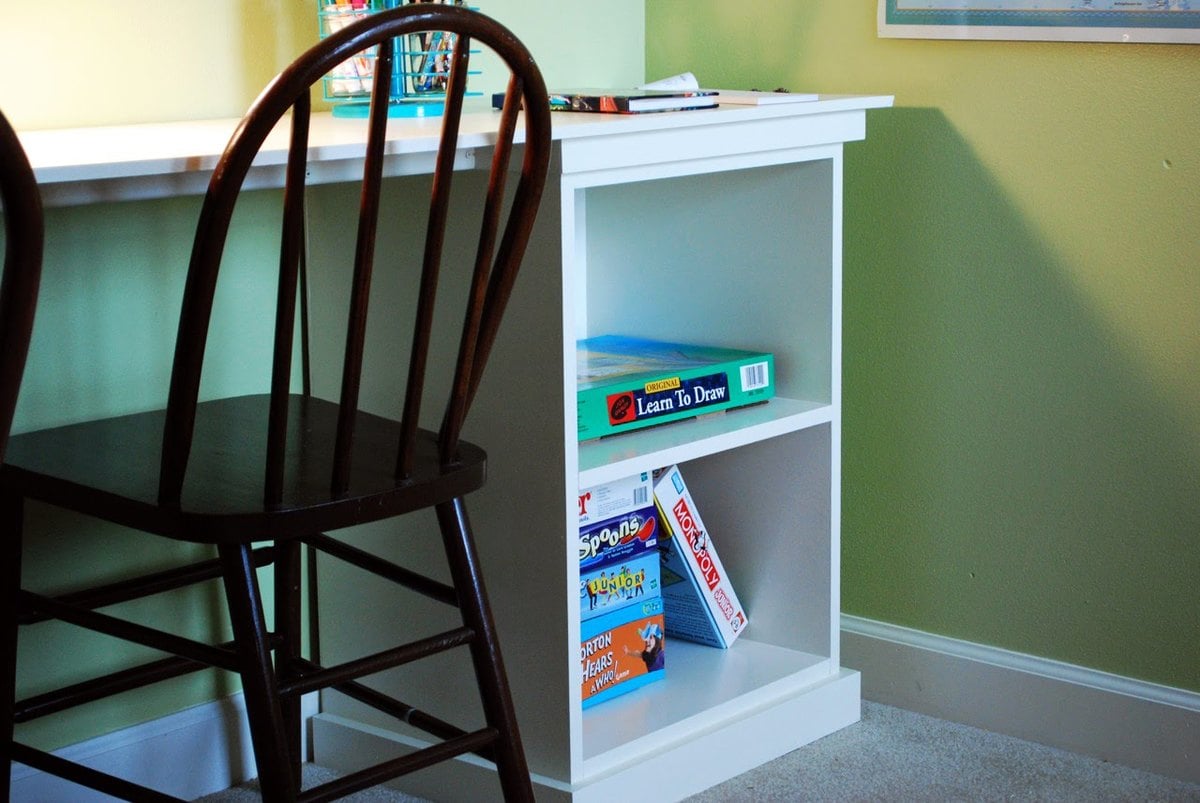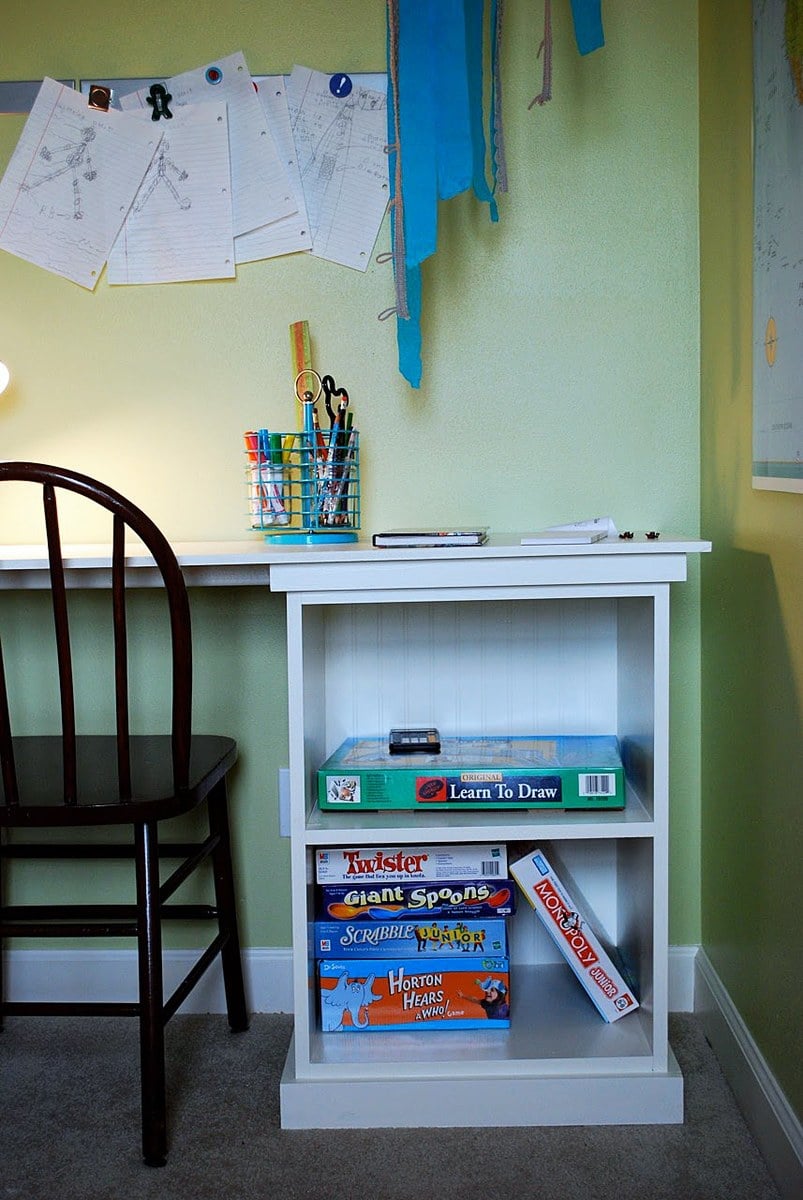 Dimensions
21" Wide x 30" Tall x 16 1/4" Deep
Preparation
Shopping List
1 – Sheet of 3/4″ MDF or A1 Plywood cut into 1×16 boards (You will only need about 1/2 sheet)
1 – Sheet of 1/4″ MDF or plywood (for the back, you will only need a piece 31″ x 21″)
1 - 1×2 Boards
1 - 1×3 Boards
Wood Glue
Wood Filler
2″ nails (for pnematic nailer)
1 1/4″ nails (for pnematic nailer)
2″ Wood Screws (for A1 Plywood) or Drywall Screws (for MDF)
Sandpaper
Finishing Supplies
Common Materials
primer
wood conditioner
paint
paint brush
Cut List
1 – 1×16 @ 19 1/2″ (Top)
2 – 1×16 @ 29″ (Sides)
2 – 1×16 @ 18″ (Shelves)
1 – 1/4 Plywood @ 19 1/2″ x 29 3/4″ (Back)
1 – 1×2 @ 18″ (Top Inside Trim Piece)
1 – 1×3 @ 18″ (Bottom Inside Trim Piece)
2 – 1×2 @ 15 1/2″ (Top Side Trim Piece)
2 – 1×3 @ 15 1/2″ (Bottom Side Trim Piece)
1 – 1×2 @ 21″ (Top Front Trim Piece)
1 – 1×3 @ 21″ (Bottom Front Trim Piece)
Cutting Instructions
This project calls for a "1x16" board. If you go ask for a 1x16 at The Home Depot, they are going to tell you there is no such thing. In an effort to simplify plans, create reuseable scraps, and to conserve materials and minimize cuts, most plans that I design use standard width boards. Because we need a deeper width board than a 1x12 for a desk, we simply create 1x16s by ripping plywood into 15 1/2" widths, 8 feet long. You will see most commonly 1x16s and 1x24s because this conserves the most plywood when ripping. You can also rip MDF or join 1x6s to create 1x16 boards. The exact width isn't as important as all of your boards matching in width.
General Instructions
Work on a clean level surface. Always wear appropriate eye and ear protection. Always use glue. Predrill and countersink your screws. Avoid fastening MDF within 1″ of edges. Measure and mark out your joints prior to fastening. Check for square after each step. Keep outside edges flush.
Instructions
Step 1
Build the Box. Begin by fastening the shelves to the sides, as shown above. Then fasten the top to the sides. Use the screws and glue.
Step 2
Back. Fasten the back to the bookshelf using the 1 1/4″ nails and glue.
Step 3
Inside Front Trim. Fasten the inside front trim, top and bottom, as shown above. Use the 2″ finish nailers and nail through the sides, and top shelves into the edges of the inside front trim, top and bottom pieces.
Step 4
Side Trim. Lining up with the front edge of the shelves and top, fasten the side trim pieces, bottom and top in place. You will need to use the 1 1/4″ nails and glue. Make sure you fasten the top side trim piece to both the top and the sides. This will reinforce the side joints.
Step 5
Step 6