This simple bed frame can be easily upholstered to make a upholstered bed, or just painted to make a beautiful wood frame.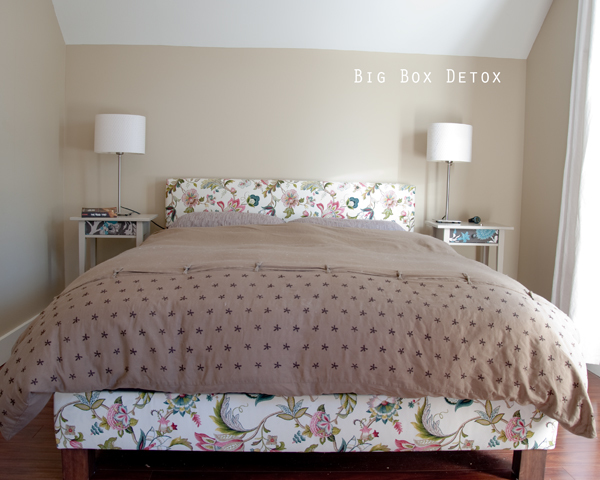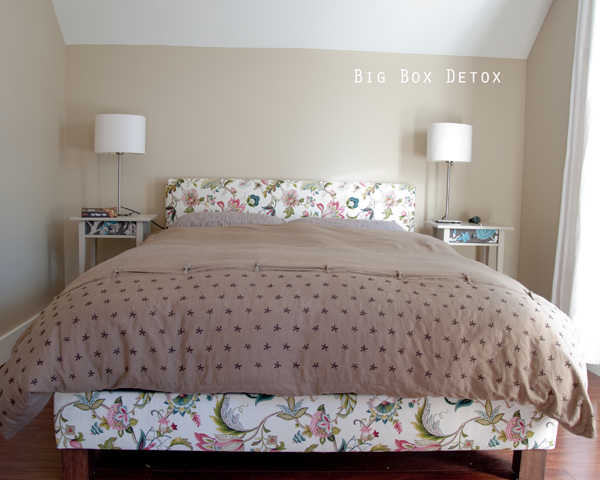 If you aren't a fan of modern hip furniture, a fan of West Elm's Chunky Bed, you may be thinking, enough of that bed already!

And I'm not going to ask anyone to be paitent, we will soon be returning to the Early American furniture style that I so greatly favor.  Instead, I'm going to ask you to be innovative, and imagine this bed with a different headboard, perhaps an upholstered headboard  . . .

Because if I was building an upholstered bed, I would simply use this plan for the bed frame and wrap the siderails in batting and fabric and staple to the inside of the side boards.

Like I did here. Even easier than painting!  And I would construct a headboard much like this one, just a little longer.

I even love this bed without a headboard.  And by no means do you have to make your bed chunky.  You can use any style leg you choose, creating many different looks that could compliment any decor.

But for today's purposes, we'll stick with the chunky legs.  Besides, you can build them from scraps, and free is always a good thing!

UPDATE: Big Box Detox took this plan and made a fabulous upholstered bed! It's unbelievable! Check out the feature photo.
Dimensions
Overall Dimensions are shown above. Composition is solid wood boards. This bed is sized for a Queen. You can easily adjust the size of the bed to fit a king, but I recommend add a center leg under the center support for a little extra support. You can omit the center support for a twin mattress.
Preparation
Shopping List
2 – 1×8 Boards, 8′ Long
1 – 1×8 Board, 12′ Long
2 – 2×2 Boards, 8′ Long
2 – 2×6 Board, 8′ Long or Stud Length
13 – 1×3 Boards
2″ Screws
Wood Glue
Wood Filler
Sand Paper
Finishing Supplies
Common Materials
primer
wood conditioner
paint
Cut List
2 – 1×8 @ 60″ (End Rails)
2 – 1×8 @ 81 1/2″ (Side Rails)
4 – 2×6 @ 5 1/2″ cut at 45 degree angles (Corner Supports)
1 – 2×6 @ 80″ (Center Support)
2 – 2×2 @ 80″ (Cleats)
4 – 2×6 @ 5 1/2″ (Leg Bases)
16 – 1×3 @ 6 1/4″ (Leg Trim)
13 – 1×3 @ 60″ (Slats)
Instructions
Step 1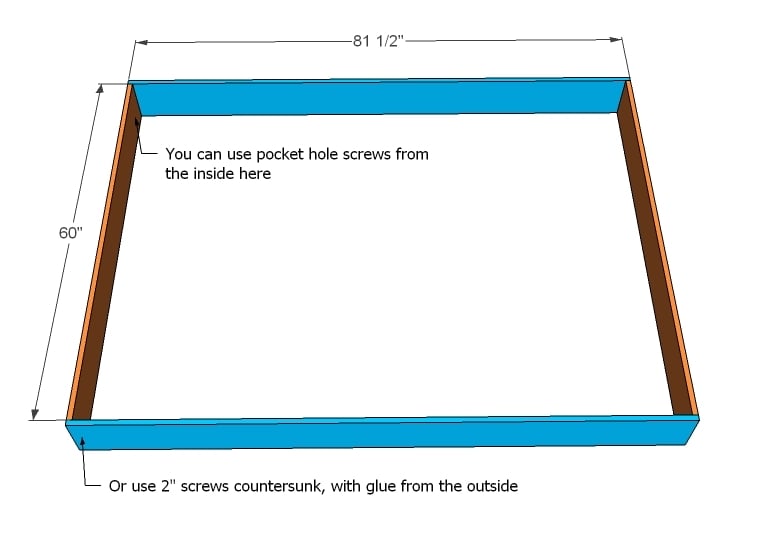 BOX
Build the box out of the 1x8s as shown above.
Step 2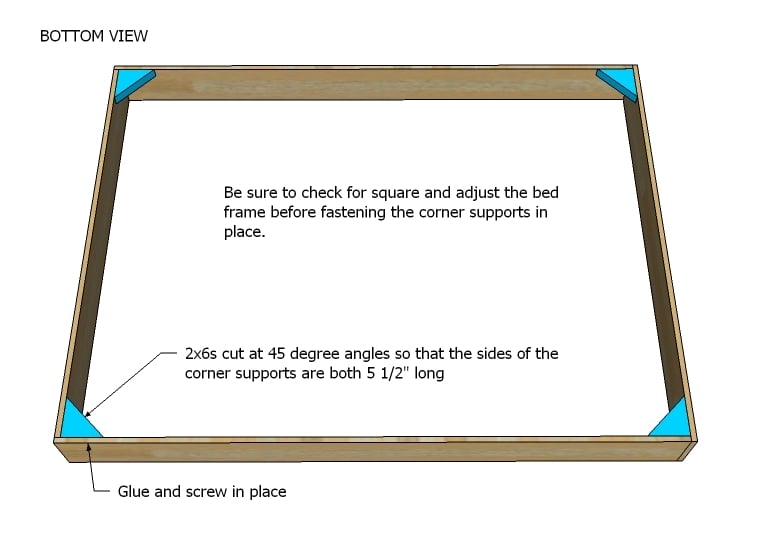 CORNER SUPPORTS
Adjust the bed frame for square and fasten the corner supports in the corners as shown above. Keep the top edges flush. This will be the bottom of your bed frame.
Step 3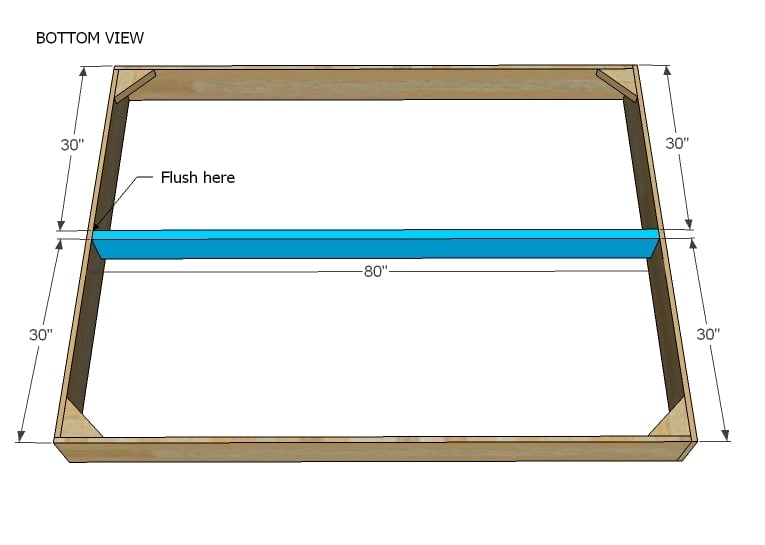 CENTER SUPPORT
Mark the end rails 30″ in and fasten the center support to the end rails using 2″ screws and glue or pocket holes from the inside. Keep top edges flush. This will be the bottom of the bed.
Step 4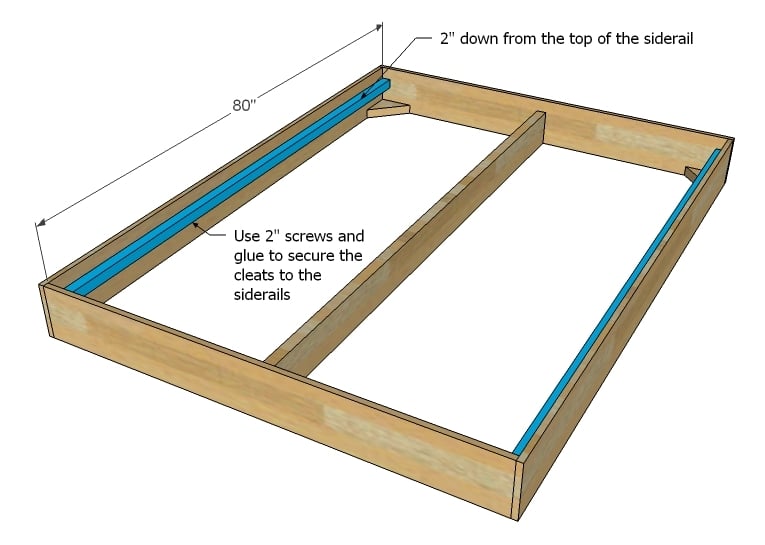 CLEATS
Flip the bed frame over and mark the side rails down 2 inches on both sides. Attach the cleats with 2″ screws and glue, screwing every 6 to 8 inches.
Step 5
Step 6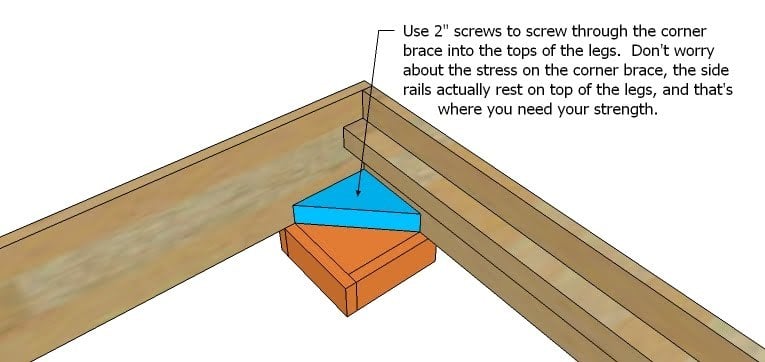 ATTACHING THE LEGS
Attaching the legs is easy. Simply line up the legs with the outside corners of the bed frame and screw through the corner supports into the top of the leg blocks. Use at least 2 screws. You could easily attach a different type of foot to the bed in the same manner.
Step 7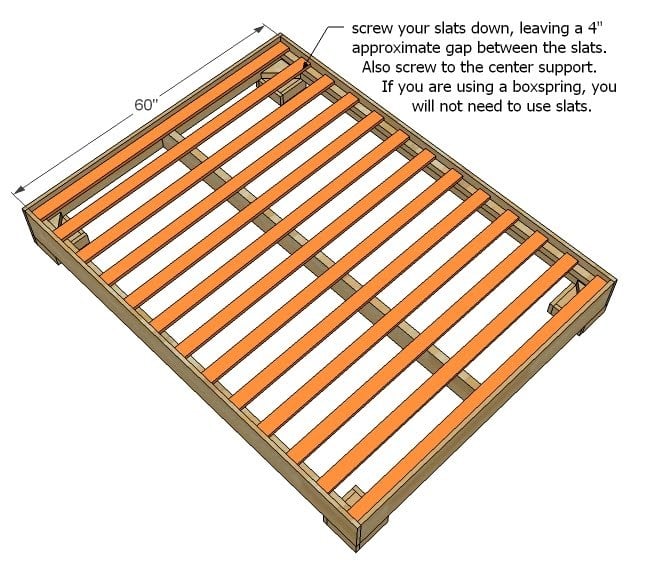 SLATS
Lay your slats on top of the cleats and screw down. Also screw to the center support. Space slats approximately 4″ apart.
Preparation Instructions
Fill all holes with wood filler. Let dry completely and sand with coarse sand paper. Refill holes with filler, and let dry completely. Sand again, this time with medium grit sandpaper. Then sand with fine sandpaper. Vacuum with a soft bristled brush to remove any residue. Then wipe clean with a damp cloth. Let dry. Apply primer and paint for a painted finish, wood conditioner and stain for a stained finish. Finish with a clear coat if necessary. Of course you would have skipped all of these steps if you were using fabric.