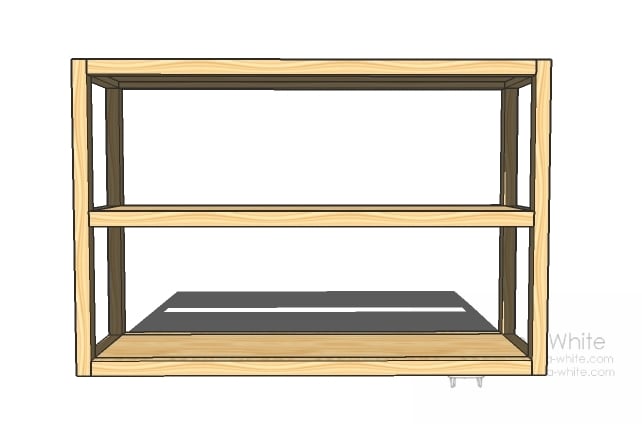 Simple Parson style bookcase that can be used as a console table or scaled to a full bookshelf.
Well, I'm finally feeling like I'm on Alaska time! So excited to get back to work.
You know, I have to share this with you. Speaking at a conference was not nearly as scary as traveling alone. I know, right, I'm 30 years old. How scary can it be? I'm not so sure if it's the fear of other people so much is it is the fear on not having your people. In my case, my family.
When the Ram dropped me off at the airport, I told him, I don't want to go. I was terrified. I reasoned with him - What is wrong with our current life? Why do I need to go to conferences and travel? We are perfectly happy with our life just as it is.
And he said to me, if you don't get out of your comfort zone and do things that are difficult, you will never grow and understand ways that life could get even better. And also, share with a greater audience what you are doing.
So I got on the plane.
And it was a very difficult trip.
And the Ram was right.
I'm back home, full of fresh ideas and recharged. Here are just two of the ideas I had.
I was having a glass of wine with Deanne who does television appearances regularly. And then she asked me why I don't do video on my blog. So I whined about my garage not being perfect, and how I didn't have backdrop and she looked at me and said, "Why don't you hang a curtain up?" Just bought a huge paint drop cloth. Thanks Deanne!
And also, as you all know, I'm smartphone less, which is a huge barrier to twitter (and also keeping up to date on Facebook). I had hoped for a iPhone for my Birthday, but just couldn't justify buying one. But after being at the conference and seeing how amazing twitter can be, I'm so inspired, you might just find some new features on the blog soon!
And also, for you here to build furniture :) , it's going to be an amazing next couple of weeks! I've got so many projects to post, I just know you are going to love them! I'll give you some hints - we got a new member of the family, our dining room is looking both tableless and chairless, and my office needs to be more . . . . So stay tuned for all that!
Today's plan is for a Parson's style bookshelf. Expect more along these lines coming soon.
Sometimes simple isn't always simple to build.  But this time, I think we've done it.
Dimensions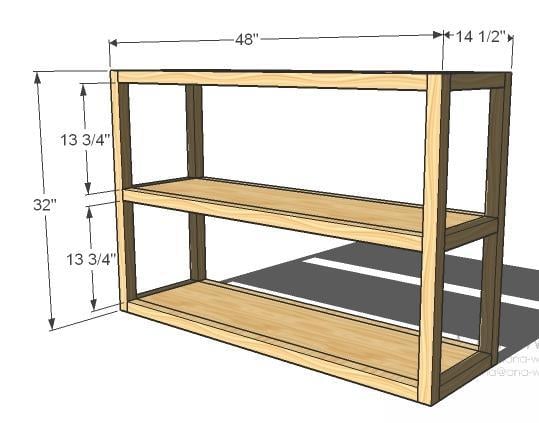 Dimensions shown above.
Preparation
Shopping List
1 – 12′ 1×12 Boards
5 – 8′ 2×2 Boards
3 -8′ 1×2 Boards (IF you do not have a pocket hole j
Cut List
3 – 1×12 @ 45″ (Shelves)
6 – 2×2 @ 45″ (Shelf Trim)
4 – 2×2 @ 32″ (Legs)
6 – 2×2 @ 11 1/2″ (Shelf End Trim)
6 – 1×2 @ 45″ (IF you do not have a Kreg Jig)
Cutting Instructions
This shelf assumes that your 1x12s are 11 1/2" wide. Make sure you check the width of you 1x12s and adjust the plan accordingly.
Instructions