Free, easy, step by step plans to build a picnic table that converts easily to two separate benches. The tabletops rotate to form bench backs. Detailed plans give you step by step instruction to build this multi-use outdoor staple for your deck or patio.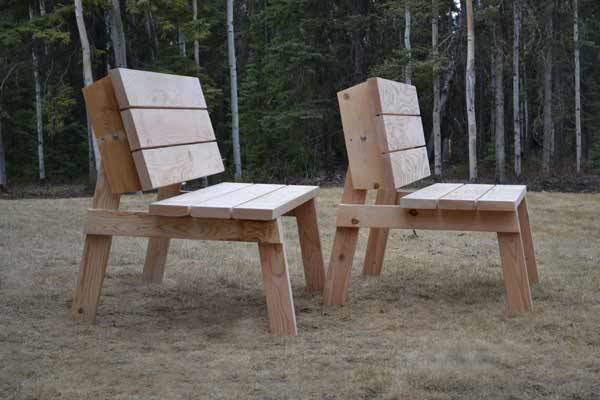 Dimensions
Dimensions shown above
Preparation
Shopping List
7 - 2x6 @ 8 feet long 4 - 2x4 @ 8 feet long 2 1/2" galvanized exterior screws 8 - 4" long, 1/2 diameter bolts with washers and nuts
Common Materials
120 grit sandpaper
primer
wood conditioner
paint
paint brush
Cut List
CUT LIST IS FOR 2 BENCHES CONVERTING TO ONE PICNIC TABLE
4 - 2x4 @ 28 7/8" (Back Legs - Both ends cut at 10 degrees off square, parallel to each other, long point to short point measurement)
4 - 2x4 @ 27" (Seat Support - Short point to short point measurement - both ends cut at 10 degrees off square, NOT parallel to each other)
4 - 2x4 @ 16 3/4" (Front Legs - Both ends cut at 10 degrees off square, parallel to each other, long point to short point measurement)
12 - 2x6 @ 47 7/8" (Seat and Tabletop boards)
4 - 2x6 @ 17" long (Tabletop Supports)
Cutting Instructions
Carefully cut all of your boards with a compound miter saw, or mark angles with a protractor and carefully cut with a circular saw.
General Instructions
Please read through the entire plan and all comments before beginning this project. It is also advisable to review the Getting Started Section. Take all necessary precautions to build safely and smartly. Work on a clean level surface, free of imperfections or debris. Always use straight boards. Check for square after each step. Always predrill holes before attaching with screws. Use glue with finish nails for a stronger hold. Wipe excess glue off bare wood for stained projects, as dried glue will not take stain. Be safe, have fun, and ask for help if you need it. Good luck!
Instructions
Step 1
Additional dimensions shown above. We found that this table/bench was most comfortable as a bench. If you are expecting to use the convertible picnic table bench mostly as a picnic table, I suggest you first review our free as always picnic table plans. The wide seat when converted to a picnic table makes for climbing into the seat a tad more difficult than traditional picnic tables - but let me tell you, the wide seat as a bench is quite nice.
Another note, I choose to make the benches/convertible picnic table four feet long to conserve lumber.  Most adult sized picnic tables are six feet long.  You can make the benches/convertible picnic table longer, but depending on your use, you may wish to add supports.  See the final step for more on this.
Step 2
First things first. From your back legs, drill 1/2" diameter holes as shown above, centered on the top. Drill on all four legs.
Step 3
Lay the front leg over the bottom of the back leg, with bottom and outside edges flush. Trace the top edge - this will be the line that you will line your seat support top up with. Lay the seat support on top of the legs as shown above and predrill holes and attach the seat support to the legs with 2 1/2" galvanized screws and wood glue. You will need to make four of these. Make two with the seat support on the right and two with the seat support on the left - it does matter.
Step 4
Mark all of the seat boards 2" from the ends. The seat boards overhang the legs by 2" on the outsides. Attach the seat boards to the legs, using 2 1/2" galvanized screws and wood glue. Adjust for square. Leave 1/4" gaps between the seat boards. Use one left and one right leg for each bench as shown above in the diagram.
Step 5
Step 6
Now that you have constructed the top, line the holes in the back legs up with the holes in the tabletop supports. Thread your 4" bolts through, add washer and nuts, and tighten. Lay a level on top of the table, perpendicular to the tabletop boards. With the tabletop level (use a clamp to hold in place) drill holes through the back legs and the tabletop supports and insert a pin (you can just use another 1/2" bolt). Do this on both sides.
Step 7
Remove the pins and rotate the tabletop so it becomes a backrest. Sit in the bench, and determine a comfy backrest position. When satisfied, clamp the tabletop supports to the back legs and drill another 1/2" diameter whole. Insert the pin. Do the same on both sides. To convert the benches to picnic tables, simply remove the pins and rotate the backrest to a tabletop, and reinsert the pins in the correct holes.
Step 8
For those of you wishing for a longer convertible picnic table bench, above shows how you would use standard eight feet long boards for the tabletops, and simply add an extra leg in the center. You will also need to add a back brace as shown above.
Preparation Instructions
Fill all holes with wood filler and let dry. Apply additional coats of wood filler as needed. When wood filler is completely dry, sand the project in the direction of the wood grain with 120 grit sandpaper. Vacuum sanded project to remove sanding residue. Remove all sanding residue on work surfaces as well. Wipe project clean with damp cloth.

It is always recommended to apply a test coat on a hidden area or scrap piece to ensure color evenness and adhesion. Use primer or wood conditioner as needed.
We apologize if there was an error in this plan. Please help us out and report any errors here.