My wife likes to move her large flowers pots around for variety and so they get equal amounts of sun. But the largest pots with dirt and plants are pretty heavy, likely around 60-70 lbs. Commercial plant caddies are usually kind of junky and virtually all have inadequate plastic furniture casters that don't roll right and quickly break.
Here is a design that virtually hides the stronger wheels, creates a platform look, and rolls much more easily than the commercial ones.
The most expensive part of this project will be the wheels. We picked up 4 screw-attached wheels at Harbor Freight for $10. They carry various sizes and types; we went with these 1 5/8 inch wheels:
http://www.harborfreight.com/1-5-8-eighth-inch-x-7-8-eighth-inch-light-…
If you choose larger wheels, they will no doubt roll a little easier over bumps but you will need to live with them being more visible or you will need to buy or cut wider boards than this design calls for to hide them.
A decision is also required as to what type of wood to use. This project will include two approaches, one simpler, sturdier, and does not require a table saw. The other approach is cheaper and sturdy enough.
For the simpler approach:
You will need 10 feet of 1 X 3 of the wood species of your choice. All boards are 2 1/2 inches wide with either approach.
My local Home Depot has 6 foot long X 6 inch wide X 5/8 dog-ear cedar fence slats for and incredible $1.39. One of these is enough for 1 plant caddy, with a little left over. There are 2 downsides to using this wood. First, it is rough wood; not finished on the sides. The other is its 6 inches wide and needs to be ripped to 2 1/2inch widths. But it's $1.39.
I am lucky and have both a table saw and power planer so neither of these issues caused me problems.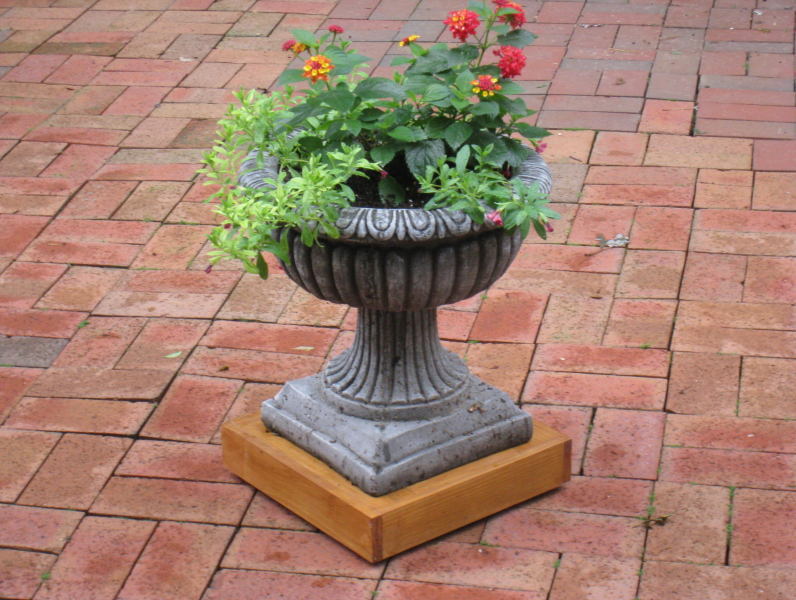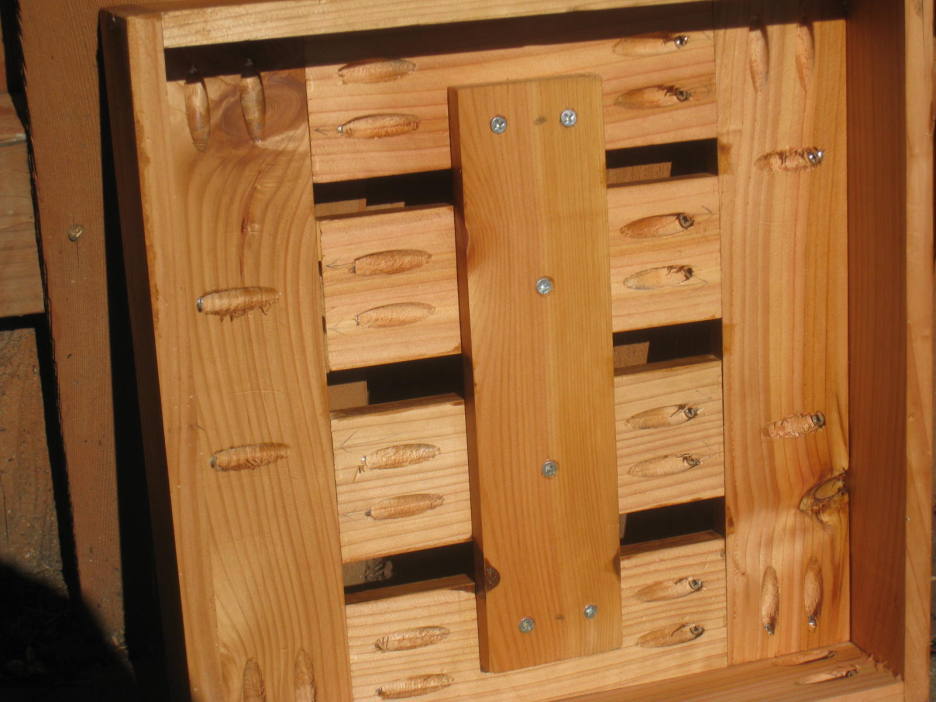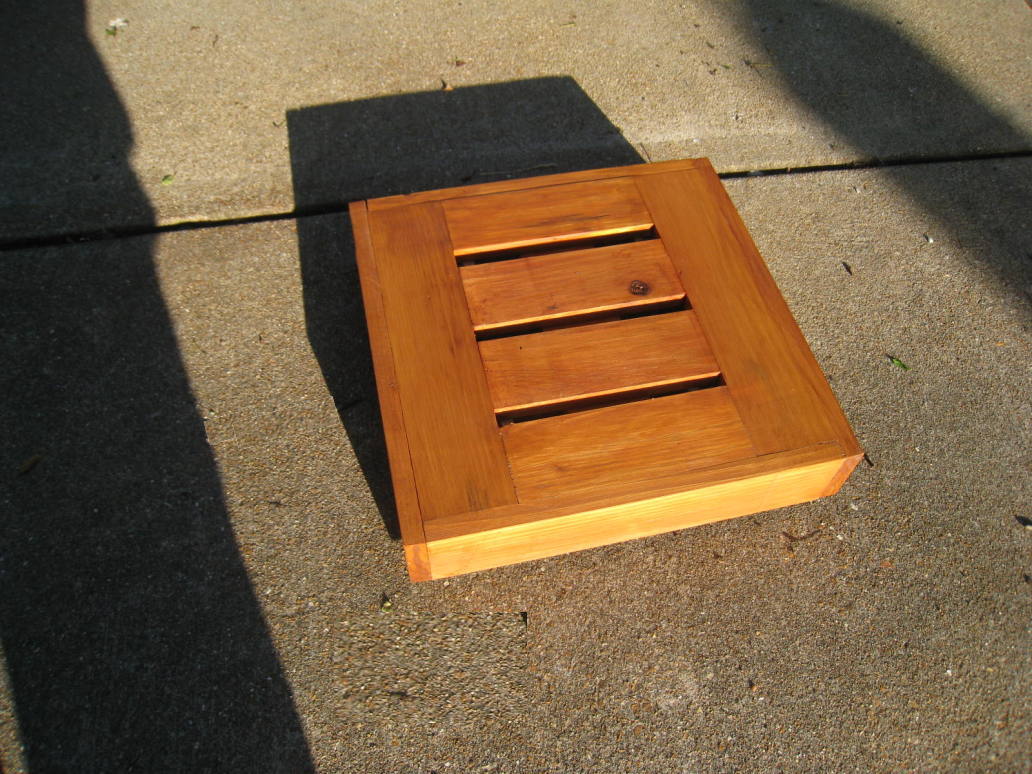 Dimensions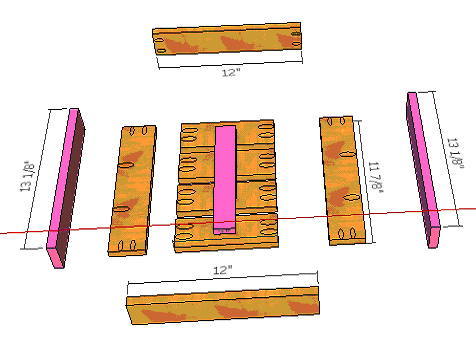 Preparation
Shopping List
You will need 1" coarse Kreg Screws for the cedar plank.
1 1/4 inch coarse screws may be better for the 3/4 lumber version.
Cut List
4) @ 7 inch Inner boards

2) @ 11/7/8 side boards

2) @ 12 short outer boards

2) @ 13 1/8 long outer boards

1) @ 10 inch cross board
Cutting Instructions
If you are using the simpler approach this first paragraph does not apply to you. If you are ripping the cedar slat, you will of course want to cut off the dog ears. You can plane or sand the sides or leave them rough. And you can then either cut each piece to length and then rip each or rip the whole thing (twice) creating two 2 1/2 inch boards.
For Everybody:
If you are using 3/4 inch dimensioned lumber the 13 1/8 dimension will need to be around 13 1/2 to account for the thicker 12 inch short outer boards. This dimension should be the only one affected by thicker wood. You might want to wait to cut this length until everything else is pocket screwed. These long outer boards do not require pocket screw holes so you can wait to measure your required length.
Pocket screw set up: Adjust your jig for the thickness of your lumber. If you are using the dimensioned 1 X lumber (at 3/4 inch thick), 3/4 will be your jig setting. If you are using the $1.39 cedar plank you will need to closely measure your board thickness after any planning and sanding and set the jig appropriately. After planing, my board thickness was just over 1/2 inch. I would use 1 inch coarse kreg screws for the cedar plank version but 1 1/4 inch coarse screws for 1 inch (3/4) lumber.

General Instructions
Please read through the entire plan and all comments before beginning this project. It is also advisable to review the Getting Started Section. Take all necessary precautions to build safely and smartly. Work on a clean level surface, free of imperfections or debris. Always use straight boards. Check for square after each step. Always predrill holes before attaching with screws. Use glue with finish nails for a stronger hold. Wipe excess glue off bare wood for stained projects, as dried glue will not take stain. Be safe, have fun, and ask for help if you need it. Good luck!
Instructions
Preparation Instructions
Fill all holes with wood filler and let dry. Apply additional coats of wood filler as needed. When wood filler is completely dry, sand the project in the direction of the wood grain with 120 grit sandpaper. Vacuum sanded project to remove sanding residue. Remove all sanding residue on work surfaces as well. Wipe project clean with damp cloth.

It is always recommended to apply a test coat on a hidden area or scrap piece to ensure color evenness and adhesion. Use primer or wood conditioner as needed.
Finish Used
The finish shown here is General Finishes Water based exterior stain- Butternut color. This was followed by General Finishes Outdoor Oil to help preserve the wood. The oil was used on inner and outer surfaces, the Butternu finish was applied only to the outside.