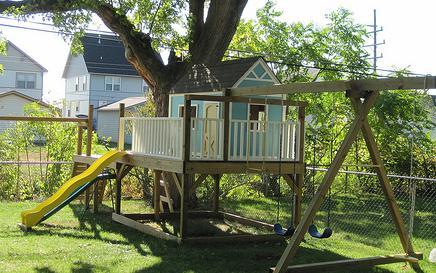 About Project
The gable ends wall for the playhouse. Features one window and full trim work. Uses just one sheet of plywood. You'll be surprised at how easy this playhouse is to build!
On Monday, I posted the plans for the playhouse deck.
And it never occurred to me when I posted the plans for the playhouse deck that I had already built a very similar design. On a very steep hill, with a shovel and a screwgun as our tools (no road access here, so if you want a foundation, start digging the old fashioned way)
Notice the heavy cross bracing? Not a bad idea for your playhouse deck, but a necescity on the steep hilside and because we had a specific task in mind for the platform.  Grace called it her "tower," for a few weeks, until it became a stair landing
Those stairs, now that was a project! I like desiging in sketchup where everything is flat.  Working on a steep hillside was definitely a challenge.  Oh, and I almost forgot.  Our adult sized playhouse sits on a platform much like the design for the playhouse deck
We built this deck, and over the past seven years, it has not budged, wiggled or wobbled, despite being on a steep incline.
I'm confident that your playhouse deck will be just as sturdy, but much easier to build.  I'm hoping your supplies don't have to be boated in on a creek with mere inches of moving water on it.  And that you are working off a surface that was leveled by a piece of heavy equipment.  Speaking of leveling the playhouse deck, if you are working on an uneven surface, like we were, you can simply "let your post run wild" meaning that you don't cut them to a specific size.  Then place the apron boards around the post using a level.  Then chop the tops of the 4x4s off even with the tops of the apron boards to get a level surface on an unlevel terrain.  Cross brace whenever you are working on uneven terrain.
We've decided to wait just a bit to build the deck (landscaping logistics) but I can't wait that long to start on this project.  Because this playhouse plan is basically panels that can be prebuilt and assembled on site, I'm going to start on my panels tomorrow.  And you can too.
Looking at this simple panel, I know you are thinking, I could build that. And I agree, you can handle this one. On a side note, I drove past a construction site today, and prebuilt wall panels were being positioned in place with a crane, and I couldn't help but think about how our playhouse will have prebuilt panels (but no crane, just the RAM)
Dimensions
Overall Dimensions are shown above. Composition is sheathing of your choice for the outside, 2x2s for studs on the insides.
Preparation
Shopping List
Shopping List for TWO Panels
2 – Sheets of Plywood Sheathing (I'm using 1/4″ Lauan because it's water resistant and finished on two sides, and I have a stack my brother dropped off for me to burn up)
1 1/2″ nails or Screws (for fastening the sheathing to the studs)
2 1/2″ Screws (for fastening the studs together)
Wood Glue
8 – 2×2 Boards, 8′ Length
2 – 1×3 Boards, 8′ Length
Finishing Supplies
Common Materials
120 grit sandpaper
primer
wood conditioner
paint
paint brush
Cut List
8 – 2×2 @ 45″ (Wall Studs)
4 – 2×2 @ 14″ (Window Framing)
4 – 2×2 @ 48″ (Top and Bottom Plate, cut (1) 48″ and (1) 45″ board from an 8′ 2×2)
4 – 2×2 @ 34″ (Both ends mitered down 45 degrees, ends will run perpendicular to each other)
2 – Sheets of Sheathing Overall 48″ wide x 72″ tall, top angled down to match rafters
4 – 1×3 @ 19″ (Window Trim)
4 – 1×3 @ 18″ (Window Trim)
General Instructions
You know the drill, work on a clean level surface and be safe. Predrill your screw holes and check for square after each step. Use glue. And have fun.
Instructions
Step 1
Window Framing
So this is not how you would frame a window in a real house, but because our walls are only 4′ tall and we're just building a little playhouse, this will be plenty strong. And despite the way the frame looks, the load bearing walls are actually the side walls. Use the 2 1/2″ screws and glue to fasten the studs to the window frame.
Step 2
Wall Framing
Now add the top and bottom plates to the window studs, and also screw the end studs to the top and bottom plates. Use 2 1/2″ screws and glue.
Step 3
Rafters
Cut your rafters by mitering the ends at 45 degrees. Then use 2 1/2″ glue and nails to fasten the rafters together and to the wall as shown above.
Step 4
Sheathing
Cut out the sheathing as shown above. Refer to the dimensional diagram for window cutout dimensions. Fasten the sheathing to the studs using 1 1/2″ fasteners and glue.
Step 5
Step 6
I ended up using 1x2s for the window trim because I felt like when the window itself is put in, the frame will be quite thick. Use the measurements above to guild you when trimming out the gable ends for the playhouse.
4 – 1×2 @ 17″
4 – 1×2@ 18″
4 – 1×3 @ 48″
4 – 1×3 @ 43″
4 – 1×3 @ 34″ (Both ends mitered down 45 degrees)
You will need to in addition to the above cut list purchase (to trim out 2 gable end walls)
2 – 1x2s
6 – 1x3s
Preparation Instructions
Fill holes with exterior approved paintable silicone. Sand and paint or finish as desired.