These rolling cubbies feature three large cubbies at bench height. Easy to build and fully framed, inexpensive and sturdy, there is a place for these rolling cubbies in every home.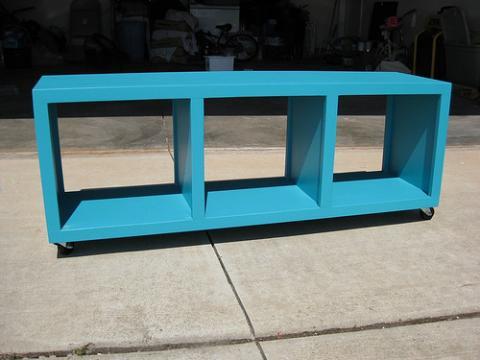 Dimensions
16 1/4" x 48" x 13"
Preparation
Shopping List
1 – 8′ 1×12 board
1 – 6′ 1×12 board
4 – 1×2 8′ boards
2″ nails for finish nailer
Wood filler
Wood glue
4 caster wheels with screws
Common Materials
120 grit sandpaper
primer
wood conditioner
paint
paint brush
Cut List
1 – 1×12 @ 48″ (Top)
1 – 1×12 @ 46 1/2″ (Bottom)
2 – 1×12 @ 15 1/2″ (Sides)
2 – 1×12 @ 14″ (Dividers)
4 – 1×2 @ 48″ (Horizontal Trim)
8 – 1×2 @ 13 1/4″ (Vertical Trim, measure to fit perfectly)
2 – 1×2 @ 11 1/2″ (Wheel Supports, measure to fit)
General Instructions
Work on a clean level surface. Mark out joints prior to fastening. Take a square after each step to ensure your project is square. Use glue and 2″ nails unless otherwise directed. Wear saftey gear and take necessary safety precautions.
Instructions
Step 1
Build the box. Build the box, as shown above. Use the 2″ nails and glue to fasten in place.
Step 2
Top and Bottom Trim. Fasten the top and bottom trim pieces, as shown above. Keep top edges and outside edges flush. Make sure you fasten the top piece to the dividers, sides and top. This will help reinforce your joints. Use glue and 2″ nails.
Step 3
Vertical Trim. Fasten the vertical trim in place, using the measurements shown above. Keep the outside edges flush. The center vertical trim pieces will be centered on the vertical dividers. Use the 2″ nails and glue. Also fasten through the top and bottom of the horizontal trim pieces from step 2 into the end edges of the vertical trim.
Step 4
Supports. Fasten the supports as shown above.
Step 5
Preparation Instructions
Fill any nail holes with wood filler. Sand and finish as desired.
We apologize if there was an error in this plan. Please help us out and report any errors here.