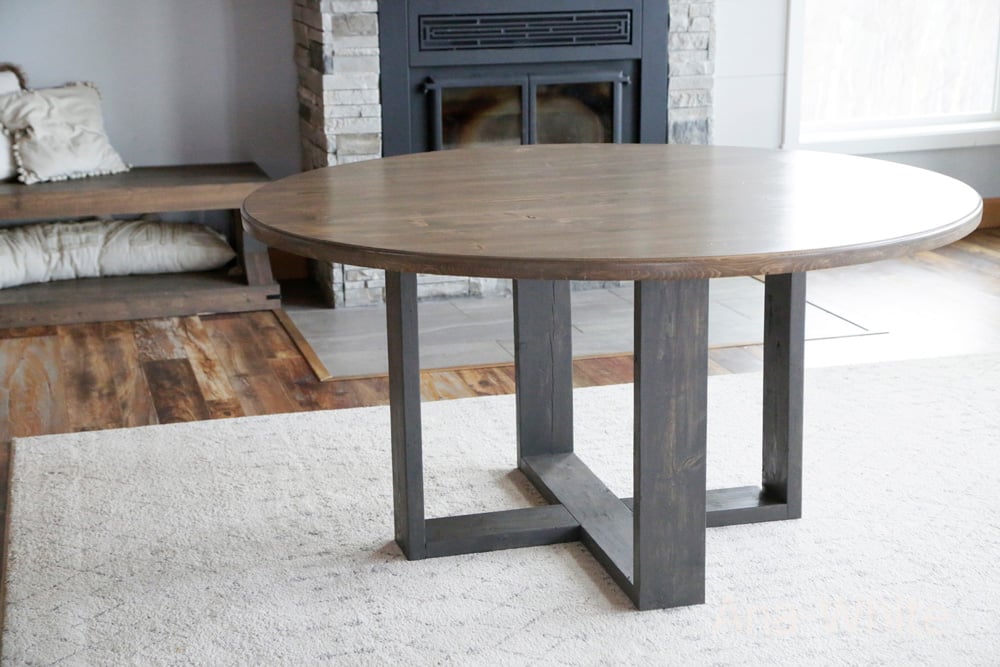 Free plans for round table top building in sizes from 24" to 72"
I love round tables - they are so comfortable, sensible, and beautiful!  But making the round table tops do take a little more figuring than a rectangle or square shape - so I took the time to create patterns for round table tops in sizes 24", 30", 42", 48", 54", 60" and 72" and am sharing my round table top patterns and plans for free in this post!
The patterns include diagrams for each size, step by step instruction, and even a video tutorial.  I use a circular saw and homemade jig to cut the round shape - in this video I show how.  
Dimensions
Shown - 60" round dining table top, 1-1/2" thick
Preparation
Shopping List
For shopping list, please see the image with pattern in desired size.  Pattern images can be downloaded by right clicking.
Cut List
For cut list, please see the pattern image.
Cutting Instructions
It is recommended to first cut the octagon pieces out first, and attach together.
Then cut the tabletop pieces so they cover the octagon pieces - this may save you some board feet on the end pieces.  This also allows for cuts that may be short to be placed on the edges.
Instructions
Preparation Instructions
For the final finish, I sand the entire tabletop in the direction of the wood grain with 120 grit sandpaper.
Then I work up in grit to 220 - or until the tabletop is very smooth.
I always add at least two coats of clear coat, with a very light sanding in between for durability. We did three coats.
Finish Used
Varathane Briarsmoke for color
Three coats of Vartathane Crystal Clear in satin