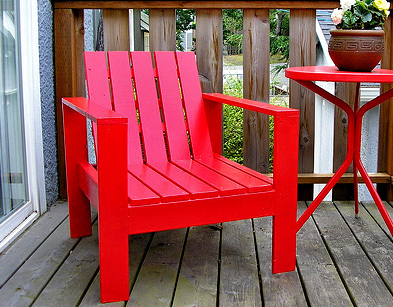 About Project
A stylish lounge chair for your patio! Just needs bold paint and a comfy pillow. Large armrests, loungy recline, easy to build. Special thanks to Dowlerg for sharing their beautiful chair with us!
One of the driving factors in how I design a furniture plan is I imagine myself building it. It's not about just throwing up a plan.  I actually think, if I were building this, how can I make it cheaper, easier, how can you be more successful?  You would be surprised at how many plans don't make it to Knock-Off Wood because I don't feel "good" about posting it.
Take three, I think I've finally got it.
And when you redo a plan three times because you are not completely satisfied with it, well, you end up organizing your sketchup file better, and that ends up with an easy to do video.  Make sure you watch the video, it'll all make sense!
If you can't get the video to load, you can
click here
to see it.  I promise, it's worth your time if you are curious how this chair goes together!
A couple of other items I wanted to be sure I covered when this chair was built:  I wanted you to be able to go to Target and buy cushions that fit, if you wanted to.  This chair will fit a standard cushion sized at 20" x 20".  I wanted you to be able to build this in a loveseat size.  And a couch size.  Expect these plans soon (if I get good response to this plan).
For inspiration, I looked to the West Elm Wood Slat Armchair and the Nantucket Collection from Restoration hardware, but as you may have noticed, Knock-Off Wood is becoming much less of a knock-off and more of a inspired handmade site, so this chair is not an exact replica.   Because to replicate either of those chairs, I would be forcing you to buy very expensive cushions, and my intention is to keep your options open, not limit them.
Dimensions
Overall Dimensions are shown above. Composition is wood boards.
Preparation
Shopping List
6- 1×4 8′ Length
2- 1×2, 8′ Length
1 – 2×2, 8′ Length or scrap 24″ long
1 1/4"  Screws
2″ Screws
2 1/2″ Screws
Wood Glue
Paintable Silicone or wood filler Finishing Supplies
Common Materials
120 grit sandpaper
primer
wood conditioner
paint
paint brush
Cut List
4 – 1×4 @ 22 1/2″ (Legs) 2 – 1×4 @ 27″ (Arm Rests) 1 – 1×2 @ 27 1/2″ (Back Tie In, for a stronger chair, you could use a 1×4 here) 3- 1×4 @ 22″ (Seat Frame Supports) 2 – 1×4 @ 24 3/4″ (Seat Frame Sides) 2- 1×4 @ 20 1/2″ (Front and Back Seat Aprons) 2 – 1×2 @ 24 3/4″ (Seat Side Trim Pieces) 5 – 1×4 @ 20″ (Seat Boards) 2- 1×2 @ 19 1/2″ (Seat Back Back Supports) 1 – 2×2 @ 22″ (Seat Back Bottom Support) 5 – 1×4 @ 21 1/2″ (Seat Back Boards)
General Instructions
Make sure you are working on a clean level surface with straight boards. Predrill and countersink all of your screws. Use glue. Check for square after each step. Use proper safety equipment and techniques.
Instructions
Step 1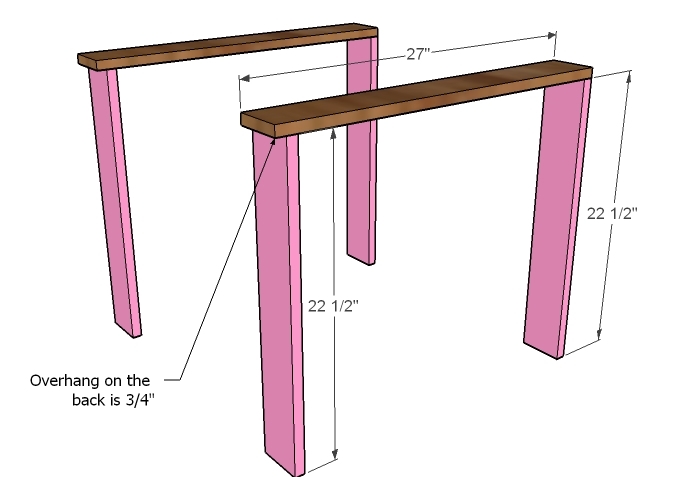 Legs and Arm Rests Screw the arm rests to the legs using 2″ screws and wood glue. Leave a 3/4″ gap on the backs of the arm rests as shown above.
Step 2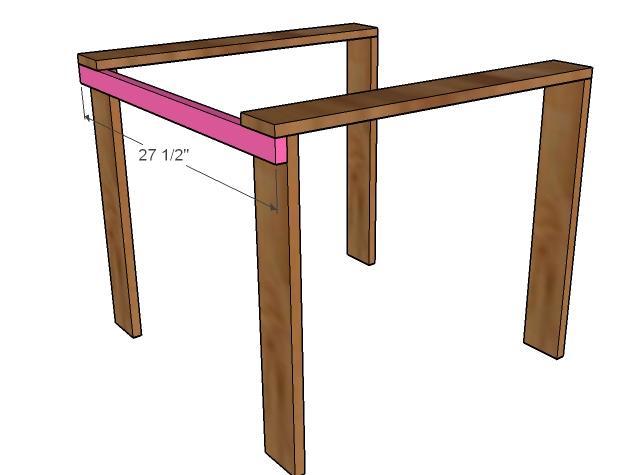 Back Tie In Remember the overhang from step 1? Well, your back tie in should fit nicely in the space. Make sure you screw the arm rest to the back tie in and the tie in to the back legs (you will need to use 1 1/4″ screws). Glue. UPDATED: For lesser of an incline, place this back support to the inside of the legs instead of to the outside. Some of our readers have said that this makes the chair more comfortable.
Step 3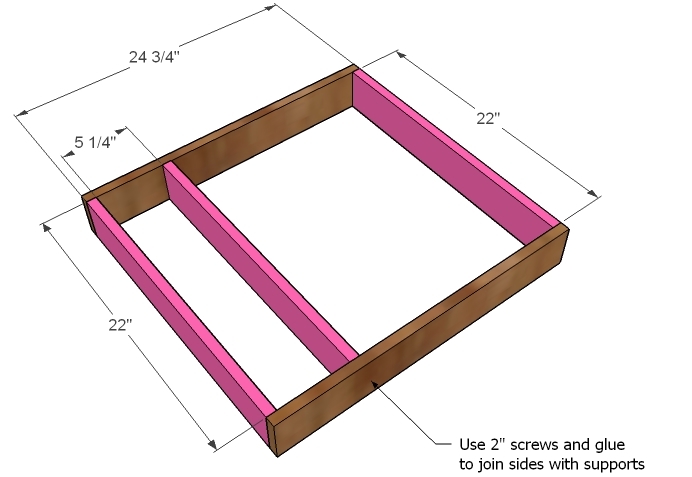 Step 4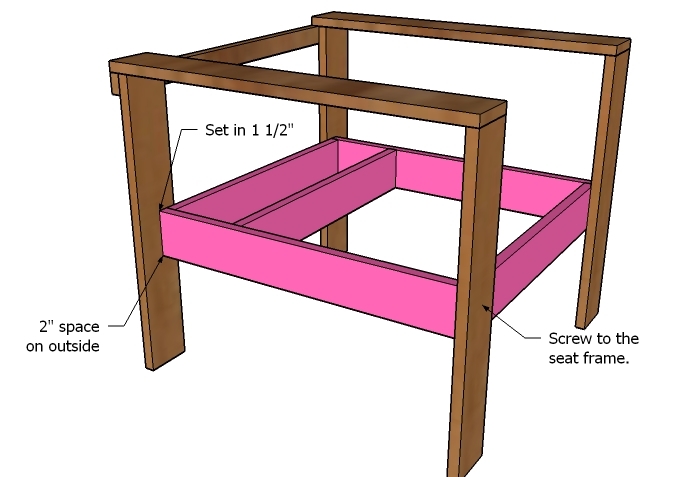 Seat Frame and Sides Mark all of the legs 12 1/4″ from up from the bottom of the legs. This will be the mark where you seat frame sits on the legs. Then screw your seat frame to the legs, as shown above. Use a level to make sure your seat frame is screwed on level to the legs. Use 3 screws per leg.
Step 5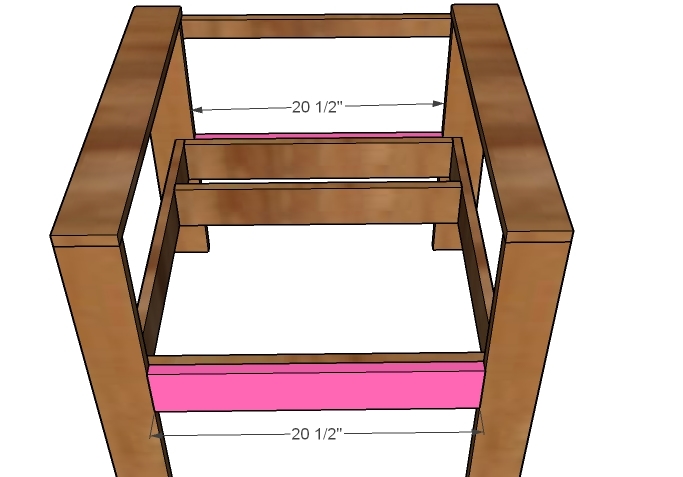 Step 6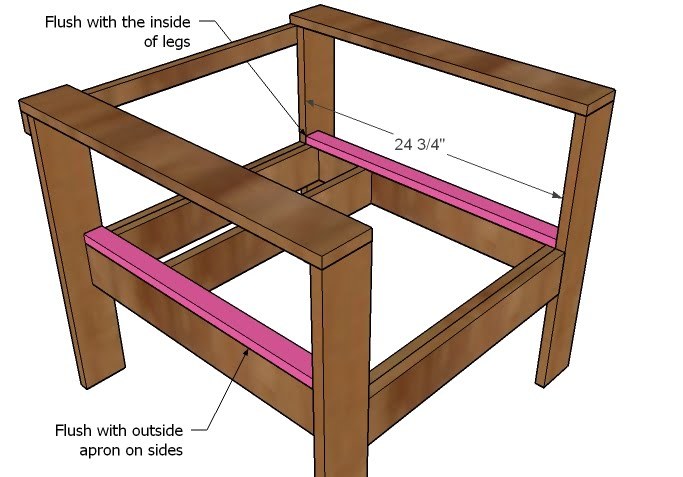 eat Top, Sides Fasten the seat top, sides, to the tops as shown above. Make sure you fasten to the seat supports and the sides as shown above. This will stiffen up the chair considerably.
Step 7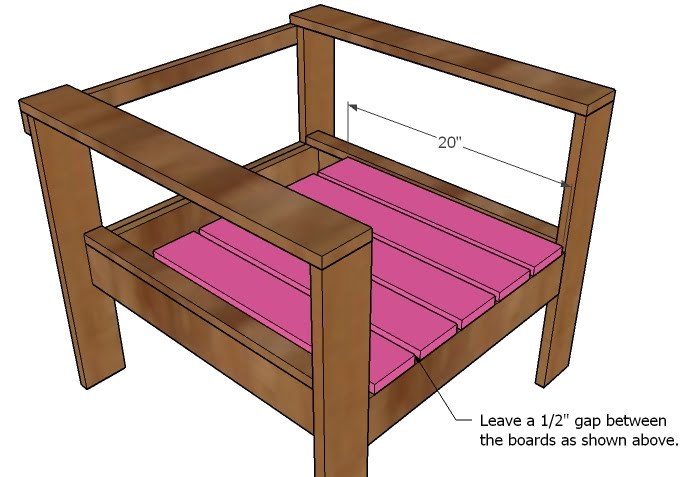 Seat Boards Fasten the seat boards to the supports, leaving a 1/2″ gap between the boards, as shown above. Screw down. Front is flush with the front apron.
Step 8
Build the back, as shown above.
Step 9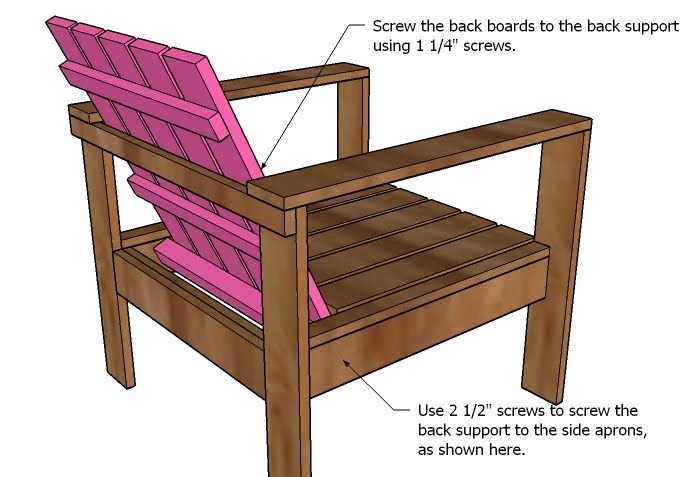 Putting the Back in Place Place the back into the back of the seat, as shown above. Start by screwing the 2×2 to the aprons, as shown above. The fasten the seat back boards to the 1×2 seat back support, as shown above.
Step 10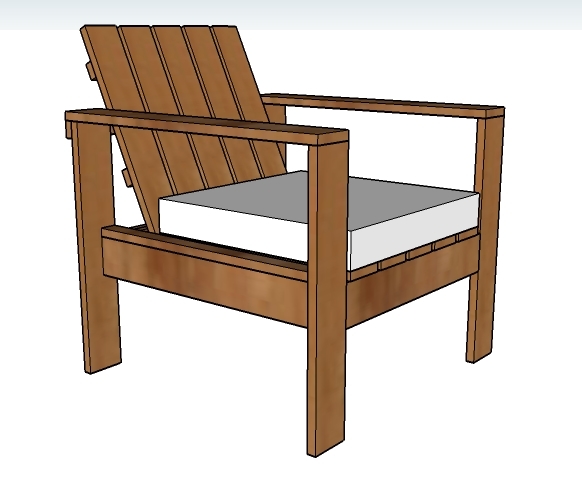 Finishing Fill holes with water resistant filler (I like to use paintable silicone) and finish as desired. The chair will fit a standard 20×20 cushion, or similar sized cushion. Depending on the response to this plan, I will post loveseat and couch plans as well.