A magnetic steel wall is both indestructable and cool looking! Super functional in an office or children's space. Also makes small rooms appear larger because of the light reflection.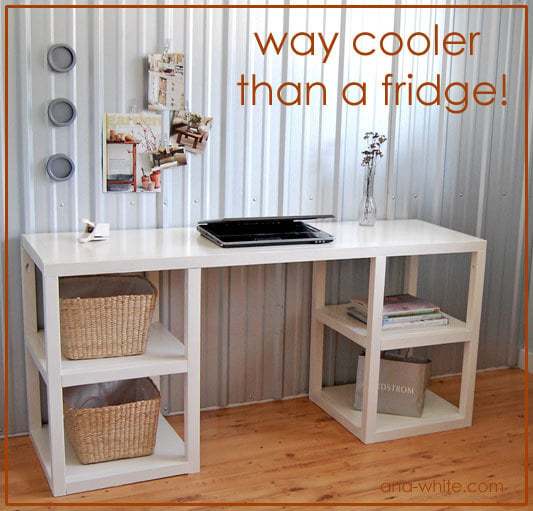 So we got a stainless steel fridge when we built the new house.
I was okay with a white one.
But the Ram wanted stainless.  In fact, that's about all he wanted in the house.  A wood ceiling and stainless appliances.  So we got a stainless fridge.
No one told me you can't clutter a stainless fridge with magnets.  Not just because it's not cool, but because magnets don't stick to stainless.
Only when you don't have a magnetic surface do you miss it.  Save the dates, Christmas cards, shopping lists - where do they go?  In our home, they went in a pile, never to be found or looked at again.  Until now.
Because roofing is way cooler than a fridge.
You all are just too smart.  Yesterday, when I posted my desk plans, you said, that's cool Ana, but we want that wall!    And trust me, you want this wall.  Not only is it functional, but it adds depth and shine to an otherwise blah and least desirable bedroom of the house AKA my office.
Matched with Valspar Silver Leaf in flat, and the entire room just comes alive!  Also check out this shot, see how the metal trims out nicely on the edges?  A few snips with tin snips, and baseboards are no issue.
Here is how we put together a steel wall that is both magnetic and cool looking for under $100 in about 2 hours.  Yes, that is correct.  I can't spell, but that is not a typo.  $100 and 2 hours.  Yes, two hours.  It's taken me longer to hang curtains.  Or get a gallery wall just right.
Preparation
Shopping List
1 sheet of 8′ galvanized steel roofing for every 3′ of horizontal wall space that you want to cover
3 – 1×2 furring strips (I can't post a post without 1x2s!) for every 8′ of horizontal wall space you will cover
3/4″ lath screws or roofing screws
2″ wood screws
tin snips
metal circular saw blade (if you need to cut the sheets)
Cut List
Cut to fit your wall as instructed in the directions.
Instructions
Step 1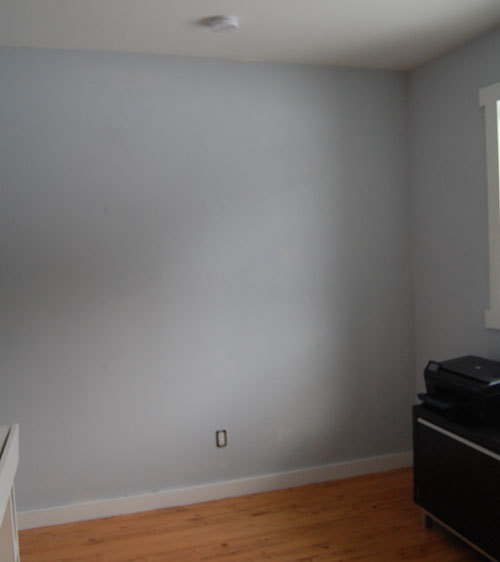 Measure your wall
My wall is 8′ tall and 103″ wide. So I can use a full sheet of 8′ tin, but need to rip the last piece because each piece of tin is 3 feet wide. If your wall is less than 96″ tall, you will need to trim all the sheets of tin carefully with the metal saw blade. Be very careful, clamp, wear hearing and eye protection, don't attempt if you have not cut metal before. It's different than plywood. It has ridges and sparks. You may be able to have the company that you purchase the tin from cut your metal. My tin came from Blue and was $24 a sheet.
Step 2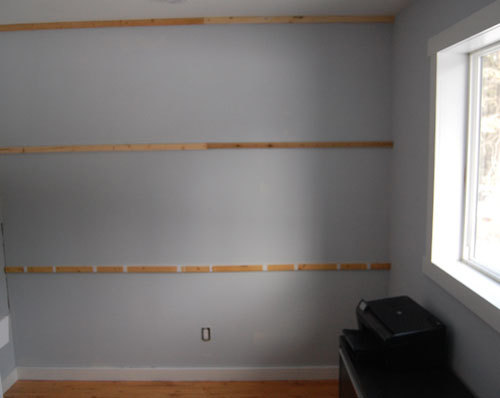 Furring Strips
You need something horizontal to screw the tin to. So I screwed furring strips to the studs in the wall. Space the furring strips so that the centers are 32″ apart. Then carefully measure, double check, and write down the location of the furring strips from the ceiling downward. Transfer this measurement to your tin and predrill holes in your tin to line up with the furring strips (TIP: You can drill through multiple layers of tin at the same time). Take note of how my screws are in a pattern.
If your baseboard is not 3/4″ thick, add a furring strip to the bottom (slightly above the baseboard) as well. Take note of the bottom furring strip when you predrill your metal.
Step 3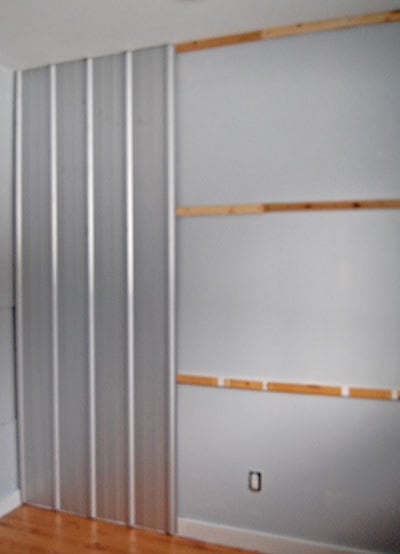 Roof it
If you did the first two steps correctly, this is the easy part. Screw the metal to the furring strips through the predrilled holes. Make sure your tin is square with the room. Use tin snips to cut around any baseboards.
Step 4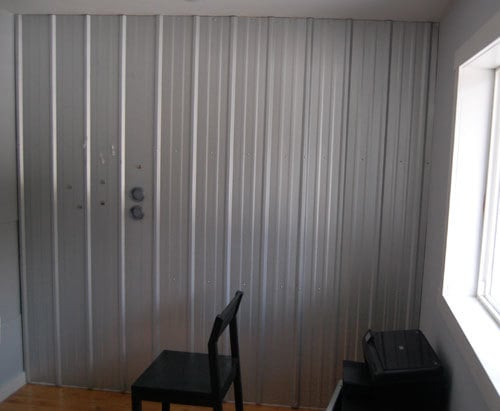 More Tin
Continue screwing tin to the furring strips. When you get to the last sheet, you may need to rip it to fit. Use the metal saw blade and a circular saw. Snip around any baseboards. And yes, that is my beloved angle chair
The great thing about this project is there is no finish required. It's done. Get your magnets out!
We apologize if there was an error in this plan. Please help us out and report any errors here.