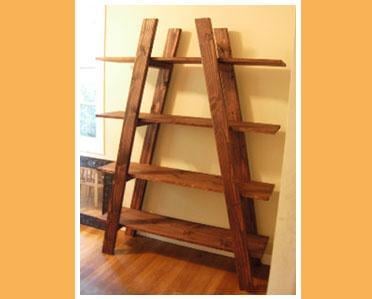 Four open large shelves in the shape of truss.
After Sheri shared this amazing photo of her Ipex Bookshelf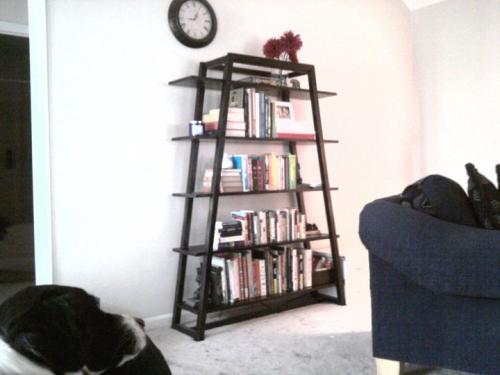 I got super inspired to draw up plans for something very similar, but easier to build
And HammerTime built the truss shelves and shared on our Community!
And here is a money saving idea . . . how about purchasing standard MDF shelving in 4' lengths for the shelves?  Then all you would have to do is build the 2x4 frame (and 2x4s run about $2 each).  So easy!  And how about a bright paint?
Dimensions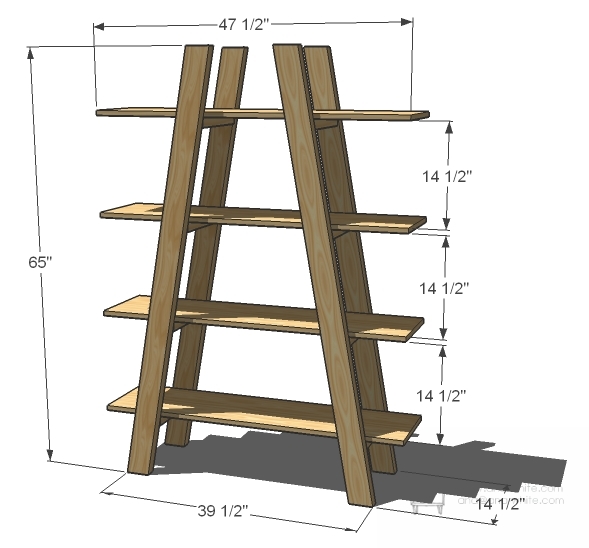 Dimensions are shown above
Preparation
Shopping List
4 – 2×4 Boards, 8′ or Stud Length 2 – 1×12 Boards, 8′ Long OR 4 – 4′ Shelves OR 2 – 8′ Shelves (12″ wide) 16 3″ Screws 24 2″ Screws Wood Glue and Finishing Supplies
Common Materials
120 grit sandpaper
primer
wood conditioner
paint
paint brush
Cut List
4 – 2×4 @ 66″ (Legs, ends cut at 10 degrees off square parallel to each other) 8 – 2×4 @ 11 1/2″ (Shelf Supports) And as far as amount of storage per cost of materials, I'm not sure you can beat this one. Because all the wide width boards (the pricy boards) are used fully as storage, and all the supports are cheap (but sturdy) 2x4s. Win win.
Instructions
Step 1
Step 2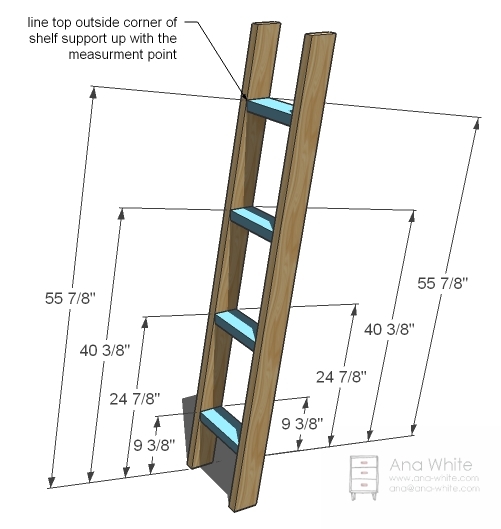 Supports
The supports are all 2x4s, 11 1/2″ long. Make sure you shelves are 11 1/2″ wide first and cut the supports to match (for example, you buy 12″ wide shelving, then you would cut the supports at 12″ long). Then measure each of the legs and mark as shown above. These marks are to the tops of the supports. Screw the supports to the legs. Supports will NOT be parallel to the leg sides, but rather, parallel to the leg tops and bottoms. You can additionally use your protractor to mark the angle – it will be 80 degrees from the top of the shelf to the leg. Use either 3″ screws and glue or 2″ pocket hole screws (for pocket holes) and glue.