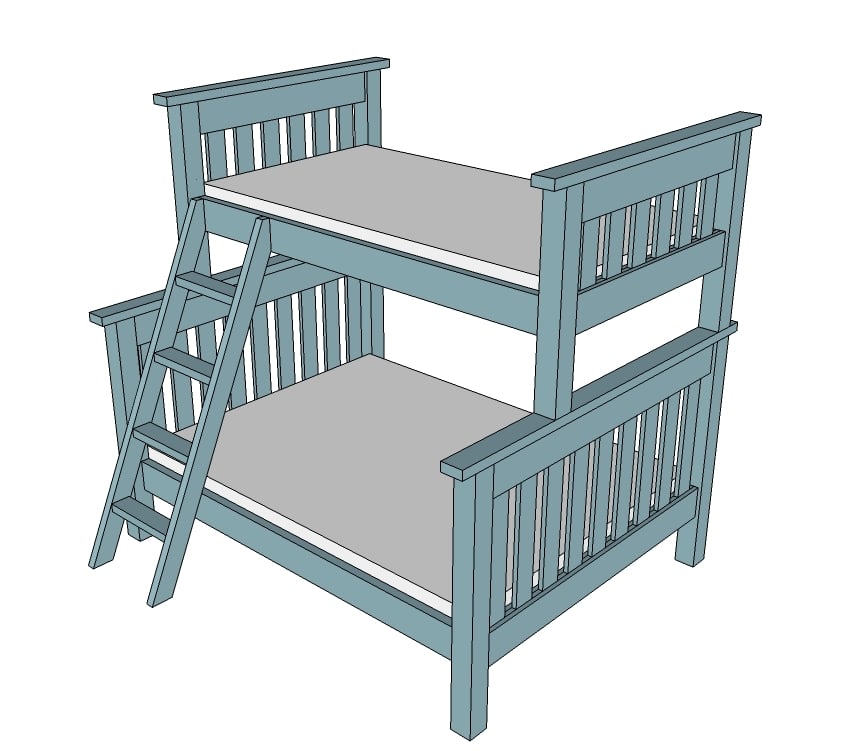 About Project
How to convert the Simple Beds into a twin over full bunk. Ladder plans included.
I've got the rose colored safety glasses on when it comes to building.  When I heard the top five New Year's Resolutions, I couldn't help but think, building is the answer to everything. Here are the top five New Year's Resolutions, and here's why I thing building will help you meet those resolutions.

1.  Get Fit. By now, we've all figured out that dieting makes you grumpy and no one wants to spend their life counting calories or without another piece of cheesecake.  To get fit, you have to live a lifestyle that is physically active and eat healthy most of the time.  Did you know that carpentry burns 300 Calories per hour for an average woman?

2.  Get Organized. To be organized, you have to have somewhere to put things.  You need furniture.  But I take that one step further.  Coming from a 1200 square foot home, I understand the need for furniture to do more.  So I design many of my plans to go beyond traditional storage.  By building your own furniture, you can pack more, and pack more smarter, into the same space.  Check out some of these projects - a laundry basket dresser (this one has saved my sanity and probably my marriage too), a storage sofa that  also sleeps one, a coffee table that hides legos, closet doors that add 25% more storage to your closets, lockers for your closetless entryways, or storage beds to increase storage dramatically in bedrooms - just to name a few.

3.  Save Money. Did you know that Americans spend $50 billion dollars every year on home furnishings?   But you can save thousands by building for yourself.  You only buy raw materials when you build for yourself - no paying for beautiful catalogs, pricy photographers, expensive advertising campaigns, leases at top shopping malls, fuel to ship the furniture around the world, packaging materials . .  just to name a few retail costs, that, yes, you pay for when you don't build for yourself.  You can search plans by estimated lumber budget here.

4.  Have Fun. Building can get you fit, get you organized, and save you money.  But what sets building apart is that building is fun!  Just check out our Facebook Page.  And because it's fun, you might just stick with it, thereby sticking with your fitness, organization and budgeting goals too!

5.  Spend Time with Loved Ones. There's nothing like working on something positive and productive with a loved one.  To often, we work on things that we do not enjoy doing with our loved ones, for example, dishes or laundry.  When you work on something positive, and you are having fun, it takes the entire experience to a new level.  Most of my fondest memories are from building projects with my husband.  My daughter and I also build together all the time, and I find myself strangely attached to each of the projects that we work on.  When I see a project that we worked on together, it takes me back to when we were building it.  And my daughter talks about that one time we painted this or built that all the time.  Building is an invaluable way to spend time with a loved one.

And I'm going to add two more reasons why you should build for yourself.

6.  Be Greener. When I build something, a tree (a locally grown renewable tree) is cut down, milled and shipped a few hundred miles to my shop.  I then build with the boards from that tree, and then can paint the project with plant based paints.

When you buy furniture, the odds are pretty good that trees are cut down in America, then shipped across the world, taken to a factory and made into furniture with producing a profit the number one priority, packaged, then shipped back around the world to a distribution center, then shipped to a retail store, then shipped to your home.  That's alot of extra traveling which equals extra oil which equals extra pollution, extra packaging, and in general, extra energy.

Building is green.  You can make building even greener by choosing locally grown wood species that renew faster, asking for plywood products that contain plant based glue and choosing plant based paints and stains.  Of course, you can buy "green" furniture (and I definitely would if I couldn't build for myself), but that's going to cost you a bunch of green.  Building is an affordable alternative to a greener home.

7.  Learn Something New. We all have an opportunity to become better, to expand on what we do, and to try something totally different and new.  Remember the first time you went downhill skiing?  Or when you went off to college all by yourself?  Or perhaps a trip that you took to somewhere completely foreign?  Wasn't that fun?  Just because we are Moms (well, most of us, hence the pink blog today  :)  ) doesn't mean that only our kids can learn.  Learning is fun, and I know that you will benefit from learning to use a few tools and have a few woodworking tricks under your carpenter's belt.  I'll never forget the first time I built something.  The project turned out horrible, but I was so proud and empowered!

I'm a little biased, I love building.  Anyone else have rose colored safety glasses on?

_______________________________________________________________

Before we start off 2011, I want to thank everyone for being a part of my 2010.  My commitment to what I do is a direct result of my appreciation for you.  I cannot express in words how grateful I am that you give me an opportunity to pursue my dreams.  The best I can do is say thank you.   Truly, thank you.

And I hope you will be around for 2011.  I'm excited for a new year, can't wait to post more projects, start posting videos, and help more people save money, get organized, get fit, have fun, be greener, be challenged, and spend quality time with their family, all while making a better home.

I thought the best way to start off 2011 is with a crash diet project.  If you need to fit into your jeans by next week, this is the project to take on.

The Simple Bunk Beds, Twin over Full
The Simple Beds have been some of the post popular plans on our blog.  And many of you have already built Simple Bunk Beds too.
Shared on our Flickr Board by thejunebride
From Brittany, bragged here
From Becky, bragged here
From Ever Heard of Euless - you really should go here to see lots more beautiful photos and be shocked at how much was spent on this room.
From Anna, at Take the Side Street. What do you think of the blue?  This one is actually the Modern Bunks.
And actually, Jen at 5 Little Creations has actually already built the twin over full bunks!
It seems at least every week someone asks for plans for a twin over full bunk.  So I thought I would make it easy and put together some plans for you.
Warning - this is a big solid wood bunk bed.
Dimensions
Dimensions are shown above.
General Instructions
Make sure you measure your space before building. The bed parts can be assembled in the room, so doorways aren't as big of an issue.
Instructions
Step 1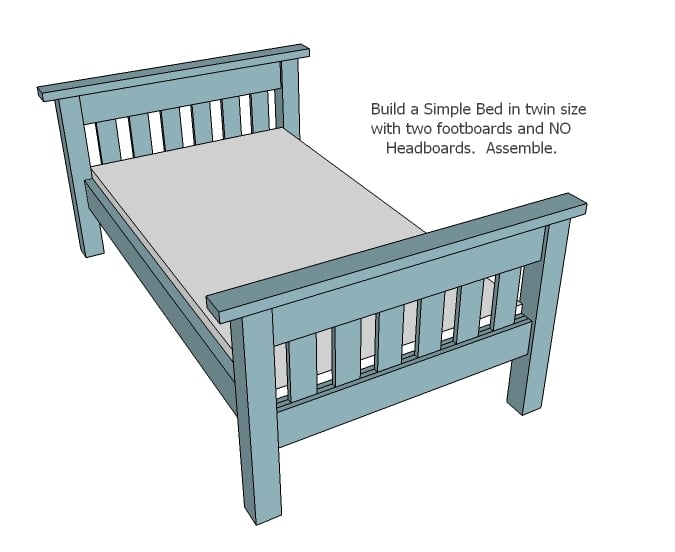 Build the Top Bunk

You will need to build a top bunk made up of two footboards. Simple twin size bunk plans are here. When you add the slats to the headers, start in the center and work your way out. If the spacers do not fit tight at the end spacers, don't despair. Simpy cut a piece of 1×6 leftover from the header to the exact dimension and use it as the spacer instead of the 1×3 spacer.
Step 2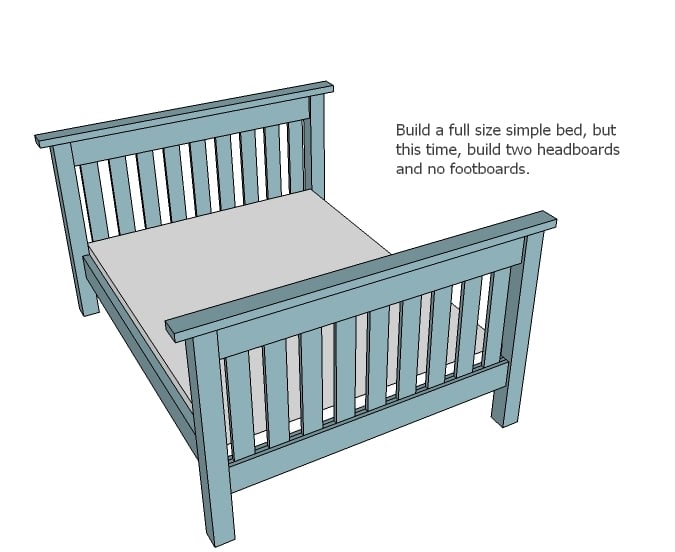 Build the Bottom Bunk

For the bottom bunk, you will need to build the Full Size Simple bed, but this time, build two headboards and no footboards.
Step 3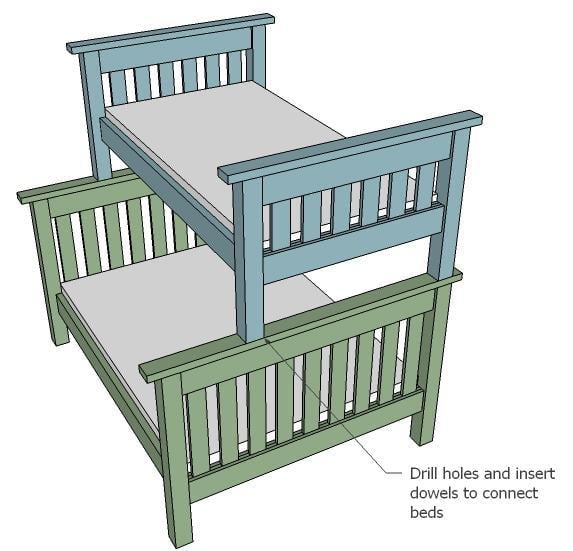 Assembly

Measure the location of the top bunk and mark it on the headers for the bottom bunk. Find the center of the marks and drill a 1″ hole, 3″ deep. Then find the center of the bottom of the legs on the top bunk and drill a 1″ hole, 3″ deep. Use 6″ metal headless bolts or hardwood dowels to hold the bunks together through the drilled holes.
Step 4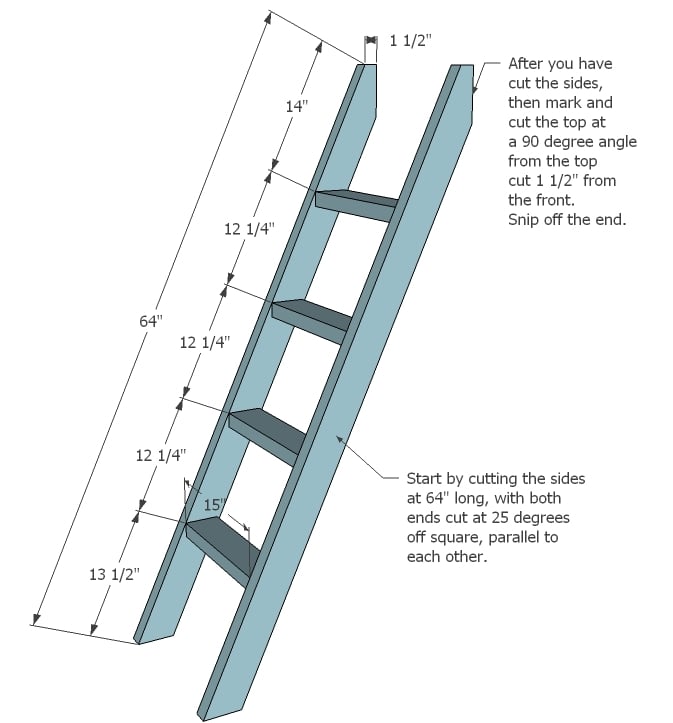 Ladder

For the ladder, cut two 2x4s 64″ long, with both ends cut at 25 degrees off square parallel to each other. Then on the top edge, mark the top edge in 1 1/2″ from the front top corner. Use a square to mark a line perpendicular to the top cut downward. Cut this line off. These are your ladder sides. Measure and mark the ladder sides and screw the rungs to the ladder sides with 2″ screws and glue. The ladder can be attached with metal brackets or by screwing from the inside of the side rails of the top bunk.

Guardrail plans area also available in the Twin Simple Bunk Plans.