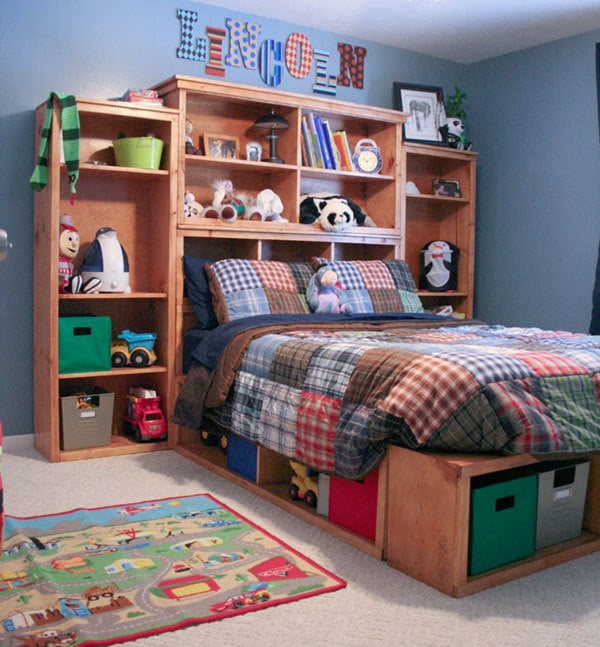 This headboard base moves the bed out flush with bookshelves.
I had a conversation with myself this morning.
How can I work without internet?
Now why, Ana, would you ever want to do that?
Because there's no internet at the cabin.
I wanna go to the cabin too (that's Grace talking).
So how are you going to work not just wirelessly, but satellitelessly?
Not to mention electricitylessly?
And plumbinglessly?
And roadlessly?
So all these things mean alot of less-lys.  Like refrigeratorlessly, phonelessly, even cellphonelessly, microwavelessly, pretty much convieniencelessly.
Well, I could not work, and just cram everything in when I come to town.
But you LIKE to work.
Yes, I do.
So I talked myself into something that might be better for you (you as in YOU, not me talking to me)
Because one thing I don't have to do is go batterieslessly.
How about if I developed plans into PDFs and then when I get back to town, all I have to do is blog the PDF?
Like this?
So what do you think? Can I still live a life where it's common (but still amazing) to see 17 moose and 1 black bear in one night (that was last night) and still do what I love, design and build furniture? Love the PDF or back to blogger?
Dimensions
Fits Twin Bed
Preparation
Shopping List
1 Sheet of ¼" Plywood, Beadboard or MDF For the backs of the bookshelves and the headboard panel 
2 1x12 Boards, 8' Long Cut a Bookshelf out of Each 
 2 1x2 Boards, 8' Long Trim Boards 
 2" Nails You can also use wood screws 
 1" Brad Nails Nothing wrong with the ones you tack on with a hammer if you are sans a nailer 
 1 ¼" Screws 
Just a few
1" Screws For the headboard panel 
 Sandpaper Grits from coarse to fine
wood filler
Cut List
4- 1x12 27" Bookshelf Sides 
4- 1x12 10 ¼" Bookshelf Shelves 
 2- 1x12 11 ¾" Bookshelf Tops 
 2- ¼" Plywood 11 ¾" x 27 ¾" Backs of Bookshelves 
 4- 1x2 24 ¾" Side Trim 
 4- 1x2 12 ½" Top and Bottom Trim 
 1- 1x2 39" Top Tie-In Trim 
 1- ¼" Plywood 39"x24" Headboard Panel
General Instructions
Please review the attached PDF for instructions and more information on cut list.