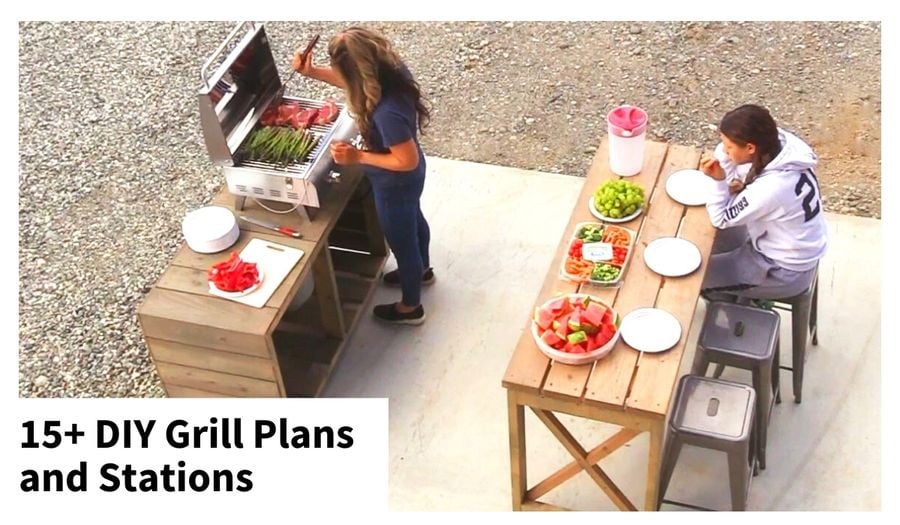 An outdoor grill station offers many benefits, whether it is a DIY project or a pre-built unit. Here's why you need an outdoor grill station:
Convenient Cooking: With an outdoor grill station, you can easily cook and prepare meals outdoors, with less clean up. It provides a dedicated space for grilling, allowing you to enjoy the process of cooking outdoors while keeping the heat and smoke outside your home.

Versatility: Grill stations offer versatility in cooking options. You can use different types of grills such as gas, charcoal, or pellet grills, each offering unique flavors and cooking styles. This versatility allows you to experiment with various recipes and techniques to enhance your culinary skills.

Socializing and Entertainment: An outdoor grill station creates a focal point for social gatherings and entertainment. It provides a gathering spot for family and friends to come together and enjoy meals, creating a lively and enjoyable atmosphere. Grilling can become a social activity, allowing you to interact with your guests while preparing delicious food.

Outdoor Living: A grill station extends your living space to the outdoors. It encourages you to spend more time outside, enjoying the fresh air and natural surroundings. It can serve as an extension of your kitchen, allowing you to take advantage of outdoor dining during pleasant weather.

Enhanced Flavor: Grilling imparts a distinct and delicious flavor to food that is often associated with outdoor cooking. The direct heat and smoke from the grill enhance the taste and texture of meats, vegetables, and other ingredients, providing a unique and enjoyable dining experience.

Healthier Cooking: Grilling is generally considered a healthier cooking method compared to frying or using excessive oils. The fat drips off the food when grilled, resulting in leaner meals. Additionally, grilling allows for the retention of vitamins and minerals in vegetables, making it a nutritious cooking option.

Easy Cleanup: Outdoor grill stations typically have features that make cleanup easier. For example, some stations include built-in grease traps or removable trays that collect drippings, making it convenient to clean up after grilling. This saves you time and effort compared to traditional stovetop cooking or indoor grilling.
A grill station can enrich your lifestyle.  You can build your own grill station and get a custom solution for your space and appliances using a DIY project plan.  We've compiled our picks - Build your own outdoor grill station, with these free plans!