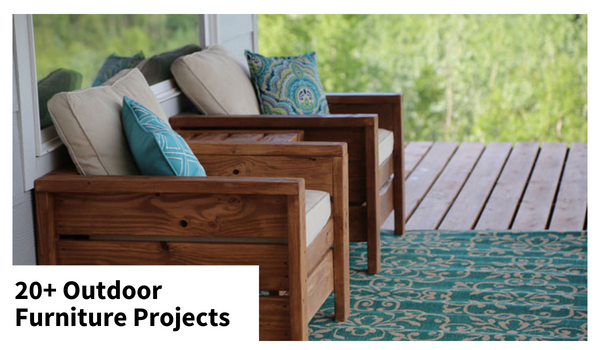 Ready to make your outdoor space amazing?  We can help you get there with free project plans and tutorial for outdoor furniture.  
Why Build Your Own Outdoor Furniture? 
Here's why I'm a huge fan of building your own outdoor furniture -
Eco-Friendly: If you choose regionally grown or reclaimed wood and build it locally, you can save shipping waste and pollution.  No styrofoam peanuts, crates, no globally sourced woods used!
Customization: When you build your own outdoor furniture, you have the power to customize every aspect to fit your unique style and needs. From choosing the materials to deciding on the design, you can create pieces that perfectly complement your outdoor space and personal taste.
Cost Savings: Buying pre-made outdoor furniture can be quite expensive, especially for high-quality pieces. By building your own, you can save a significant amount of money. Sourcing affordable materials and utilizing your own labor can result in substantial cost savings without compromising on quality.
Quality and Durability: When you construct your own outdoor furniture, you have control over the materials and construction techniques used. You can ensure that your furniture is built to last, using sturdy materials and reinforcing joints for added strength. This results in high-quality furniture that can withstand the elements and provide long-lasting enjoyment.
One-of-a-Kind Pieces: Building your own outdoor furniture means you can create truly unique and distinctive pieces. No more settling for mass-produced items that everyone else has. Instead, you can design and build furniture that reflects your individuality and stands out in any outdoor setting.
So, why settle for generic outdoor furniture when you can build your own? From the joy of customization and cost savings to the satisfaction of personal achievement and growth, constructing your own outdoor furniture offers a multitude of benefits. Step into the world of DIY and create outdoor spaces that are as unique as you are! 
20+ Most Popular Outdoor Furniture Plans