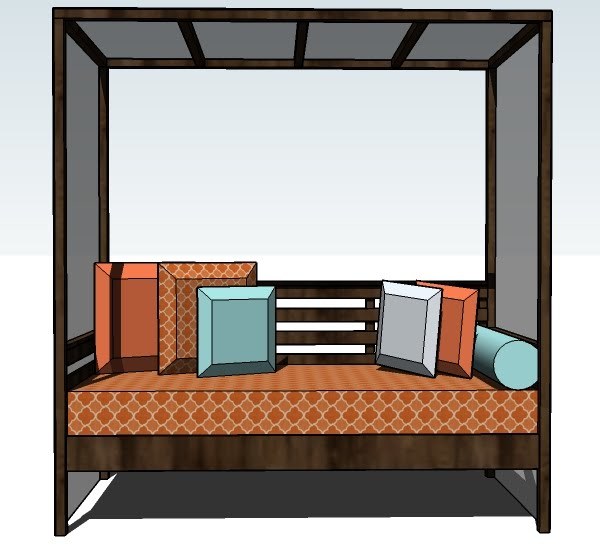 About Project
An outdoor daybed with canopy designed to fit a standard twin mattress. Includes several modification examples.
Dimensions
Fits Twin Mattress
Preparation
Shopping List
14 – 1×3 8′ Boards (OR 9 10′ 1×3 Boards)
2 – 1×6 10′ Long
5 – 1×2, 8′ Long
10 – 2×2 8′ Long
1 1/4″ Screws or nails
2″ Screws or Nails
3″ Screws
Wood Glue
Common Materials
120 grit sandpaper
primer
wood conditioner
paint
paint brush
Cut List
5 – 1×3 @ 75″ (Back Panel Slats)
1 – 1×2 @ 75″ (Back Panel Top)
2 – 1×6 @ 75″ (Front and Back Siderail)
4 – 1×2 @ 28″ (Back Panel Supports)
6 – 1×3 @ 39″ (Side Panel Slats)
2 – 1×2 @ 39″ (Side Panel Tops)
2 – 1×6 @ 39″ (Side Panel Side Rails)
4 – 1×2 @ 19″ (Side Panel Supports)
4 – 2×2 @ 81″ (Posts)
2 – 2×4 @ 75″ (Cleats)
12 – 1×3 @ 39″ (Slats, approximately)
2 – 2×2 @ 78″ (Canopy Tops)
4 – 2×2 @ 39″ (Canopy Stretchers)
General Instructions
This daybed fits a standard 39" x 75" twin mattress.  Composition is dimensional boards, mostly 1x3s for the slats, 2x2s for the posts and canopy, and 1x6s for the siderails.  The tops of the back and sides are 1x2s.  Cedar is not much more than pine and is weather resistant.  However, if you are going to paint anyway, regardless of what type of wood you use, paint needs to be touched up every few years, so it won't matter what type of wood you've got under the paint, as long as the paint is sealing the wood completely.
Work on a clean level surface. Predrill and countersink every screw hole. Use glue unless otherwise noted. Check for square during and after each step. For outdoor furniture, it is a good idea to paint with an oil based primer (because an oil based primer will soak into the wood better) and then you can paint with a latex paint overtop of the oil based primer. BUT read your paint cans just to make sure and ask the nice man at the paint store. I also love the idea of using spray paint on all those slats.
Instructions
Step 1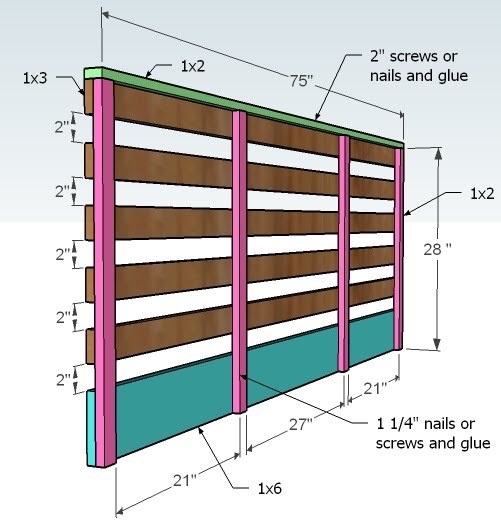 BACK PANEL
Build your back panel as shown above. Take great care to make sure the panel does not become off square as you are building it.
Step 2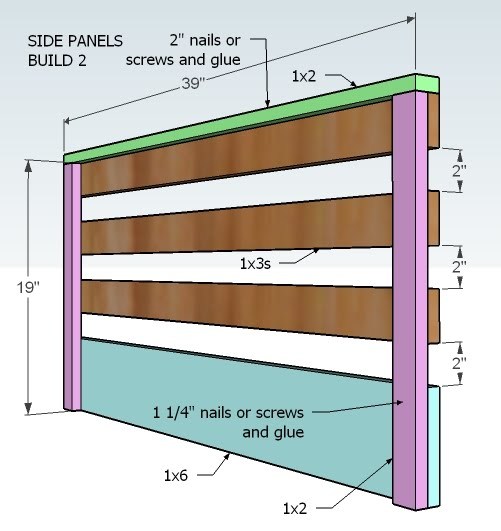 SIDE PANELS
Build your side panels as shown above. Again, make sure the panels do not become off square as you build it. Build 2 side panels.
Step 3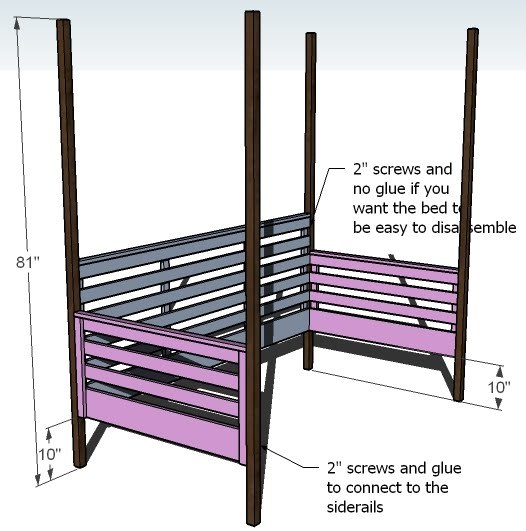 POSTS
Mark each post 10″ from the bottom. Use 2″ screws to assemble the bed as shown above, using your marks to line up your side panels.
Step 4
CLEATS
Use 3″ screws to add your cleats. Also attach the back cleat to the back panel using 2″ nails or screws and glue. Cleats will be 10″ from the bottom of the posts, or even with the bottoms of the siderails.
Step 5
Step 6
SLATS
Lay your slats on top of your cleats and screw down without glue, as shown above.
Step 7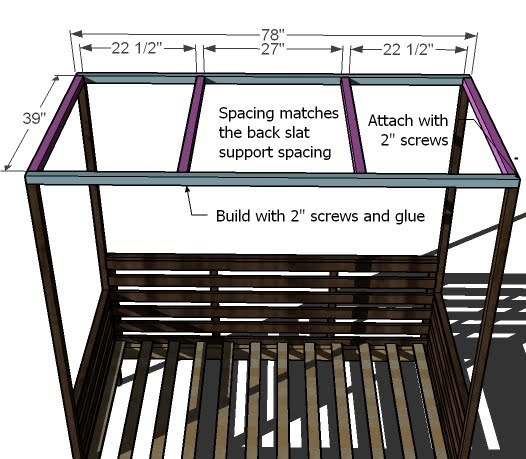 CANOPY TOP
Build your canopy top using 2″ screws and glue. Then set on top of your bed (you may have to lay the bed on it's back) and use 2″ screws and glue to fasten to the posts.
Preparation Instructions
Your project should already be finished. You can go back over with a paintable silicone or wood filler and fill any exposed holes, then lightly sand and add a touch up coat.