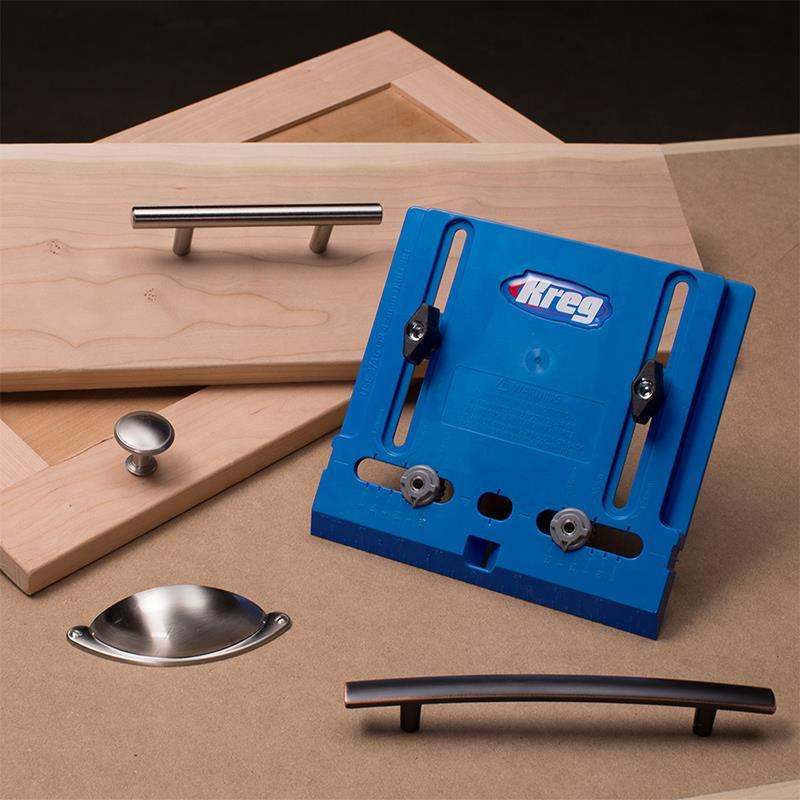 DISCLOSURE: I have worked with Kreg Tool Company for many years and love their products.  However, this post is NOT sponsored.
Kreg Tool Company, the makers of the Kreg Jig, a tool that truly makes modern woodworking possible for just about anyone, recently debuted a new tool - the Cabinet Hardware Jig.
The Kreg Cabinet Hardware Jig to me does two big things:
1. The holes you drill are straight because of the guide - the bit won't walk one way or ther other and leave you with a crooked knob or pull screws that won't line up.
2. It's easy to repeat the same hole pattern, cabinet after cabinet, door after door, without measuring.  This is very important when you are adding hardware to an entire kitchen, or even just a dresser.  Sloppy hardware placement is very noticeable and can ruin an entire project.
To do these two things, the Cabinet Hardware Jig features
Adjustable guides for quick setting
Built in measuring scales
The ability to mount single or multi-hole knobs
Edge guides for easy positioning
See it in action in the Kreg video below -
First Thoughts
I've always sweated the hardware installation stage because the hardware is at the front of your project.  Good carpenters can hide anything ... but good carpenters don't mess up hardware installation.  I've tried different jigs, but none were versatile enough to go from project to project, so I would make my own clamp on jig out of plywood and scraps if a project had a significant amount of hardware.  This worked, but was time consuming and not necessarily accurate and there was no support for keeping the drill bit straight.
The first time I tried the Cabinet Hardware Jig was in this video.  I was so amazed at how quickly and easily it worked, it was hard to contain my enthusiasm.  Cabinet hardware placement always took me forever - measuring, marking, remeasuring, measuring from the opposite side to make sure I was truly centered ... and now I had a tool that did all that for me.  
Bottom Line
Priced at $24.99, the Cabinet Hardware Jig will save you much time and frusturation.  It will dramatically reduce the time needed to install hardware, and give you more precise results, replicated from cabinet to cabinet. It is built well and will last you a lifetime.  
Where to Get It
You can buy the Kreg Cabinet Hardware Jig directly from Kreg or get it on Amazon (non-affiliate link).  Or a very thoughtful someone might just get this for you for Valentine's Day ;)
Your turn - do you own the Kreg Cabinet Hardware Jig?  Let us know in the comments what you think about it!