I was on a mission to find just the right buffet to house Grandma's china and infrequently used serving dishes.  Countless searches in second hand stores, hours scouring Offer-up and Craigslist, and even some regretable purchases all led to the building of this magnificent buffet. I found a build plan for the planked wood sidboard, printed it and started in. I had always planned on painting it and wanted a rustic look so decided on budget friendly lumber. The frame and top of the unit is made from fir and the drawers and doors from pine. The door insets and the back of the unit is pine beadboard. The top and interior of the buffet is finished in GF Antique Walnut Gel Stain. I used a wipe-on polyurathane on the interior of the buffet and the inside of the drawers.  I choose an amazing shade of red for the exterior of the buffet:  GF Milk Paint in Holiday Red. It was my first experience with milk paint and it was a pleasure. It went on so smooth and brush-stroke free. After two coats of Holiday Red milk paint I applied a single coat of GF High Performance Top Coat in satin finish. This really enhanced the color of the Holiday Red and served as a base for a glaze application.  I mixed the GF Antique Walnut Gel Stain with ten percent mineral spirits and glazed the entire buffet. I got into all the nooks, crannies and knots and left a thin coating on the face of the unit. I loved the buffet before the glaze, but now I was head over heals. The buffet was finally finished off with two coats of High Performance Top coat. Mission accomplished!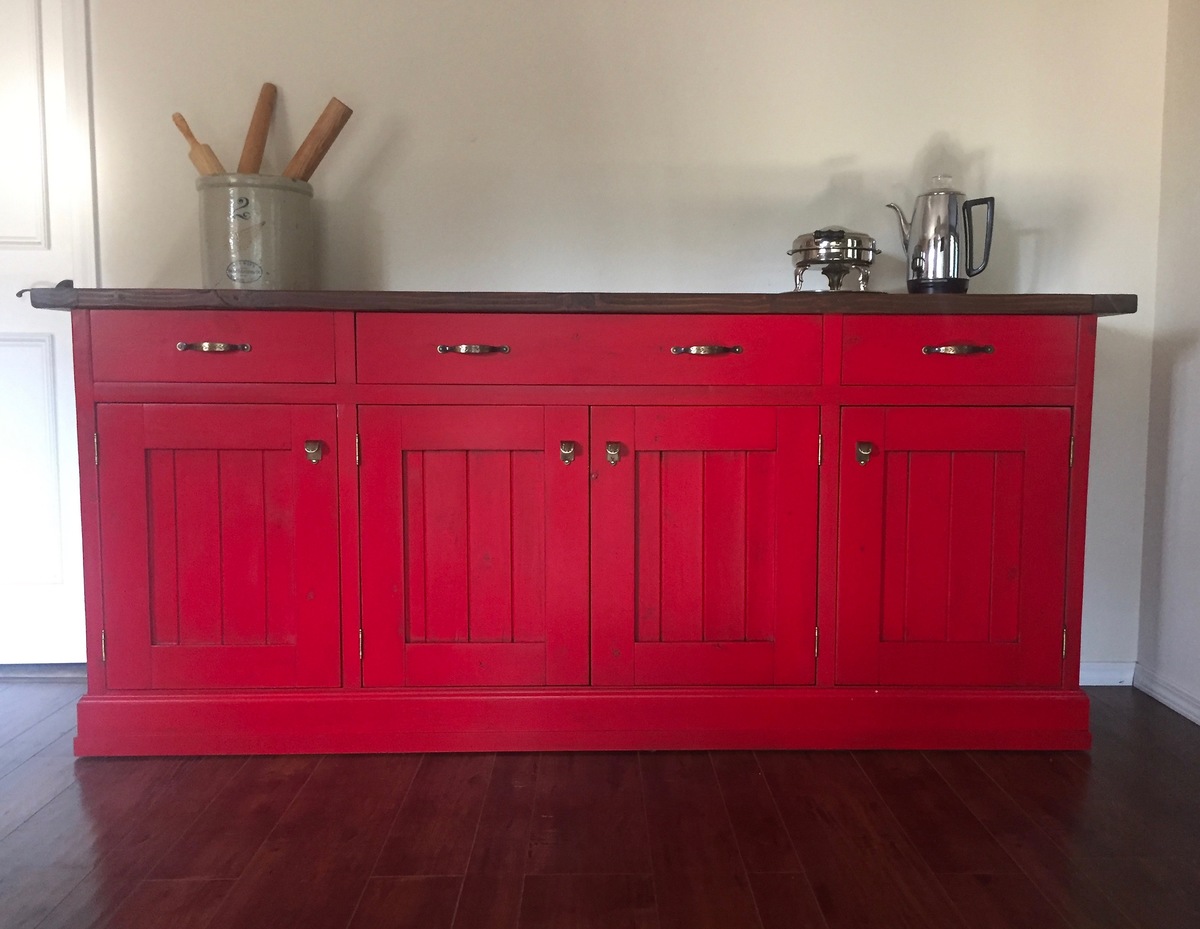 Type of Wood
Pine and Douglas Fir
Finish Used
I used all General Finishes products. Holiday Red Milk Paint - 2 coats, High Performance top coat - 1 coat, Antique Walnut gel stain mixed with ten percent mineral spirits for glaze, and finally two more coarts of high performance top coat, the top is Antique Walnut gel stain with 3 coats of high perforamance top coat.
Recommended Skill Level
Intermediate