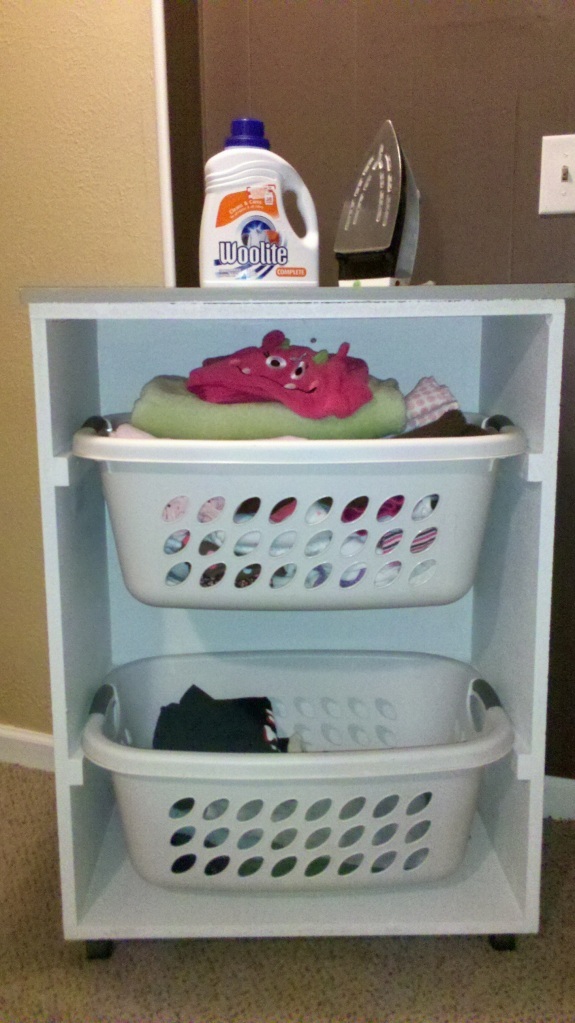 I built this entire project out of the scraps from the closet organizer and a 1×2 that I had. You could use the metal brackets Ana suggests, but the 1x2s are working great for me. The wheels are from an old rolling Target TV stand.
We used two tracks, instead of three, because I do huge loads of laundry in my front loaders. If you want to do the closet organize and this, do the closet first.This will be a free project. That's right, $0 out of pocket! Oh, and the top is scrap wood, just glued, and screwed (counter sunk).It made for a more finished "island" look. This step is completely optional. It's just for looks. I would love to add a towel bar to the side of this and a bracket to hold my iron too. The mini ironing board does fit on top!
Estimated Cost
$0 - Free after closet organizer!
Estimated Time Investment
An Hour or Two (0-2 Hours)
Type of Wood
Particle Board & Pine
Finish Used
White Olympic paint on the sides and then early grey paint, diluted with white for the top boards.
Recommended Skill Level
Starter Project