This console height cubby unit can be used as wall storage or as one of our readers did (inspired by DIY Magazine) an entire wall of storage! Special thanks to our readers for sharing their photos.
Dimensions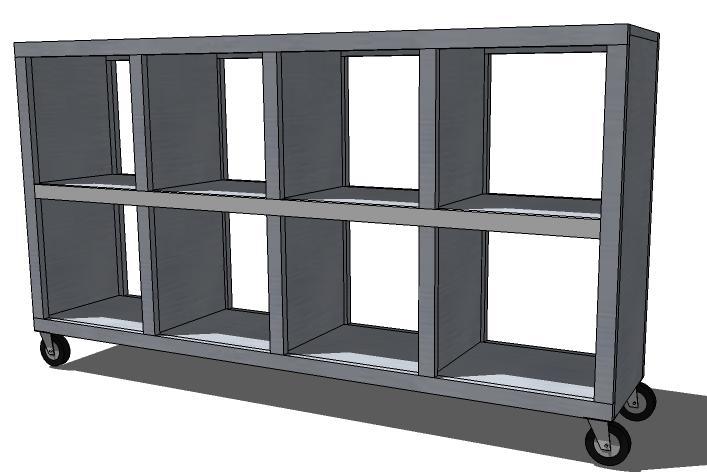 63 1/2" x 30 1/4" x 12 3/4"
Preparation
Shopping List
4 – 8′ 1×12 Boards (Cut all of the long cuts first, short cuts from the scraps)
8 – 1×2 Boards, 8′ Length
Common Materials
1 1/4 inch screws
2 inch screws
1 1/4 inch finish nails
2 inch finish nails
120 grit sandpaper
primer
wood conditioner
paint
paint brush
Cut List
Cut List for the Box

2 – 1×12 @ 30 1/4″ (Sides
1 – 1×12 2 63 1/2″ (Top)
2 – 1×12 @ 62″ (Shelves)
6 – 1×12 @ 14″ (Vertical Dividers)

Cut List for the Trim (I recommend cutting your trim to the project specific measurements and using these numbers as a guide)

4 – 1×2 @ 63 1/2″ (Top and Bottom Trim)
10 – 1×2 @ 28″ (Vertical Trim)
8 – 1×2 @ 14″ (Shelf Trim)

3 – 1×2@ 11 1/2″ (Caster Wheel Supports)

General Instructions
Work on a clean level surface. Take a square after each step. Use glue and keep outside edges flush as necessary. Use proper safety equipment and precautions.
Instructions
Step 1
Build the Box. Begin by fastening through the sides with 2″ nails and glue to the shelves. Use the measurements above to guide you. Then fasten the top in place.
Step 2
Dividers. First fasten all the bottom dividers in place, fastening through the shelves into the ends of the dividers. Mark out the proper spacing. Then fasten through the top into the top dividers. To fasten the bottom edge of the top divider, nail at an angle through the bottom corner of the divider into the shelf. Use 2″ nails and glue.
Step 3
Trim. Using 2″ nails and glue, fasten the trim in place, measuring to fit. You may wish to mark the top and bottom trim before fastening the vertical trim in place. The shelf trim is flush on the top with the shelves.
Step 4
Caster Supports. Using 1 1/4″ nails and glue, fasten the caster supports to the bottom of the piece. Then fasten your casters to these pieces.
We apologize if there was an error in this plan. Please help us out and report any errors here.