Free plans to make an American Girl or 18" doll sofa or couch. Very simple and easy to make. Tutorial by Ana-White.com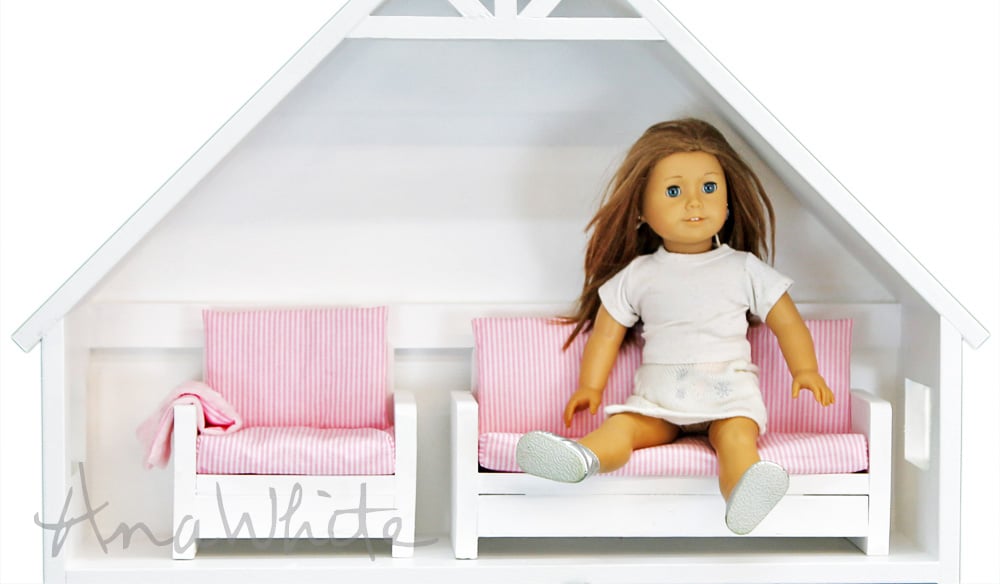 Dimensions
Dimensions shown above
Preparation
Shopping List
SOFA FRAME SHOPPING LIST
1 - 1x6 @ 4 feet long
1 - 1x2 @ 3 feet long
CHAIR FRAME SHOPPING LIST
1 - 1x6 @ 3 feet long
1 - 1x2 @ 14" long
Cushions were made with 1" thick chair cushion pads and fabric
Cut List
SOFA CUT LIST
2 - 1x6 @ 6-1/4" (arms)
2 - 1x2 @ 14" (supports)
2 - 1x6 @ 14" (seat and back)
CHAIR CUT LIST
2 - 1x6 @ 6-1/4" (arms)
2 - 1x2 @ 7" (supports)
2 - 1x6 @ 7" (seat and back)
NOTE: Round corners with jigsaw on arms and top back piece to prevent sharp edges
Instructions
Preparation Instructions
We used the jigsaw to round all corners to prevent any sharp edges. Then we filled all nail holes and screw holes with wood filler. After that dried, we sanded the entire project with medium grit sandpaper. With a brush, we removed all sanding residue.
Finish Used
These doll sofas were just primed and painted white.
We apologize if there was an error in this plan. Please help us out and report any errors here.