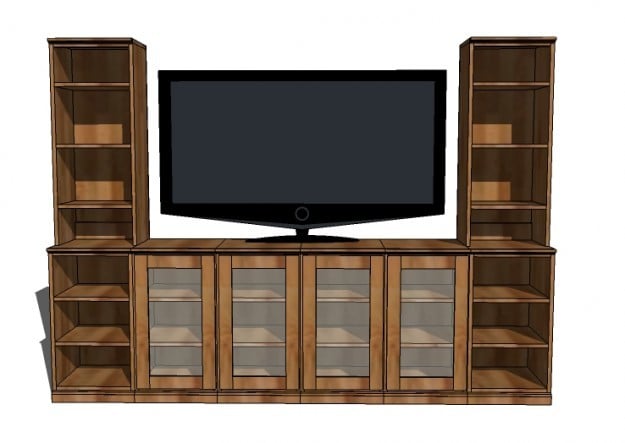 A basic bookshelf hutch for the Basic Collection.
By far my most favorite part of doing what I do is promoting the idea that anything is possible, if you are willing to work hard enough at it.  I've always been a person that thinks how do I? instead of can I? - meaning everything is obtainable, it's just a matter of figuring out the how.
For most of us, myself included, being able to afford a $3,000 media suite is a distant dream, far behind our daily needs of diapers, dog food and possibly, dinner at a nice restaurant on special occasions.  Who can justify spending that much, when kids need shoes and you could really use a good hairstyle?  I certainly never could.  So we saved and put our tv on the floor, thinking maybe someday.
But then I learned how easy it is to build something.  Don't forget, furniture was built by hand long before it was built by factories. This collection, inspired by Pottery Barn's Printer Collection, is amazingly easy to build.  And because it's modular, you can add as you go, build one piece at a time.  Or reuse the pieces in an office, in the dining room, even in your bedroom.
You totally got this one! DIY Open Hutch Plans Inspired by Pottery Barn's Printer Collection
Oh, yeah - the new blog hopefully will be uploaded soon, so don't be alarmed if you check back on Monday and things look a little different.
Pin For Later! 

Dimensions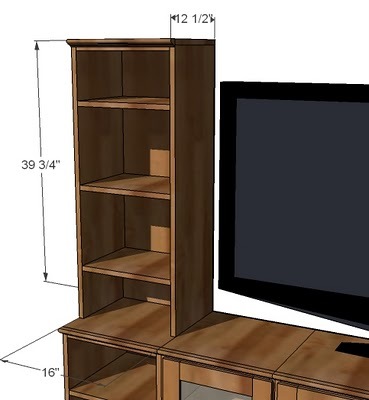 Dimensions are shown above.
General Instructions
Please see PDF for full instructions.
Comments - Click to Display Comments