Think putting up a roof on a playhouse is difficult? Reconsider with this plan. This simple roof design will take all of the confusion out of rafters. We've had this playhouse up through a windy Alaska summer (and winter), through rainstorms, and even with lots of snow!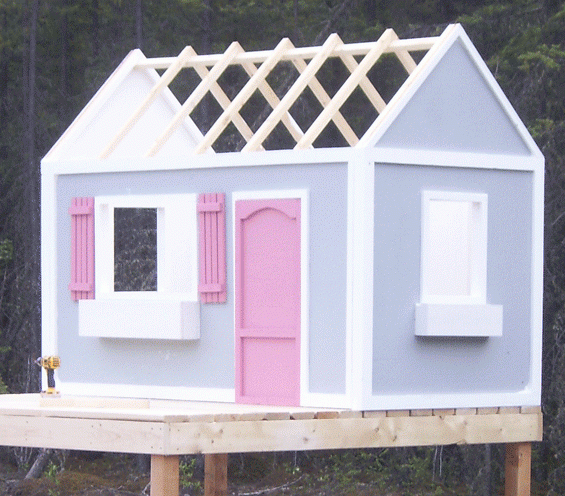 Dimensions are designed to fit the Playhouse Collection of plans
Preparation
Shopping List
2 – 3/4″ Plywood or OSB 4×8 Sheets (Can be the builder grade stuff)
6 – 2×2 Furring Strips
50 Square Feet of Roofing - cedar shinges would be adorable
8′ Roofing Ridge Material
Roofing Nails or other Roofing fasteners
2″ self tapping wood Screws
1 1/4″ self tapping wood screws
Cut List
10 – 2×2 @ 34″, Both Ends Mitered down 45 degrees perpendicular (Rafters)
1 – 2×2 @ 93″ (Ridge Pole)
2 – 3/4″ Plywood or OSB @ 96″ x 35″
Instructions
We apologize if there was an error in this plan. Please help us out and report any errors here.