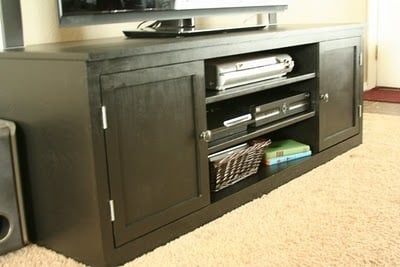 This extra wide media base is sturdy and solid, featuring ample storage. If you need more storage, simply add storage bases and hutches to create an entire media suite from other plans in the Classic Storage Collection. Special thanks to our readers for sharing their photos.
Pin For Later!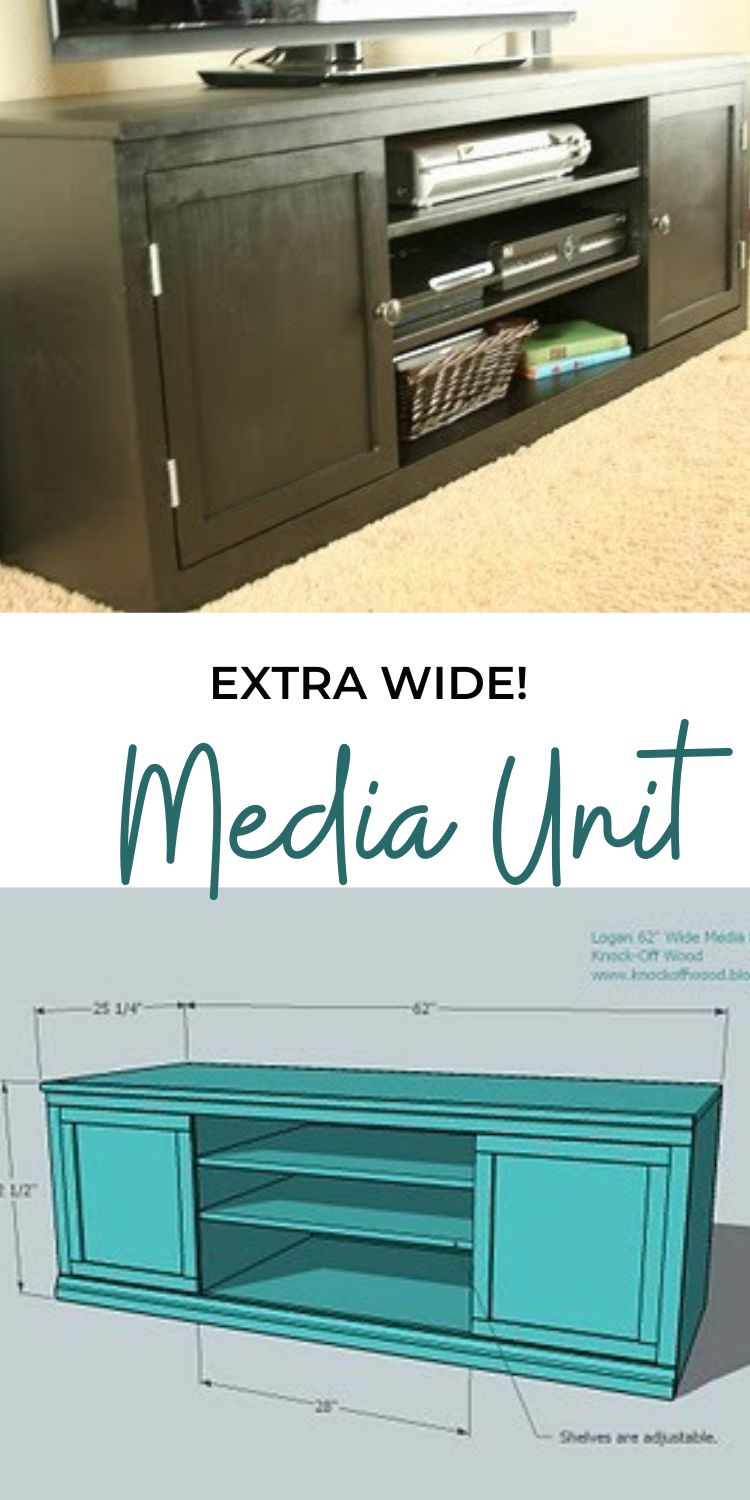 Dimensions
62" Wide x 25" Deep x 22 1/2" Tall
Preparation
Shopping List
2 – Sheet of 3/4″ A1 Plywood in desired Species or MDF if you are painting 
1 – 1×3 at least 62″ Long 
2 – 1×2 
1 – 2 1/2 base moulding (optional) 
1 – sheet of 3/8 Plywood or MDF (matching your A1 if you are staining the project) 
2 – Sets of either butterfly hinges or Face Frame Euro Hinges 
2 – Pulls or Knobs 
8 – Shelf Pins Edge Banding (If you are staining the project)
Common Materials
1 1/4 inch screws
2 inch screws
1 1/4 inch finish nails
2 inch finish nails
120 grit sandpaper
primer
wood conditioner
paint
paint brush
Cut List
A) 1 – 1×24 @ 60 1/2″ (Bottom) 
B) 2 – 1×24 @ 19 1/4″ (Middle Partitions) 
C) 2 – 1×24 @ 21 3/4″ (Sides) 
D) 1 – 1×24 @ 62″ (Top) 
E) 1- 3/8″ Plywood or MDF @ 62″ x 22 1/2″ (Back) 
F) 1- 1×3 @ 62″ (Bottom Trim) 
G) 2 – 1×2 @ 62″ (Top Trim and Top Edge Trim) 
H) 2 – 1×2 @ 17 3/4″ (Side Trim) Optional Base Moulding, 2 1/2″ overall height, 62″ Long 2 – 1×24 @ 28″ (Shelves) Door Cut List – Recommend measuring the opening in the drawer and building the drawer 1/4″ smaller thean the overall opening. Remember that the door will cover the middle partitions, as shown in the diagrams. These dimensions give are the ideal door dimensions. 
 I) 2 – 3/8″ Plywood or MDF @ 17 1/4″ x 15 1/4″ (Backs of Doors) 
J) 4 – 3/8″ Plywood or MDF @ 1 1/2″ x 15 1/4″ (Rails on the Doors) 
K) 4 – 3/8″ Plywood or MDF @ 1 1/2″ x 14 1/4″ (Stiles on the Doors)
Cutting Instructions
A 1x24 is simply 3/4" plywood ripped into 23 1/2" wide strips, 8 feet long. You can get two 1x24s out of each sheet of plywood. This system is used to ease building, creating straighter cuts, and conserve wood. Most plans on Ana-White.com use standard width boards for these reasons and more. If you cannot find 3/8″ plywood, you can use 1/2″ plywood for the backs and 1/4″ stock (for example maple 1/4″ thick x 1 1/2″ wide). Hobby stock is available at our local Blue store in a wide variety.

General Instructions
Cut your 3/4″ Plywood or MDF into strips 23 1/2″ wide by 8′ long. These strips become 1×24 boards. From 2 of the 1×24 boards, cut the the top and a shelf, and the bottom and a shelf. Then cut the remaining sides and middle partitions out of a third 1×24. You will have one 1×24 leftover for future projects. Work on a clean level surface. You can fasten with nails or screws, depending on your tools and the use of this piece. Screws will hold better, nails are easier. My general rule is screw anything that will be "used" like chairs and benches, and nail sedentary pieces like bookcases and hutches. I will leave this up to you. If you are screwing, make sure you predrill and countersink your screws. If you are using MDF, avoid fastening within 1″ of the edge of the MDF. Do not use wood screws on MDF. Wood screws do not have a straight shaft and will split your MDF. I have had luck with drywall screws (after all, drywall is very similar to MDF). Make sure you predrill the entire distance of the screws. It's going to screeech, so wear hearing protection. And glue, glue, glue. My favorite option is to screw the "box" together, and then use finish nails to add the frame. That way the frame does not have blemishes, but the piece is built sturdy. Make sure you take a square of the project after each step. Measure and mark out any joints before fastening. Be safe, have fun.
Instructions