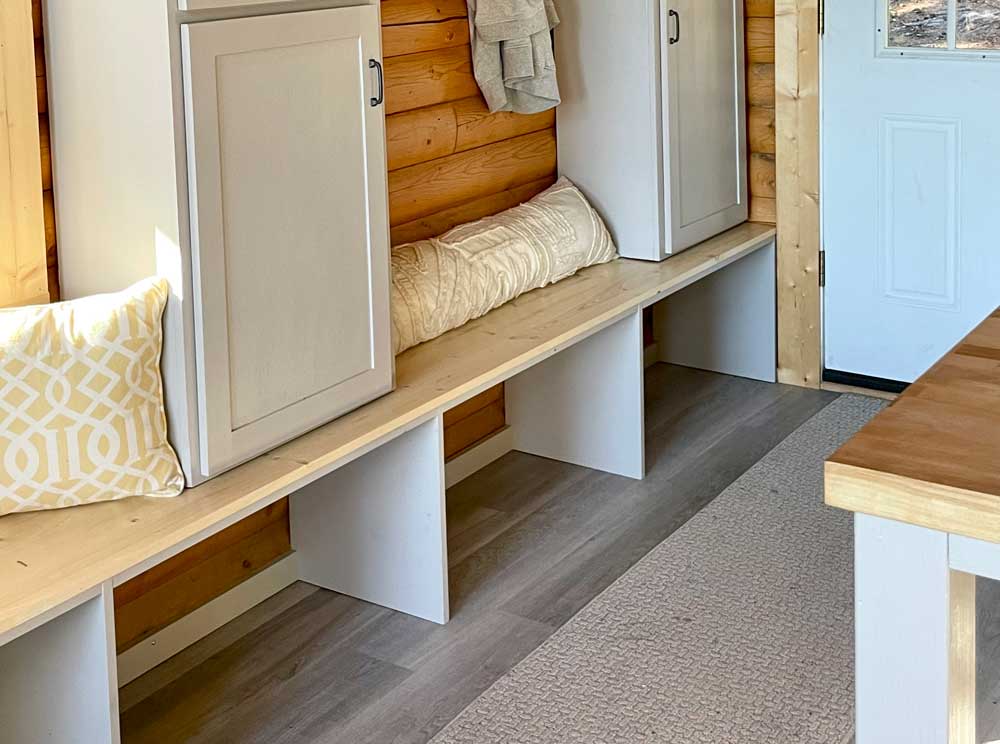 Build a custom mudroom bench!  This bench features a simple, basic design that is easy to clean under and maximum vertical height for boots, shoes, or baskets and bins.  The uprights are plywood pieces, the top is made out of 1x pine boards.  This is a lightweight, easy build, it's a must make for a larger mudroom space.
Free step by step plans with diagrams and build video from Ana-White.com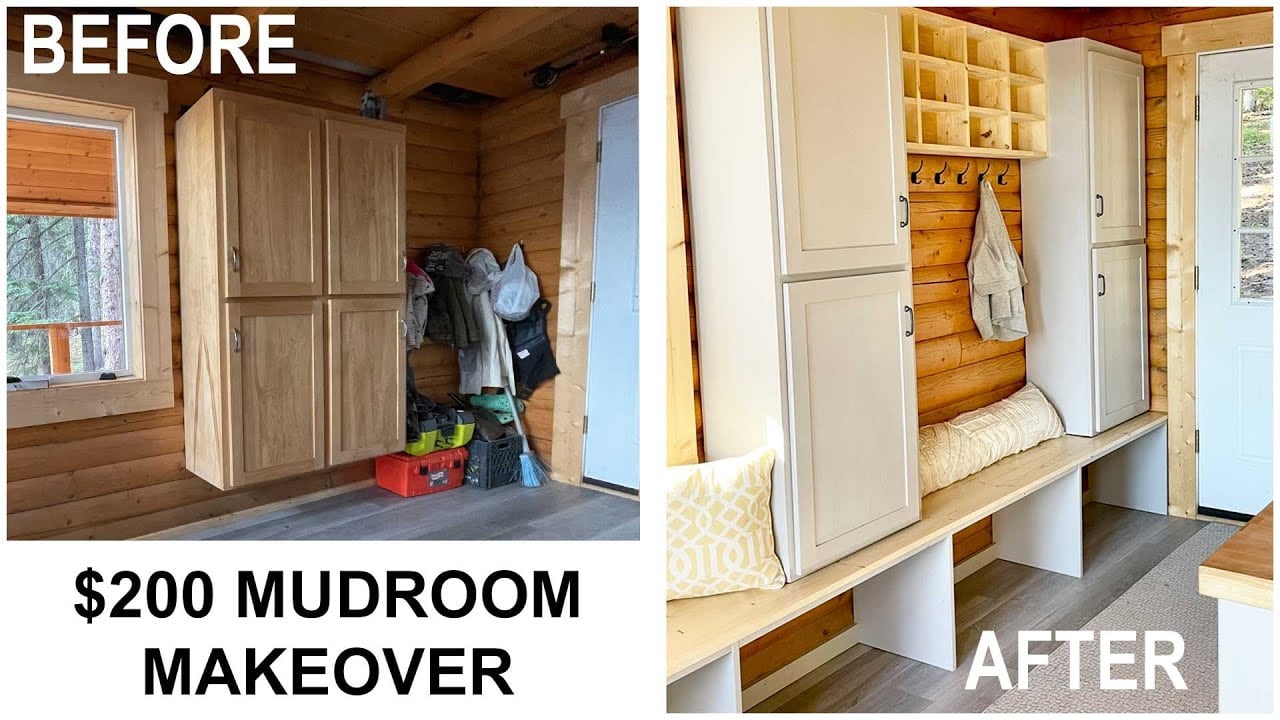 Pin For Later!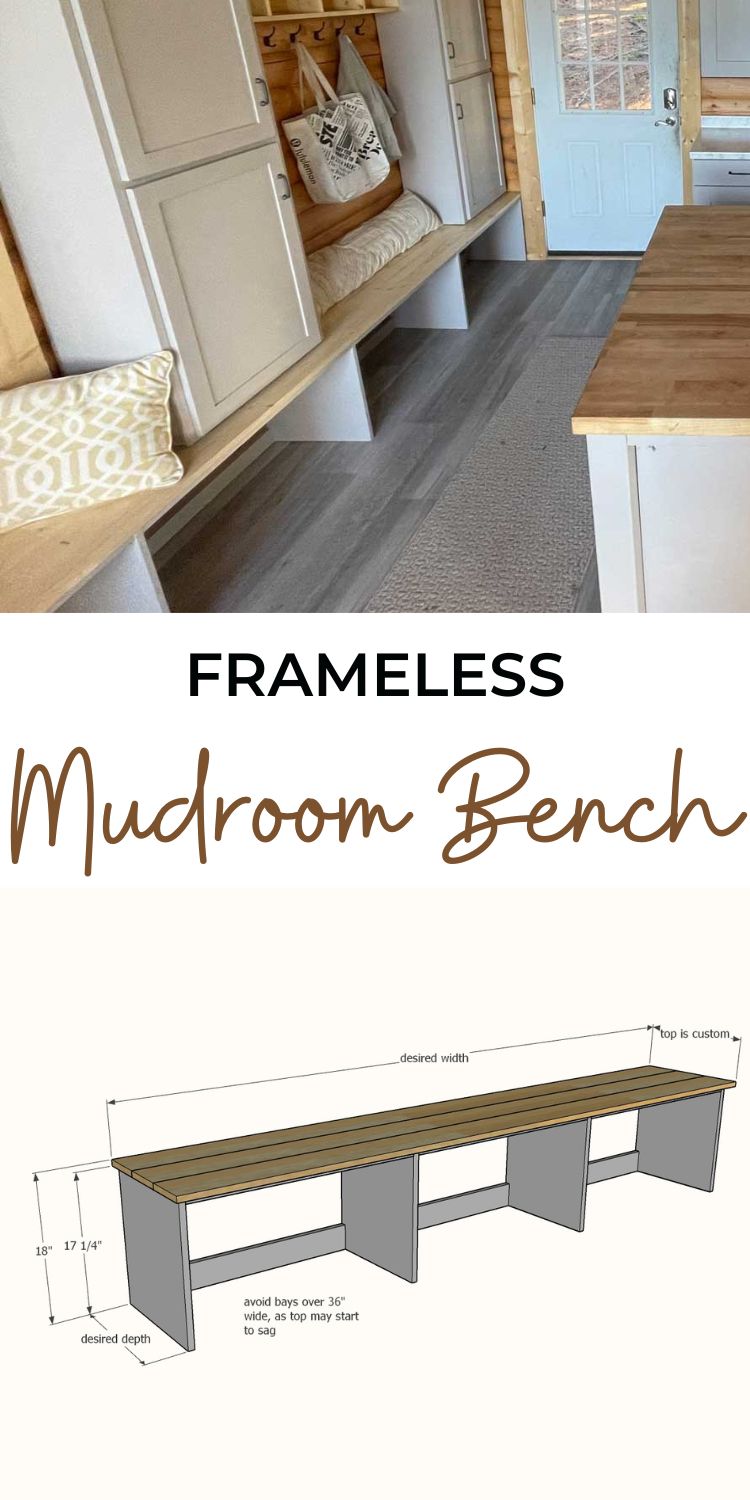 Dimensions
customizeable dimensions
Preparation
Shopping List
Plywood panels, 17-1/4" tall x desired depth (15-1/4" as shown) - Shelf Help Configurator Tool
1x3 or 1x4 boards for bay supports
1x boards in overall length of bench for bench top
1-1/4" pocket hole screws (about 20-30 per bay)
Cut List
3/4" plywood @ 17-1/4" tall x desired bench depth, front edge finished with edge banding
3 - 1x3 or 1x4 @ bay width (per bay)
1x boards in overall length for bench top
Instructions
Step 1
PLAN YOUR BENCH - First, measure the space and determine:
Overall length (keep in mind 1x boards for the top are hard to source over 16 feet long).  The bench shown in this photo is 14 feet long.
Depth - choose 15-1/4", 20-1/4" or 23-1/4" depths.  Note that the top may overhang on the front, increasing the overall bench depth
Height - Should be 18" with a finished top.  Finished top is usually 3/4" thick.
Design your bench using my free Configurator Tool using your measurements.
Download the plans and cut the plywood pieces and finish front edges with edge banding.
Step 2
Step 3
TOP
Figure the boards needed for the top.  TIP: Cut boards 1" long, and then trim entire bench top after completion for square finished ends.
Join boards together edge to edge with 3/4" pocket holes and 1-1/4" pocket hole screws.
Sand top in direction of wood grain.  
Attach bench top to base.  Be careful to not overdrive screws into floor if assembling in a finished room.
Attach entire bench to studs in wall.