Reminiscent of antique factory carts, this easy to build coffee table will bring industrial charm to your living space. This coffee table sits lower than traditional coffee tables.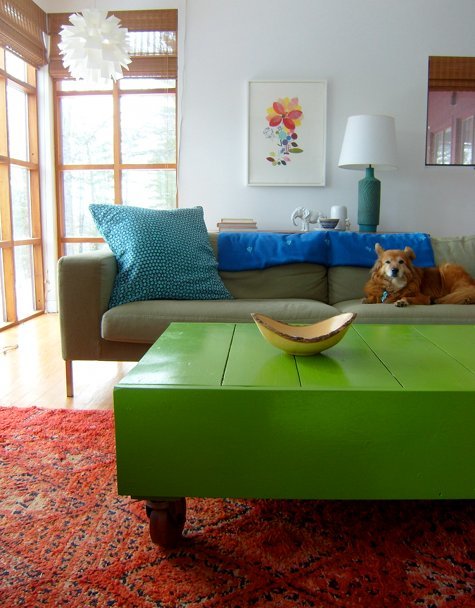 Dimensions
45 1/2" x 24 1/4" x 5 1/2"
Preparation
Shopping List
2 – 1×2 Boards, 8′ Long
4 – 1×6 Boards, 8′ Long
Caster Wheels
2″ Screws
1 1/4″ Screws
Wood Glue
Wood Filler
Common Materials
120 grit sandpaper
primer
wood conditioner
paint
paint brush
Cut List
4 – 1×2 @ 44″ (Supports)
12 – 1×6 @ 23 1/2″ (Tops, Ends, and Under Supports)
2 – 1×6 @ 45 1/2″ (Sides)
General Instructions
Work on a clean level surface. Use good, straight boards. Use glue, pre-drill and countersink your screw holes. Check for square after each step. Use proper safety equipment and precautions.
Instructions
Step 1
Supports and Ends
Here's the trick. Since you need a 3/4″ gap on top of the supports, rest a 1×6 under the supports but not under the ends boards. Then screw your end boards to the supports as shown above. Use glue.
Step 2
Tabletop Boards
Using 2″ screws and glue, fasten from the underside the supports and the tabletop boards. Keep outside edges flush. Minimize the gaps between the tabletop boards as you go along.
Step 3
Sides
Fasten the sides to the ends, as shown above. Then fasten through the undersupport into the sides, also as shown above. (click image for larger view).
Step 4
Caster Wheels Supports
From all sides, fasten the remaining 1×6 boards to the underside of the coffee table as shown above. Use 2″ screws and glue.
Step 5
Preparation Instructions
Fill any holes with wood filler, then sand and finish as desired.