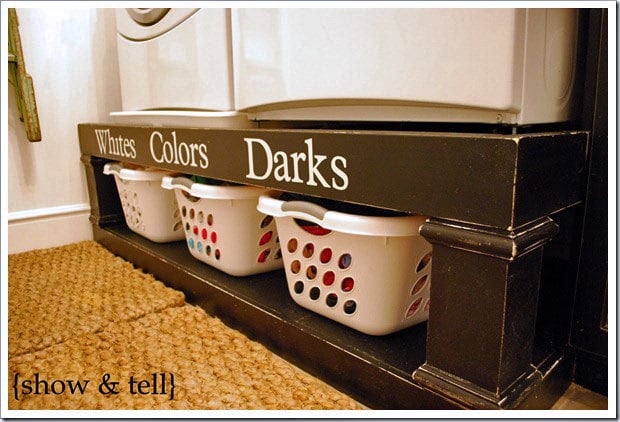 Build your own washer and dryer pedestal bases to bring your laundry up in height.  Also includes storage for baskets.  You'll love the step by step diagrams and cut list.  
Dimensions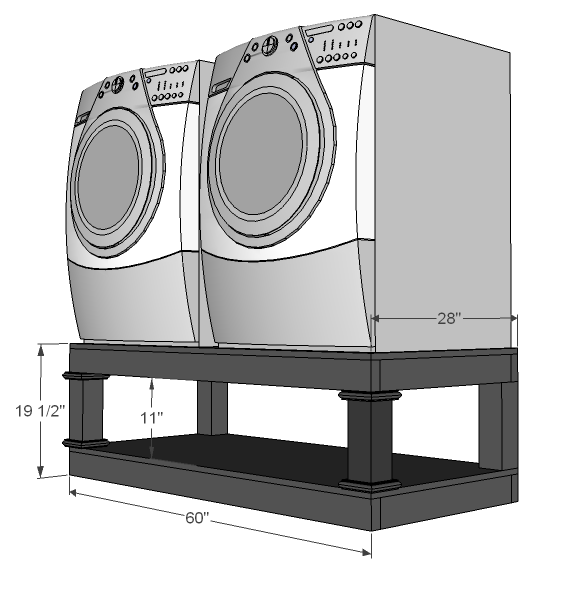 Dimensions shown above. Measure your laundry machines and adjust to fit. Also note the size under the bases can be adjusted for laundry basket heights by simply changing the cuts of the 4x4 legs.
Preparation
Shopping List
2 – sheet of 3/4″ MDF or Plywood
5 – 2×4 @ 8 feet long
1 – 4×4 post @ 4 feet long (you can also use 2x4s laminated together – just add another 2×4 to your list)
1 – stick of base cap moulding like this @ 6 feet long and 1" brad nails for attaching
4 – Angle Brackets (like these)
3″ self tapping wood screws
2″ self tapping wood screws
Cut List
10 – 2×4 @ 25″ (Joists)
4 – 2×4 @ 60″ (Sides of Floor)
2 – 3/4″ Plywood or MDF @ 28″ x 60″ (Decking)
4 – 4×4 Posts (or 8 2x4s) @ 11″ (Posts)
Moulding cut to fit
Instructions
Step 1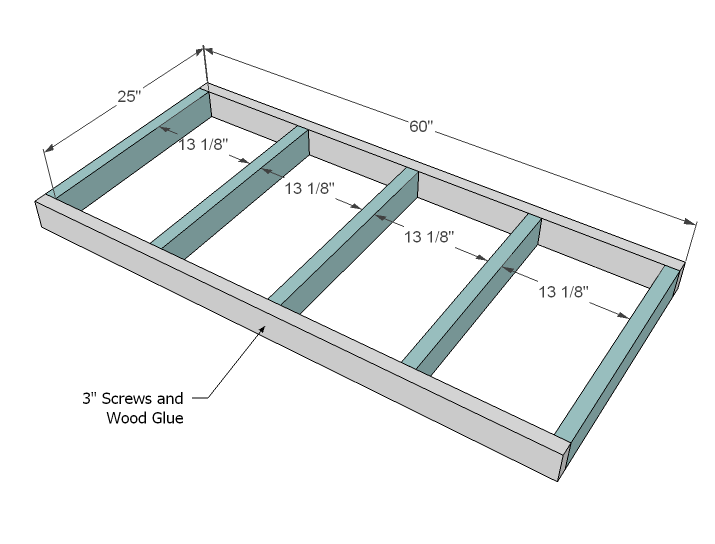 Floors
You are basically going to build two mini floors for this project. The top floor need to be built as shown above.
The bottom floor you can skip the center joists (minimal weight on bottom shelf)
Use glue and 3″ self tapping screws to build the framing.  You can also use pocket holes if you have a Kreg Jig, on the 1-1/2" setting with 2-1/2" pocket hole screws.
Step 3
Step 4
Step 5
Step 7
Additional Bracing
If you find your base needs more support here are a few quick fixes -
Cover the entire back in 3/4" plywood or MDF scraps from the build, glue and screw every 4" approximately to the 4x4 legs and the 2x4 framing with 3" self tapping screws.
Attach the 2x4s framing to studs in the walls
Finish Used
Sausha trimmed everything out with another layer of MDF. If you are good with a table saw this can really give you that finished look. Otherwise, I recommend patience, and a whole tub of wood filler. More details on Sausha's finish here.

Thanks Sausha!